Ultra Trail Chiangrai l 2023
October 22, 2023

Registration Ended
3 weeks ago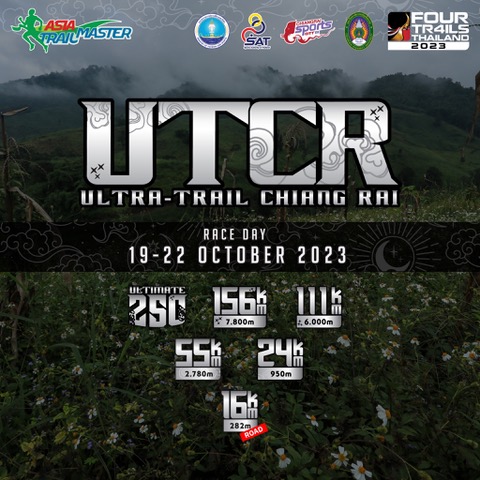 UTCR 2023
The Trail Festival of Thailand.
The 5th edition of the Ultra Trail has quickly become one of Asia's finest. Hosted by the Teelakow (Trail experience company), it is an event that caters to everyone and has two ultra race distances that qualify for ATM Championship points: the Ultimate 250 and the 160km and they are obviously also valid for the Grandmaster Quest. The elevation of the trail run is considerable, yet not excessive. While the 250km is obviously for super endurance athletes, the 160km appeals to runners at a fast pace as well.
In 2023, the Ultra-Trail Chiang Rai will be labeled as the Thailand SuperTrail with 50 bonus points for all finishers on the Ultimate 250, 160km, and 55km.
Ultimate 250 race is the Big trail race in Thailand 2023.
Event Details
Race Venue : Chiangrai Rajabhat University
Location gps : https://goo.gl/maps/F8wKoSMzxDbVC2g48
Race day : 19-22 October 2023
Categories & Gunstart
ULTIMATE 255 (12,538 m+) l Cut-off 70 hrs
THU 19 OCT 16:00 – SUN 22 OCT 14:00 (70 Hrs)
UTCR 156 (7,822 m+) l Cut-off 50 hrs
FRI 20 OCT 06:00 – SUN 22 OCT 08:00 (50 Hrs)
UTCR 111 (5,999 m+) l Cut-off 36 hrs
SAT 21 OCT 04:00 – SUN 22 OCT 16:00 (36 Hrs)
UTCR 55 (2,785 m+) l Cut-off 18 hrs
SAT 21 OCT 18:00 - SUN 22 OCT 12:00 (18 Hrs)
UTCR 24 (950 m+) l Cut-off 7 hrs
SUN 22 OCT 06:00 – 13:00 (7 Hrs)
UTCR 15 (125 m+) l Cut-off 3 hrs
SUN 22 OCT 06:30 – 9:30 (3 Hrs)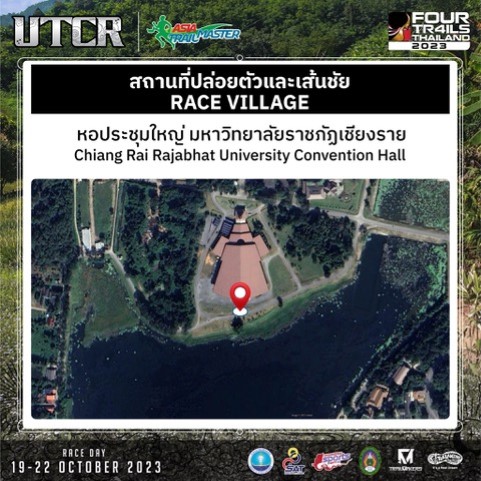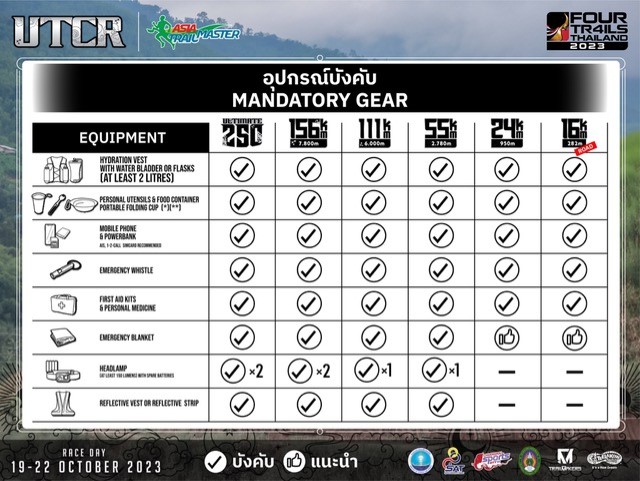 Mandatory Gear
UTCR 55 111 156 and Ultimate 255
Phone with a Dtac, AIS or True Move SIM card
1 head torch, minimum brightness 100 lumens, with battery and special for UTCR 156 and Ultimate 255 2 head torches
Reflective Jacket
Whistle
Water backpacks and/or water bottles with a total volume of 1.5 liters or more
Emergency Blanket
Personal medication (if any)
Basic first aid equipment
UTCR 15 and 24
A phone with a Dtac, AIS or True Move SIM card
Water backpacks and/or water bottles with a total volume of 1.5 liters or more
Personal medication (if any)
The registration fee includes the following services:
Bib Number
Accident insurance. (Only those who apply for the register system)
Racing T-shirt (on bib day as announced. Postage is not available)
Commemorative medal (Only those who finish in time and follow the rules and regulations only)
Finisher T-shirt for all distances except 15 km.
Finisher Jacket for UTCR 156 and ULTIMATE 255 only.
Remark: Delivered by mail within 90 days after the competition finishes and Postage charge 500Thb for foreigner.
Drop Bags - 1 bag can be deposited per 1 point.
UTCR 156 - 1 point
ULTIMATE 255 - 3 points
For UTCR 156 and ULTIMATE 255 runners, leave your luggage on the bib and can be returned on October 22, 2023 from 12pm - 4p.m.
for other races, Luggage can be deposited and returned on 22 Oct from 3:00 a.m. - 4:00 p.m.
The race organizer prepares one bag for each runner.
Participants must complete the bag sealing.
Valuable items such as mobile phones, money, bicycles are not accepted.
Race Kit Collection
19 Oct 2023
Bib Collection
UTCR 255 | 09.00 - 15.00
All Races except 255 | 12:00 – 18:00
Race Briefing
UTCR 255 l 15:30 - 16:00
UTCR 156 l 17:30 - 18:00
20 Oct 2023
Bib Collection
All Races except 156 & 255 | 12:00 - 18:00
Race Briefing
21 Oct 2023
Bib Collection
Race Briefing
UTCR 24 & 55 l 16.00 - 17.00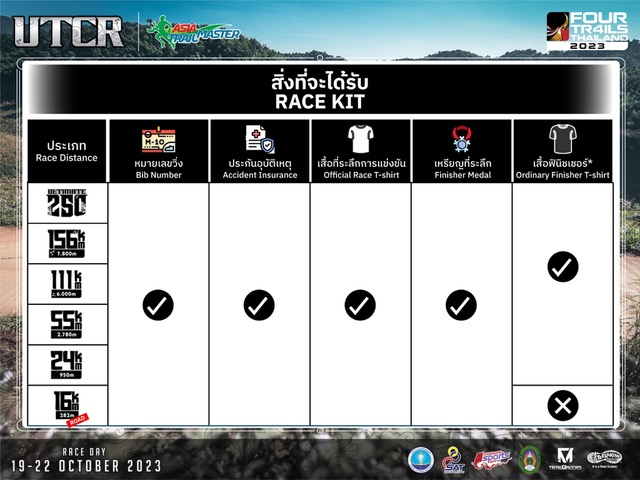 Registration
Registration can be handed over to another person and/or name can be changed. within the date of announcement and cannot be changed (Name change fee 200 baht)
Refunds are not possible in all cases.
Applicants using a special discount code or apply using a special price according to the conditions announced it is not possible to change the name in all cases.
Competitors must present themselves and receive the race number by themselves only.
Participants must run using their own running number only. In the case of not using your own running number The referee has the right to immediately expel from the competition and disqualify.
GENERAL PRACTICES REGULATIONS
Mandatory equipment must be carried during the race and present the required equipment on bib day.
The committee has the right to randomly inspect the mandatory equipment throughout the races.
Running bib must be worn on the front of the body and must be visible at all times.
Participants must have your own hydration pack. The event does not have a glass of water available throughout the races, including the activity area.
Participants who are unable to arrive on time, will be considered as incomplete (DNF – Did Not Finish).
Participants must report to race supervisors at nearest service points.
Littering is forbidden. If there is a complaint with clear evidence will be disqualified immediately.
Does not allow competitors to use any kind of powered vehicles. If found, they will be disqualified immediately. Unless injured or the participant has decided to withdraw from the races.
Participants You don't need to attend the lecture, but must read the regulations details according to the announcement. If there is a dispute. The race rejects all complaints. You can follow the information here >>> https://web.facebook.com/UTCRThailand
Competitors are required to wear reflective vests during night time. If there is none, the race controller will consider stopping the race immediately. And will only be able to participate in the competition when wearing a reflective vest.
Runners must wear bright head torches. If found, do not use a head torch at night. The race controller has the right to stop running immediately.
Runners must wear a water backpack with compulsory equipment. If it is found that any contestant does not have a water bag. The race controller has the right to stop running immediately.
Cheating in any way will result in immediate disqualification from the contest.
Pacers are not permitted under any circumstances.
Runners are only allowed to receive assistance from their followers at designated service points.
Runners are not allowed to receive assistance during the race route.
The competition director has authority. To add to the various regulations during the competition due to crashes Unexpected events or unusual events for the purpose of maintaining competition Or is it necessary to complete the race successfully? or continue to operate The Race Director reserves all rights to all rules, interpretations or enforce the decisions of the Tournament Director are final.
There is no welfare. All for the wrong time or distance due to getting lost.รา
Frequently Asked Questions
After registration, your registration status can be seen in your profile. Log-in at raceyaya.fit/login.
Each participant shall need a RaceYa account to gain access to the registration.This will be your perpetual account which will give you access to other features in the platform.
If you already have an account, please log-in at raceya.fit/login. Please ensure that you have read the terms and conditions before submitting your registration.
SUBMITTED NOT PAID: After submission of registration and before payment, your registration is set to
PENDING PAYMENT. This will change after you have paid via GCash or Paypal or have uploaded your bank deposit proof of payment. An email is auto sent with payment instruction for bank deposit.
PAID: Your status is set to PAID after successfully paying via Paupal, your payment is paid via Dragonpay-Gcash or proof of payment is uploaded to your account if bank deposit.
REGISTERED Your status is set to Registered when registration is confirmed. You will also receive an email confirmation. You may start logging on to raceya.fit/login to start your race.
Registration Ended
3 weeks ago