T8 Pop-Up Trail Run
First Pop-up Run in Montalban (November 26 to December 27)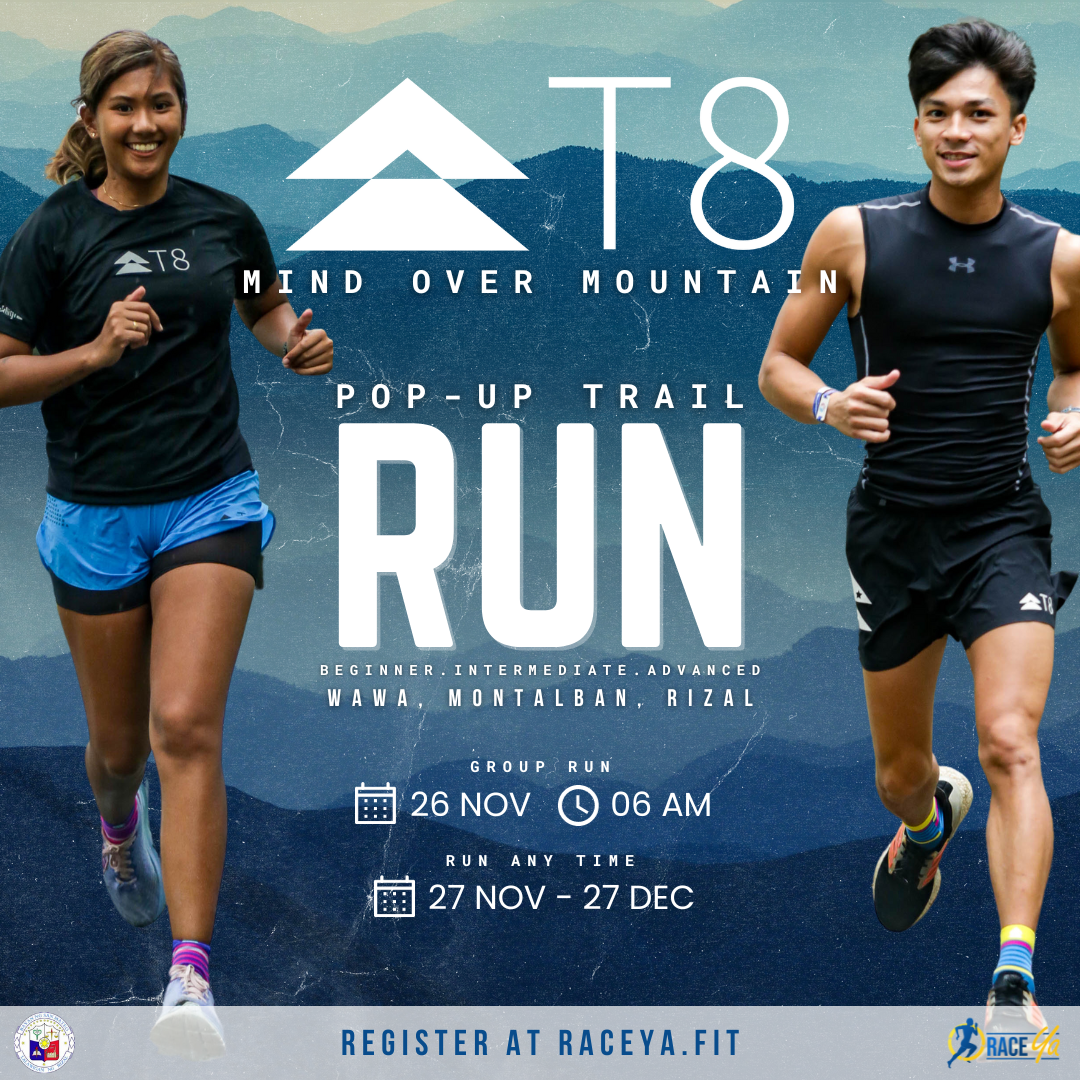 Embark on a thrilling adventure with T8's #MindOverMountain Pop Up Trail Run! 🏞️ Explore established routes that are open for 30 days for you to challenge yourself, welcoming participants of all levels to experience the perfect blend of challenge and fun. Best of all, it's free to join and promises exciting rewards and prizes for participants!
Don't miss the opportunity to be part of this unique trail run experience! Be prepared to immerse yourself in the beauty of the trails of Montalban and embrace the spirit of competition. This is not just a run; it's a journey, a challenge, and a celebration of the trail running community. Lace-up, gear up, and get ready for an unforgettable experience with T8 #MindOverMountain Pop Up Trail Run!
GROUP RUN - NOVEMBER 26
Join us for the launch 🚀 on Sunday, November 26, where T8 Athletes Karl Bautista and Cristelle Corpuz will kickstart the event alongside our esteemed digital platform partner, @yourraceyaya Race Ya!'s Tin Ferrera. The first leg happens in Montalban, Rizal. An environmental fee of P20 will be collected for the GROUP RUN but you can get this for free by entering a code posted by any of our ambassadors or in the caption in our social media posts.
Date: November 26

Assembly:

6am

Take-off: 6:30am
There will be no AID STATIONS. Participants must bring their own hydration and nutrition enough for a 12K distance. The run is expected to be done in 2-4 hours.
Participants must bring the following:
Whistle
Hydration and nutrition good for 4H. Minimum 1L water
Jacket is optional. We will announce accordingly depending on the weather
Participants must be dressed comfortably; expect a hot weather.
POP-UP RUN
Participants may register for the pop up run and run the route to be posted here on November 27, any time at any pace from November 27 to December 27. Those who attended the Group Run are automatically entered. Participants may run the course as often as they want.
One run = One entry = One raffle.
REWARDS AWAIT! We will award the following after December 27:
Fastest Record on the route - Only entries with verifiable gpx link in strava will be counted as entry
Most number of runs
HOW TO COMPLETE THE CHALLENGE
Register for the event on our website by following the prompts.
Download our recommended fitness tracking app Strava and sync it with your Race Ya account to easily log your miles.
Run the prescribed route from November 27 to December 27. You can complete your runs at your own pace and time using any gpx watch or strava.
HOW TO SYNC STRAVA WITH YOUR RACE YA ACCOUNT
Log in to your Race Ya account and go to your Dashboard.
Click on "My Activities" and click on the button that says "Sync Strava Activities".
Follow the on-screen instructions.
Once synced, you will be able to see your Strava logs in your Race Ya account.