Swimjunkie Challenge: CARAMOAN 2023
October 08, 2023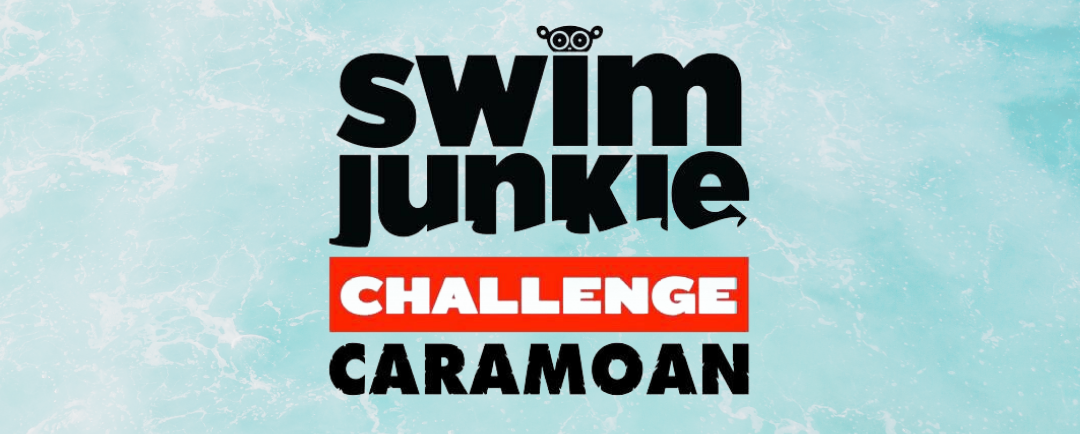 PHP 6,300
10K Island Swim
PHP 6,800
15K Island Swim
Registration Ended
1 month ago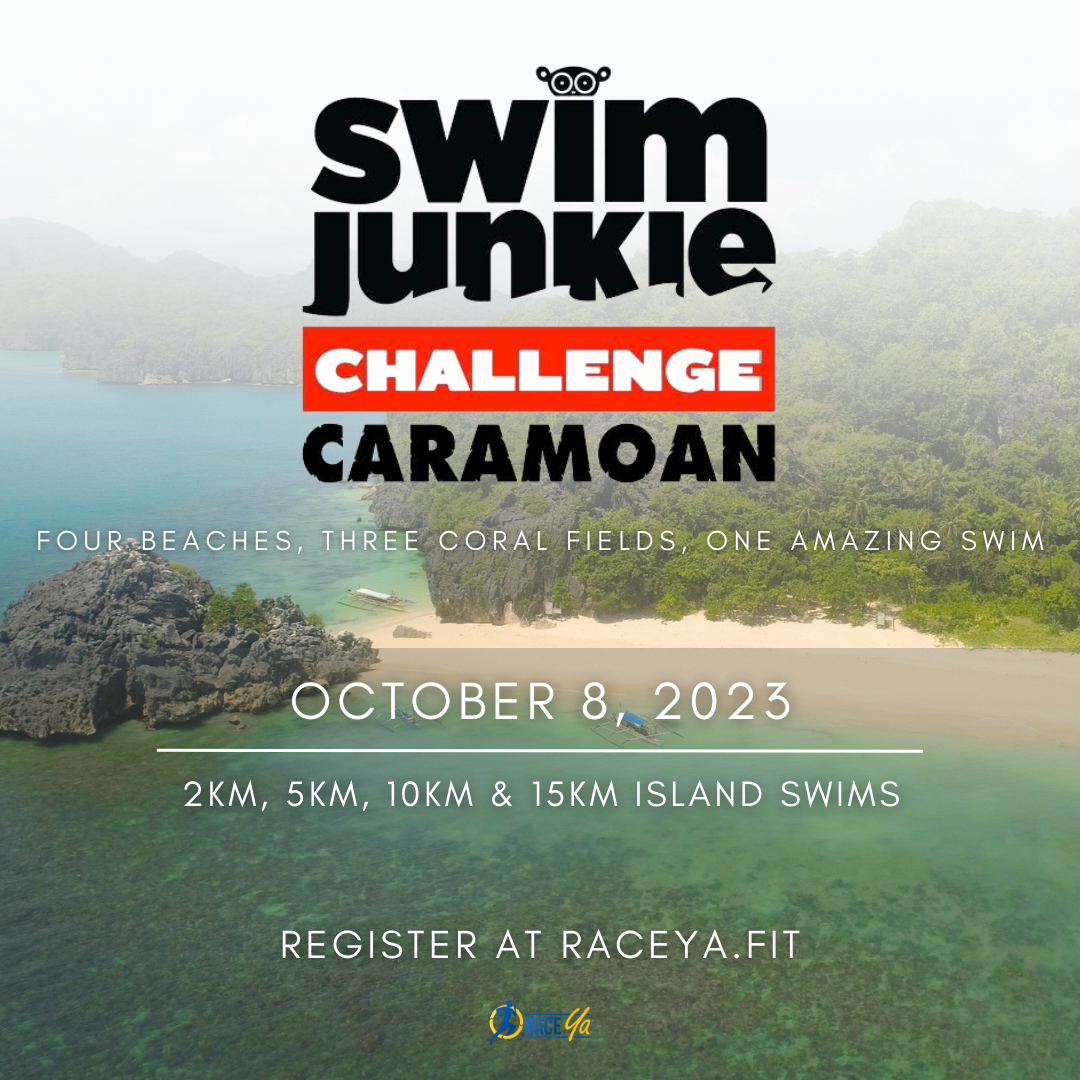 Swimjunkie Challenge: CARAMOAN 2023 is the poster boy of Philippine openwater island-hop swimming. This is the race's 7th year in Caramoan, Camarines Sur.
FOUR BEACH STOPS, THREE CORAL FIELDS, to make ONE AMAZING SWIM.
The longest loop in Philippine openwater swimming, 5Km swimmers hydrate on two beaches and start from and finish on a third. The 10Km and 15Km swimmers have an extra hydration stop on a fourth beach, tucked away in a beautiful cove.
For the first time in seven years, we've added a 2Km distance to the mix in the hopes of introducing new open water swimmers to the beauty of this swim course.
Caramoan is the site of the early Survivor TV series and continues to be a destination for multiple franchises of the show.
Accommodations are booked exclusively on the registration site. Gota Village Resort is the location of the start and finish line. Hunongan Cove is a premium resort that is an 8 minute boat ride away, and is located along the swim course.
Event Details
REGULAR REGISTRATION : July 2
5K island swim: PhP 5,800
10K island swim: PhP 6,300
15K island swim: PhP 6,800
Race kit pick up (CWC, Naga City)
October 6, 7:30am-12; 1-3pm
October 7, 7:30am - 10am
Briefing: October 7, 5pm, Gota Village Resort, Caramoan
Raceday: October 8, 6am, Gota Beach
This swim is co-presented by:
The Provincial Government of Camarines Sur and Governor Luigi Villafuerte
The race is supported by: #unmeatphilippines #fastlogistics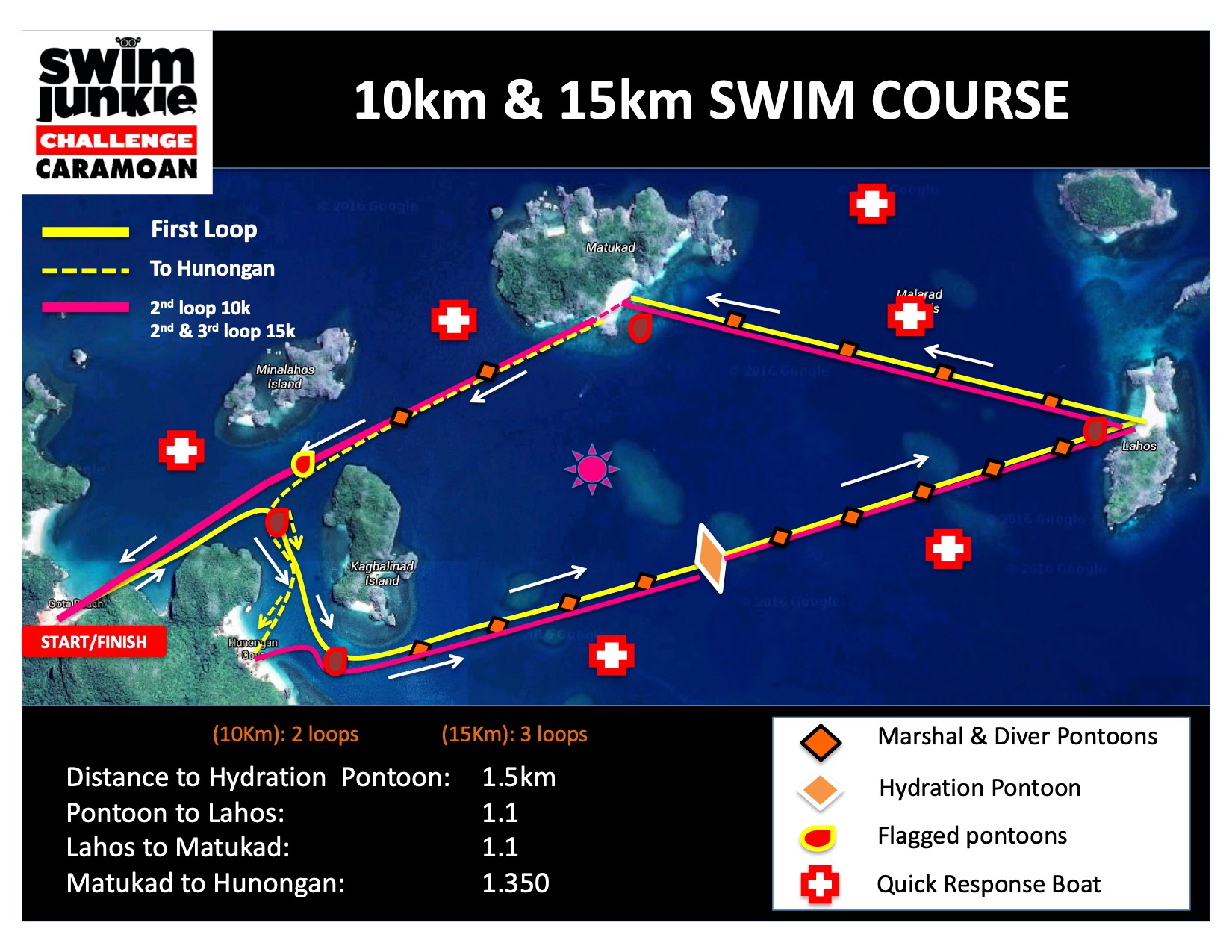 10Km and 15Km island hop swim course
These are the longest organized open water swims in the country!
You start from Gota Beach and stop at three beaches for hydration and quick nutrition; 10Km swimmers do two loops and 15Km swimmers do 3, before swimming back to Gota Beach.
Raceday: OCTOBER 8, 2023. Caramoan in Camarines Sur.
Race-start for the 15K is 5:30am and all other distances start at 6am.
NOTE: You will run out of cabins/cabanas before we run out of slots!! Don't delay your accommodations booking for too long.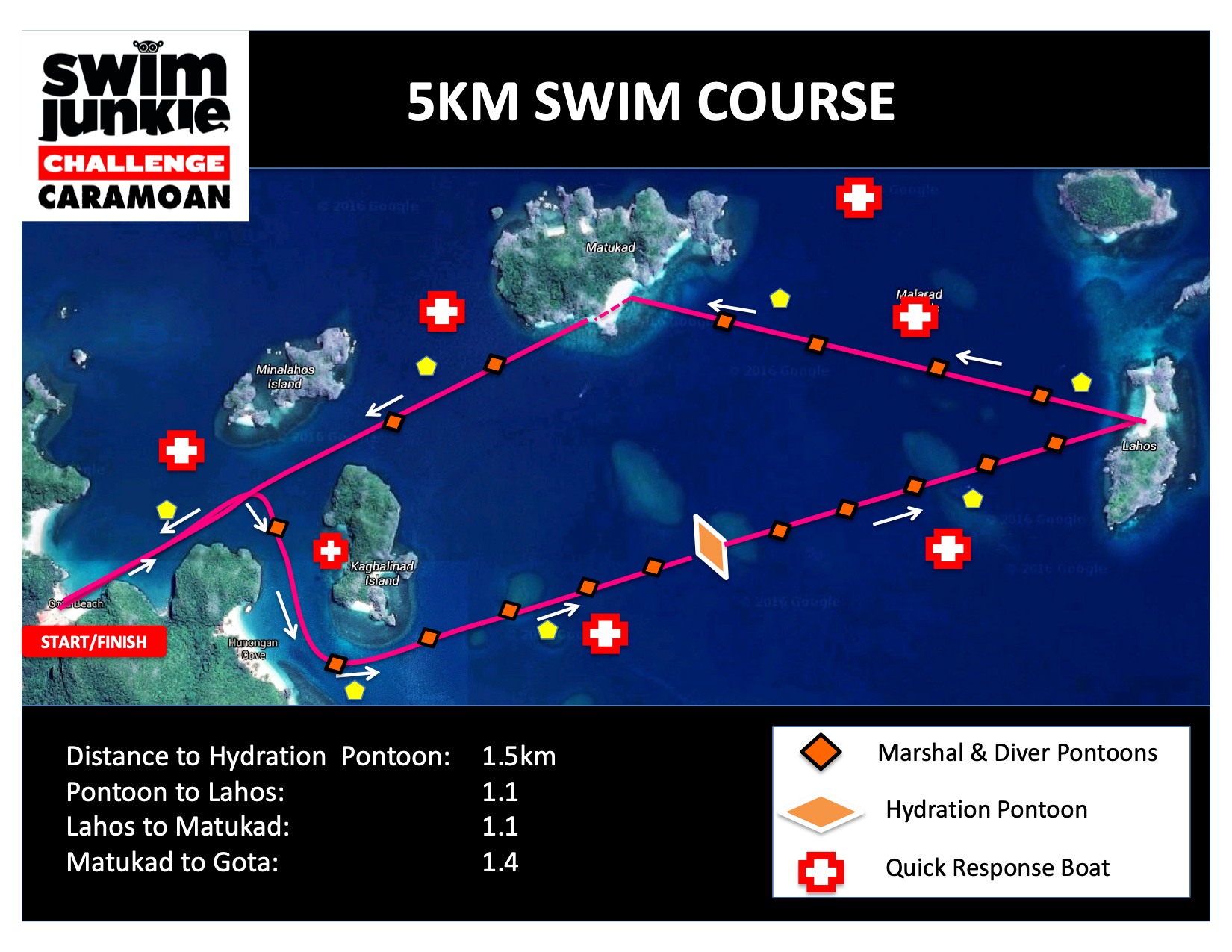 The 5km island hop swim course
This is the first long single loop openwater swim in the country. Ever.
You start from Gota Beach and stop at two beaches for hydration and quick nutrition, before swimming back to Gota Beach.
Raceday: OCTOBER 8, 2023. Caramoan in Camarines Sur.
Cut-Off Time
Cut-off time for the 5K and 10K distances:
5 hours and 15 minutes at the last island stop (see the red arrow). As long as you leave the island before 11:15am you will be allowed to continue swimming the last 1.4km to the finish line, to finish.
Any 5K or 10K swimmer still making his or her way to Matukad Island after the cut-off, or still on the island sipping coconuts past 11:15am - will be picked up by the broom boat. And that will be the end, friend. So please get that training in 🤙.
Cut-off time for the 15K distance:
6 hours and 15 minutes from the last island stop (the red arrow). The start-time for the 15K swim is 5:30am. If you leave the last island stop before 11:45am you will be allowed to keep swimming to the finish.
Frequently Asked Questions
Step 1:
Take a domestic flight from Manila (or your city) to Naga City (Pili Airport), Camarines Sur.
Step 2:
From the airport make your way to the Camsur Watersports Complex (CWC) for your race-kit pickup (CWC has its own airport shuttle, and it's free for everyone staying at Gota or Hunongan Resorts).
Step 3:
Land transfer from CWC to Caramoan.
OPTIONS:
By Plane (The easy way)
Cebu Pacific flies to Naga Airport, Pili, Camarines Sur, the airport is only 5 minutes away from the watersports complex.
From Naga Airport, ride the Camsur Watersports Complex (CWC) shuttle to CWC.
(You can also fly to Legaspi City and arrange for a van pick up with CWC - the van trip Legaspi to Naga is about 2 hours)
By Land (Roadtrip!)
A Manila to CWC drive is about 8 hours long. WAZE is accurate.
You can take one of the sleeper/overnight recliner buses, the trip is about 9-10 hours long.
Rest in CWC and continue on to Caramoan, or park your cars in CWC and take the shuttle to Gota Resort.
WHAT TO EXPECT AT CWC:
* You will find the Swimjunkie Challenge registration set-up at CWC reception. Present an official I.D., your medical clearance and/or proof of a long open water swim done in the last 6 months (for 15K and 10k swimmers) and claim your race-kit.
No proxies, pick up in person only.
TRANSFER FROM CWC TO CARAMOAN:
The van trip is roughly 3 to 3.5 hours long. The round trip (the day you arrive and the day you leave) transfer cost per person will be announced at a later date but please expect a range of P3,000 - 3,600 per person. Payment will be charged about 5 weeks before the race date - no payment, no guaranteed seats. ** The cost of renting transportation on your own is steep!
AND YOU'RE THERE. FINALLY. Getting to Paradise isn't easy. But it is worth it!
TIGHTEST ITINERARY:
October 7, Saturday, AM flight to Naga. Do NOT take the afternoon flight.
Register, board the van shuttle, you should arrive at Gota resort by or before 2pm.
The race briefing is at 5:30pm.
RECOMMENDED ITINERARY:
October 6, Friday arrival. You will have half a day to recover from the trip and a whole morning the next day to explore (rappelling, island hopping, jog around the country roads, and recon the swim).
* IS IT POSSIBLE TO BE BACK IN MANILA ON SUNDAY NIGHT?
Only if you are driving back home. The swim will be done by around 11:30am. Awarding is at 11:30am with a participants' early lunch.
If you leave Gota at 1pm, that is at least a 10 hour drive home.
You may want to sleep over at *CWC and drive out first thing in the morning of the 9th.
*IS IT POSSIBLE TO FLY BACK VIA NAGA OR LEGASPI ON SUNDAY, October 8?
NOPE. you will not make it to the flight departure times.
For this reason, if your flight out of Naga is on MONDAY MORNING, you will need to leave Caramoan on the 2pm shuttle after the race on Sunday. You will spend Sunday night at CWC, in Naga, to make the Monday morning flights. Your Sunday night payment for accommodations will be credited to a cabana in CWC (don't worry, the CWC cabanas are bigger than Gota's and Hunongan's).
15Km swimmers, if you have a Monday AM flight a special shuttle will leave Gota at 4pm on Sunday.
RECOMMENDED DEPARTURE:
October 10 or 11, because you absolutely need to island hop and see the rest of Caramoan while you're there!! Please, Gota is not the only thing to see there : )
The above applies to all morning flights, ex. your departing flight is on Tuesday morning, your shuttle will leave Gota a little before lunch time on Monday and you will spend the night in CWC. Your paid Monday night will be credited to the CWC cabin stay.
Each participant shall need a RaceYa account to gain access to the registration.This will be your perpetual account which will give you access to other features in the platform.
If you already have an account, please log-in at raceya.fit/login. Please ensure that you have read the terms and conditions before submitting your registration.
SUBMITTED NOT PAID: After submission of registration and before payment, your registration is set to
PENDING PAYMENT. This will change after you have paid via GCash or Paypal or have uploaded your bank deposit proof of payment. An email is auto sent with payment instruction for bank deposit.
PAID: Your status is set to PAID after successfully paying via Paupal, your payment is paid via Dragonpay-Gcash or proof of payment is uploaded to your account if bank deposit.
REGISTERED Your status is set to Registered when registration is confirmed. You will also receive an email confirmation. You may start logging on to raceya.fit/login to start your race.
After registering, the registration status can be seen in your profile via your dashboard. Log-in at raceya.fit/login.
Registration Ended
1 month ago