Race to 2024: Virtual Run/Walk Challenge
September 1, 2023 - December 31, 2023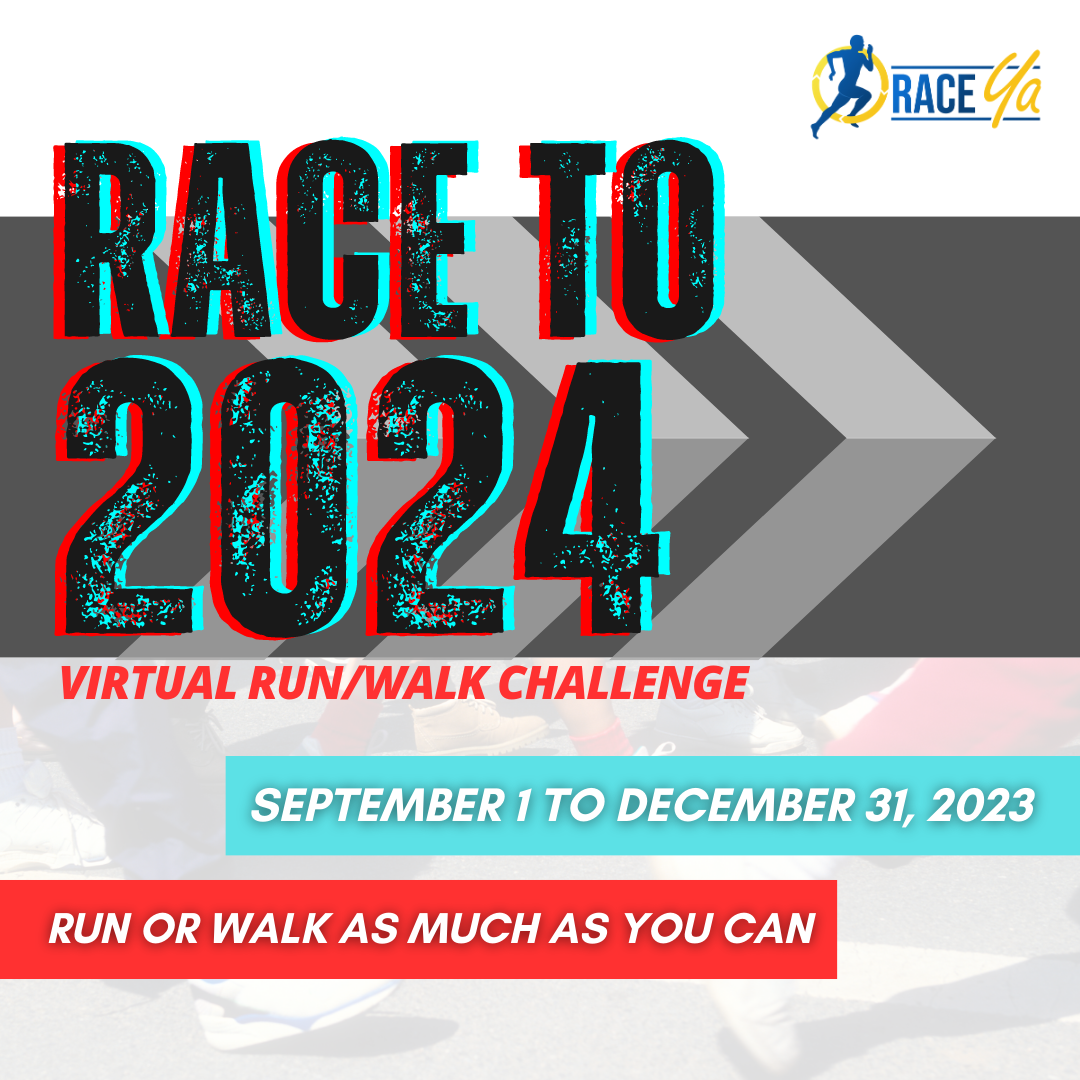 Join us for the "Race to 2024" a Virtual Run-Walk Challenge!
Get ready to bid farewell to 2023 on a healthy and energetic note. Whether you're a seasoned runner or just starting out on your fitness journey, t
his virtual run-walk challenge is designed to help you celebrate the end of the year by staying physically fit and motivated.
What's in store for you?
A unique opportunity to set fitness goals and track your progress over the next four months.
Connect with a community of like-minded individuals who are passionate about health and well-being.
Get exclusive access to our virtual event platform where you can log your miles, share your achievements, and engage with fellow participants in an exciting virtual leaderboard.
Keep your motivation soaring with exciting weekly challenges and rewards.
Stay accountable and make the most of the "Ber months" by prioritizing your health and wellness.
When: September 1 to 31, 2023
Where: Anywhere in the world!
REGISTRATION FEE: P150
Early Bird Registration: Sign up before September 30 to enjoy a discounted custom-designed event shirt delivered to your doorstep.
HOW TO COMPLETE THE CHALLENGE
Register for the event on our website by following the prompts.
Download our recommended fitness tracking app Strava and sync it with your Race Ya account to easily log your miles.
Set your fitness goals and run or walk as much as you can from September 1 to December 31. You can complete your runs or walks at your own pace and time, and from wherever you are!
HOW TO SYNC STRAVA WITH YOUR RACE YA ACCOUNT
Log in to your Race Ya account and go to your Dashboard.
Click on "My Activities" and click on the button that says "Sync Strava Activities".
Follow the on-screen instructions.
Once synced, you will be able to see your Strava logs in your Race Ya account.
After registering, your registration status can be seen in your profile. Log-in at raceya.fit/login.
Each participant shall need a RaceYa account to gain access to the registration.This will be your perpetual account which will give you access to other features in the platform.
If you already have an account, please log-in at raceya.fit/login. Please ensure that you have read the terms and conditions before submitting your registration.
SUBMITTED NOT PAID: After submission of registration and before payment, your registration is set to
PENDING PAYMENT. This will change after you have paid via GCash or Paypal or have uploaded your bank deposit proof of payment. An email is auto sent with payment instruction for bank deposit.
PAID: Your status is set to PAID after successfully paying via Paupal, your payment is paid via Dragonpay-Gcash or proof of payment is uploaded to your account if bank deposit.
REGISTERED Your status is set to Registered when registration is confirmed. You will also receive an email confirmation. You may start logging on to raceya.fit/login to start your race.