Pink Marathon 2022: I can run, I can serve
October 01 - 31, 2022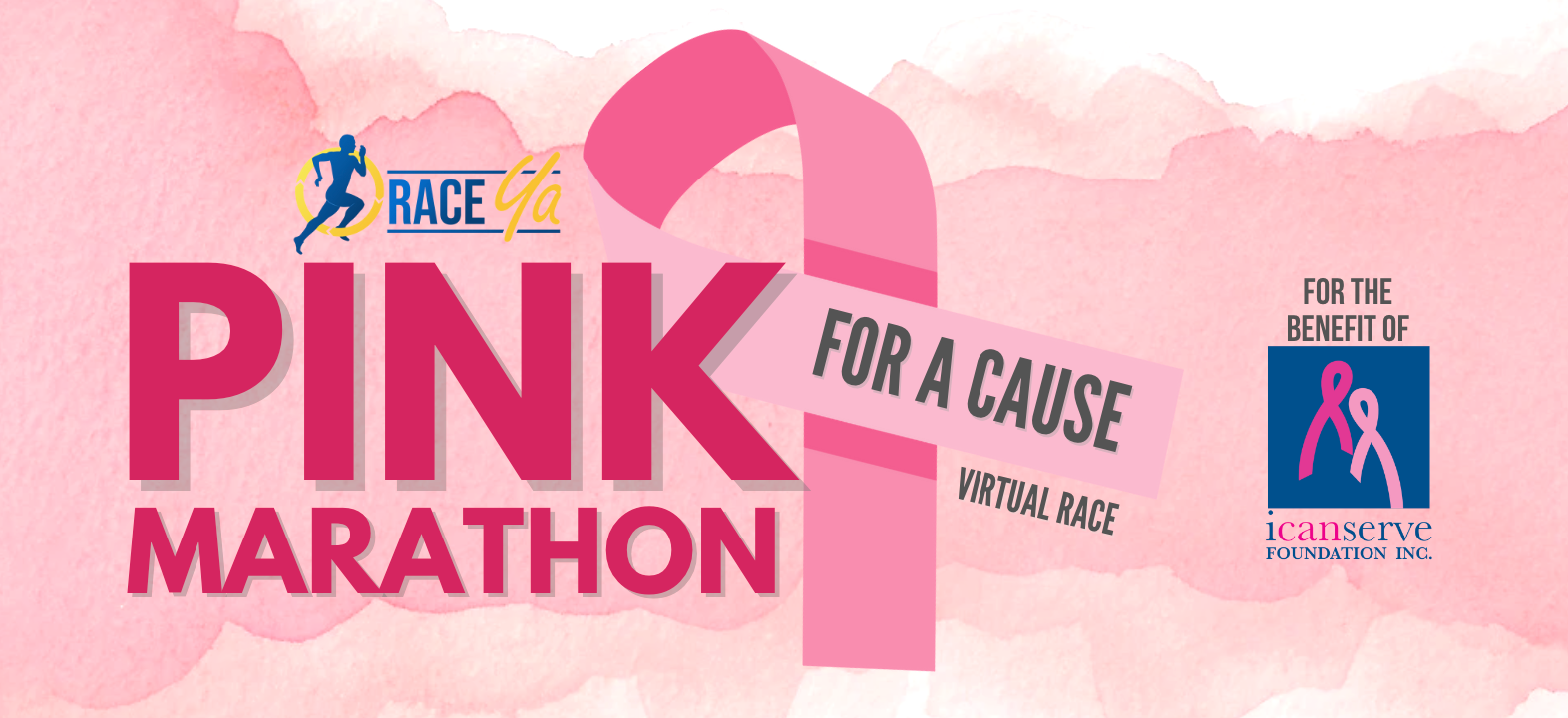 Free
42km - Multiple Upload
Registration Ended
1 year ago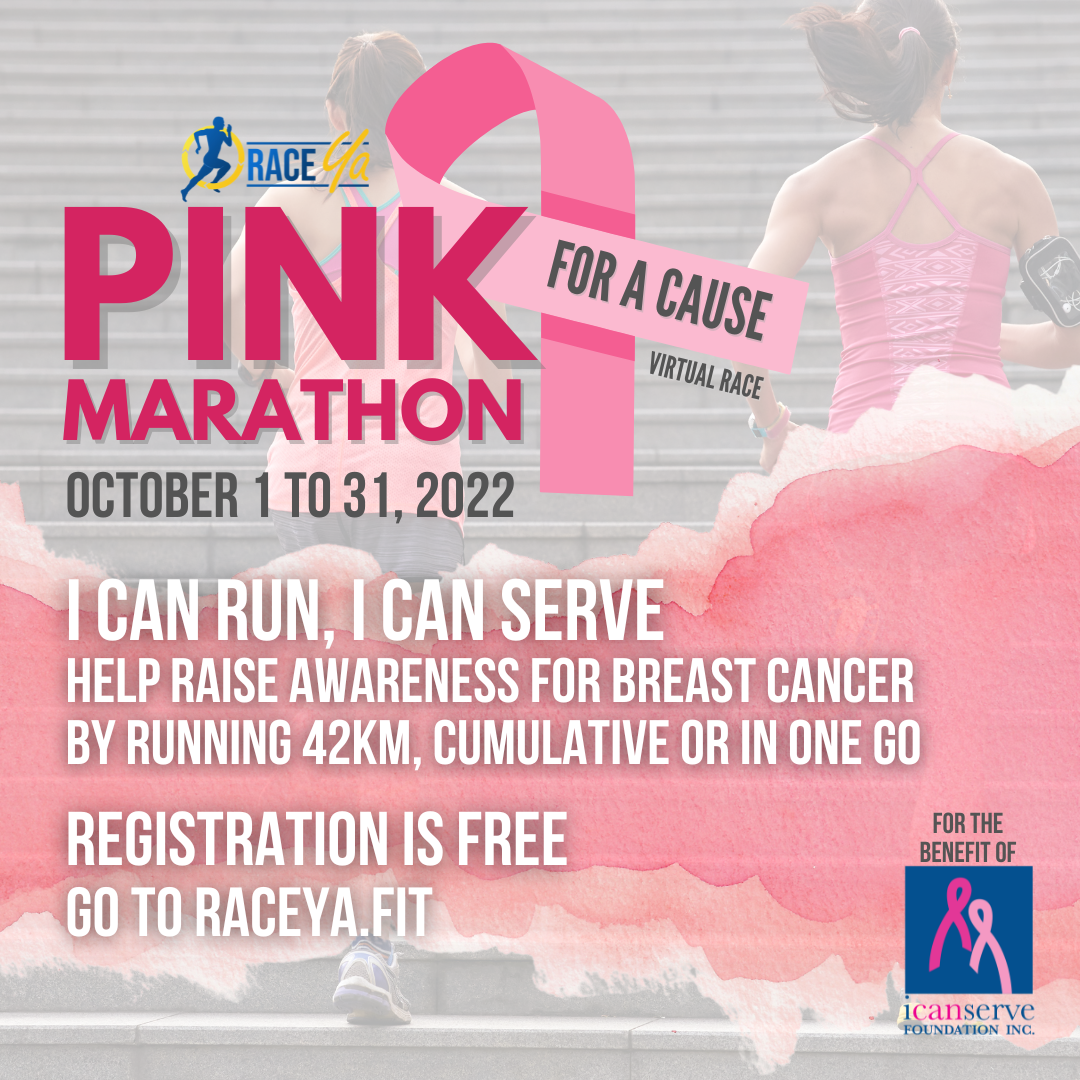 PINK MARATHON 2022: I CAN RUN, I CAN SERVE
Run to Serve is back! Join the PINK MARATHON 2022, a Virtual Run for Breast Cancer Awareness. Help raise awareness for the disease which has affected millions of individuals worldwide.
Whether you are new to running or have been running for a while now, it's time care for people living with breast cancer. You may run or walk in one go or do it in multiple runs from October 1 to 31 to complete 42 kilometers, a marathon distance. Registration is free.
Participants can choose to order a PINK Marathon shirt, a medal or both or can opt to donate or donate any amount from P100+
Event is open for all individuals, male and female.
I CAN'T RUN (YET) BUT I WANT
This year, we are opening a Couch to 5K Slot for those who wants to donate and get started. Watch out for our couch to 5k program that will help you run your first for PINK MARATHON.
THE BREAST CANCER AWARENESS MONTH
October is Breast Cancer Awareness Month. This is to raise the importance of regular self-breast examination and the critical role of screening in the early detection and treatment of breast cancer among women. A breast self-examination (BSE) is a method to detect any noticeable changes in one's breast. Early detection of any changes in the breast and seeking immediate consultation will increase one's chances of successful treatment.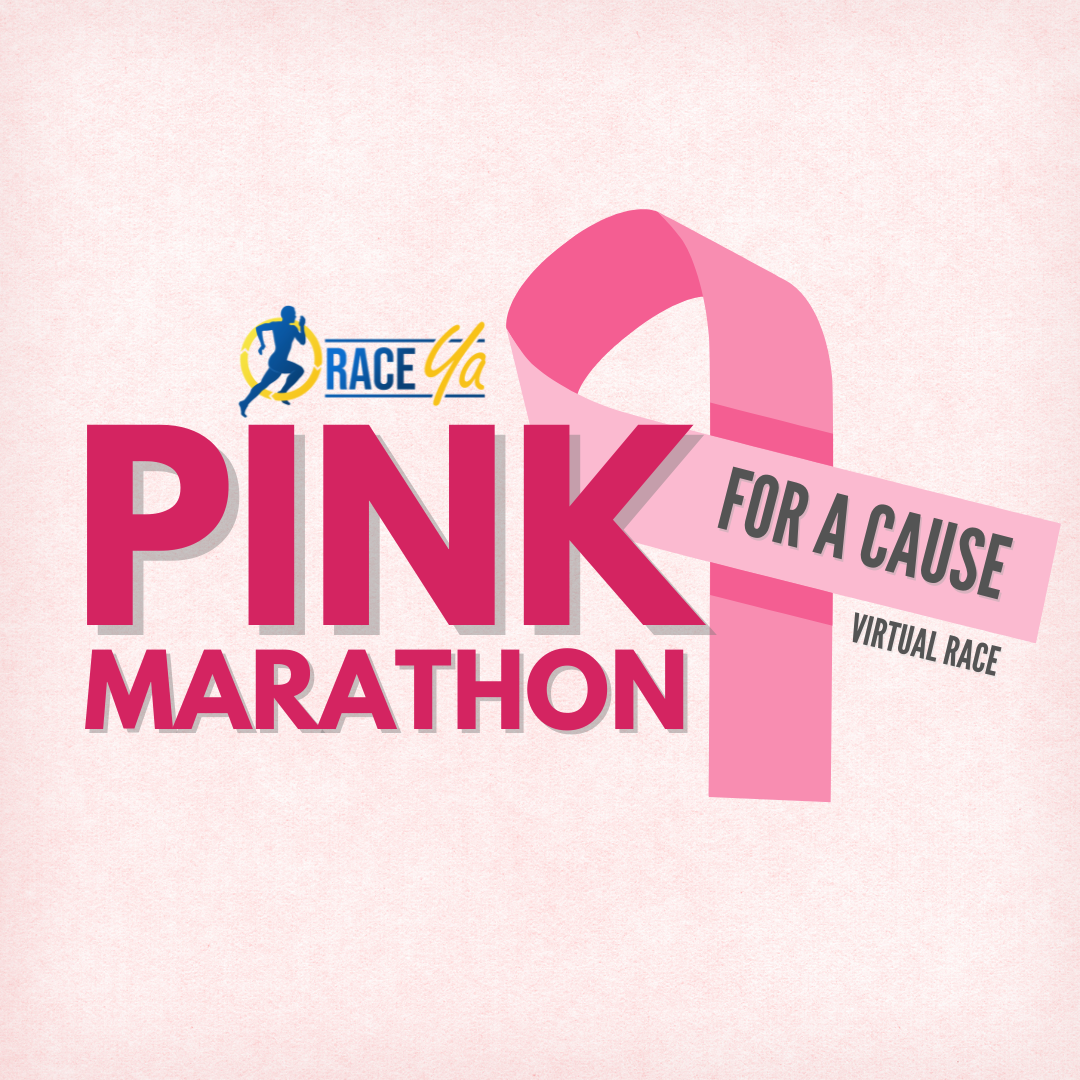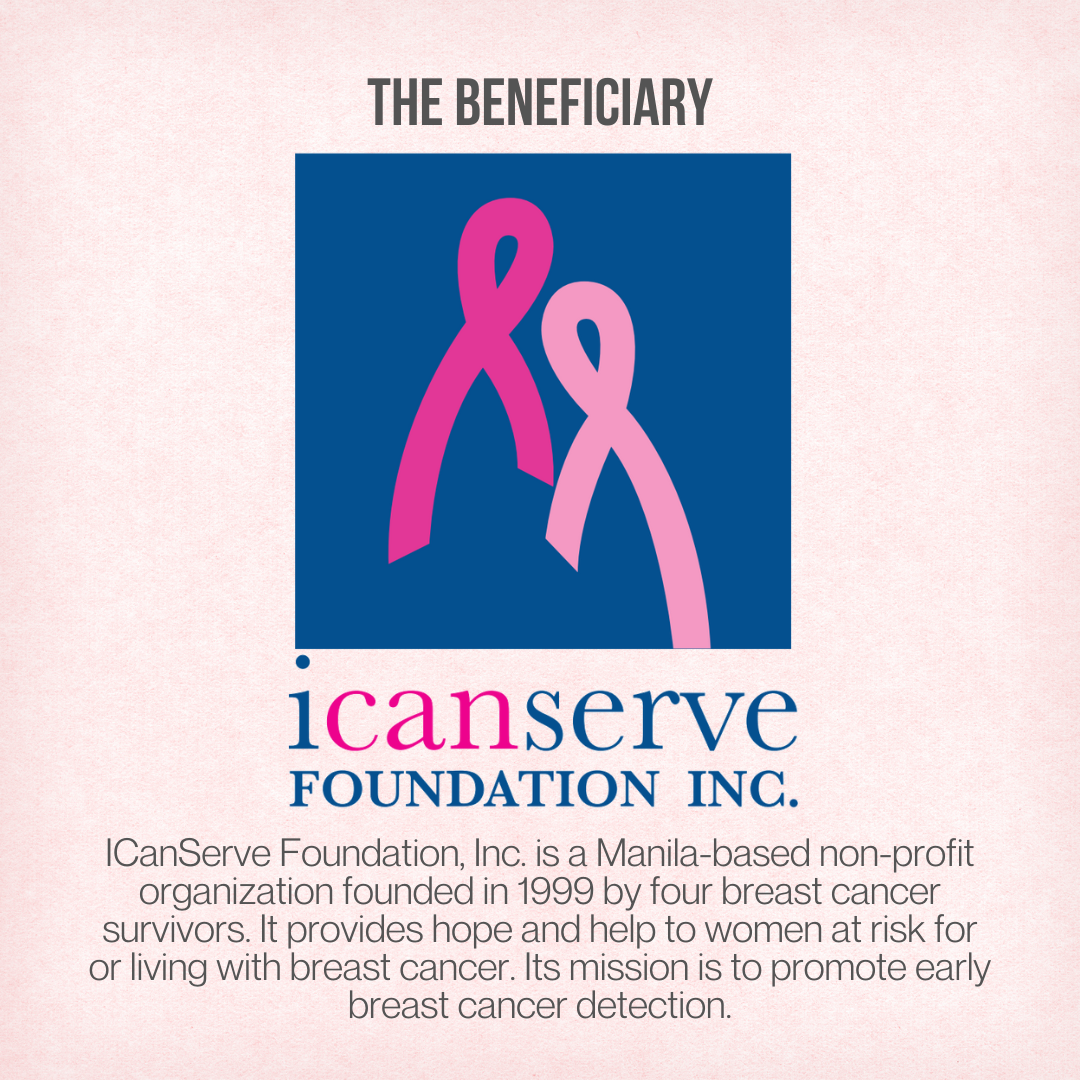 THE ICANSERVE FOUNDATION
ICanServe Foundation, Inc. is a Manila-based non-profit organization founded in 1999 by four breast cancer survivors. It provides hope and help to women at risk for or living with breast cancer. Its mission is to promote early breast cancer detection. Its flagship program is Ating Dibdibin (Take your Breast Care to Heart), the country's first comprehensive community-based breast cancer screening program. Ating Dibdibin entails training a locality's medical team and barangay (community) health workers, patient navigation and providing free or subsidized cancer treatments for those diagnosed under the program. ICanServe also provides training to elevate the capabilities of and networks with breast cancer support groups all over the Philippines. It empowers women with breast cancer-related information so they can have a voice in their own health care. Volunteers are cancer survivors willing to share their light with other patients and survivors so that their path is better lit, and the journey, lighter. Its online community (e-group) consists of over 300 women cancer survivors. ICanServe Foundation's main office is in Pasig City. It has an affiliate in Cebu City. Website: www.icanservefoundation.org
Frequently Asked Questions
Each participant needs a RaceYa.fit account to gain access to the registration and the Virtual event. This will be your perpetual account which will give you access to other features in the platform.
Choose the race event and the category you are joining. This is a free event. You can, however, shop and add shirt, medal or donate upon registration. Payment can be made via paypal/credit card, bank transfers, Gcash or from over 40 payment centers available. Payment should be made before checkout. For Dragonpay, kindly follow the instructions sent to you. For card/paypal, you will be directed and asked to log-on to your paypal account. Should you decide to exit and shop/pay later, please log-on to your account to continue your purchase or payment.
Your access to the time portal will be activated 24H after confirmation of your registration. Race starts October 1, 2022 and end time will be October 31, 2022. Upload will be at time.raceyaya.com or click the link above.
REMINDERS:
Participants can only register via register.raceyaya.com, Participants should ensure they have read all race and event details, rules, and protocols and agree to the terms of participation by ticking it before submitting registration.
1. Registration is only confirmed after payment. Paid fees are non-refundable, non-transferable & non-creditable to future ICanServe or races hosted in Race Ya.
2. Participants should read all details and FAQs on this page and the terms and conditions before submitting their registration.
3. Participants should use an accessible email where confirmation and event updates and announcements will be sent if any. Updates may be posted and updated on this page and in ICanServe and RaceYaya social media accounts. It is the participants' responsibility to be informed of any updates.
Please ensure that you have read all the TERMS AND CONDITIONS on the use of the Registration Platform.
Start time will be at 5am of October 1 and end time will be at 10 pm of October 31, 2022.
Run Route
Participant can choose their start time and route, your race day from anywhere you are.
MULTIPLE UPLOAD - The registered participants should finish their activity in a multiple run/walk.
ONE GO - The registered participants should finish their activity in one activity.
COUCH TO 5K - This is your first 5k (or your first after a while). No pressure, do it any time from today until October 31. Watch out for our announcement of our Couch to 5K program.
What to Prepare before your Race
Day Participant may use any watch, phone application or treadmill which can measure their time and distance. Participant should start his/her watch or app at the planned start time and turn it off when target distance is met for each run. Participant must ensure he/she has trained well for the distance. Train, Hydrate and eat well! The goal is to meet the personal challenge you have set for yourself to finish a 42k in one go or in multiple runs before the end of October 31; do it at your own pace.
How to Do the Challenge
1. Start time will be at 5am of October 1 and end time will be at 12 pm of October 31, 2022
2. Participant should turn on their watch/app during their activities. This can involve walking, running, hiking or simply moving around.
2. Participant must ensure he/she has trained well for the activity. Train, Hydrate and eat well!
Health Protocols
1. Participants should do their activity following the health protocols in their location in relation to the COVID Safety Protocols.
2. Participants should ensure their safety during their activity. We highly discourage over exertion which may compromise the participant's health.
Tracking
1. Participant should start his/her watch or app at the planned start time and turn it off when the activity is done.
2. Don't forget to enjoy!!!
Uploading of Results
1. Participant has to submit their steps within three days after their activity but not later than November 5, 2022. Log-in to your RaceYa profile and upload your results as indicated. This automatically updates the live leaderboard at raceya.fit
2. Participant is expected to exhibit the value of sportsmanship in their uploaded results. We will be flagging results which cannot be validated or has possible irregularities based on the link submitted. We may disqualify results based on validation. Please note that we are doing this for fun and to celebrate moving.
3. Official Results will be validated within twenty-four hours after submission. Please check your email as we will be sending communications should your submission require additional information for validation.
4. The ranking will be based on the total number of kilometers. Contest on the published results should be done via email at [email protected] later than 24 hourstime of activity. We will not entertain any online contest and we highly discourage any form of bashing and disrespectful post against other athletes. The organizing committee will decide on the contest sub
How do I know my status?
After registration, your Pink Marathon 2022: I can run, I can serve registration status can be seen in your profile. Log-in at raceyaya.fit/login.
How do I upload results?
Participant should log-in to their account at https://raceya.fit. Please expect this to be uploaded within 24H.
Registration Ended
1 year ago