NCPEP Fit-Fun Conference 2023
June 29 - July 1, 2023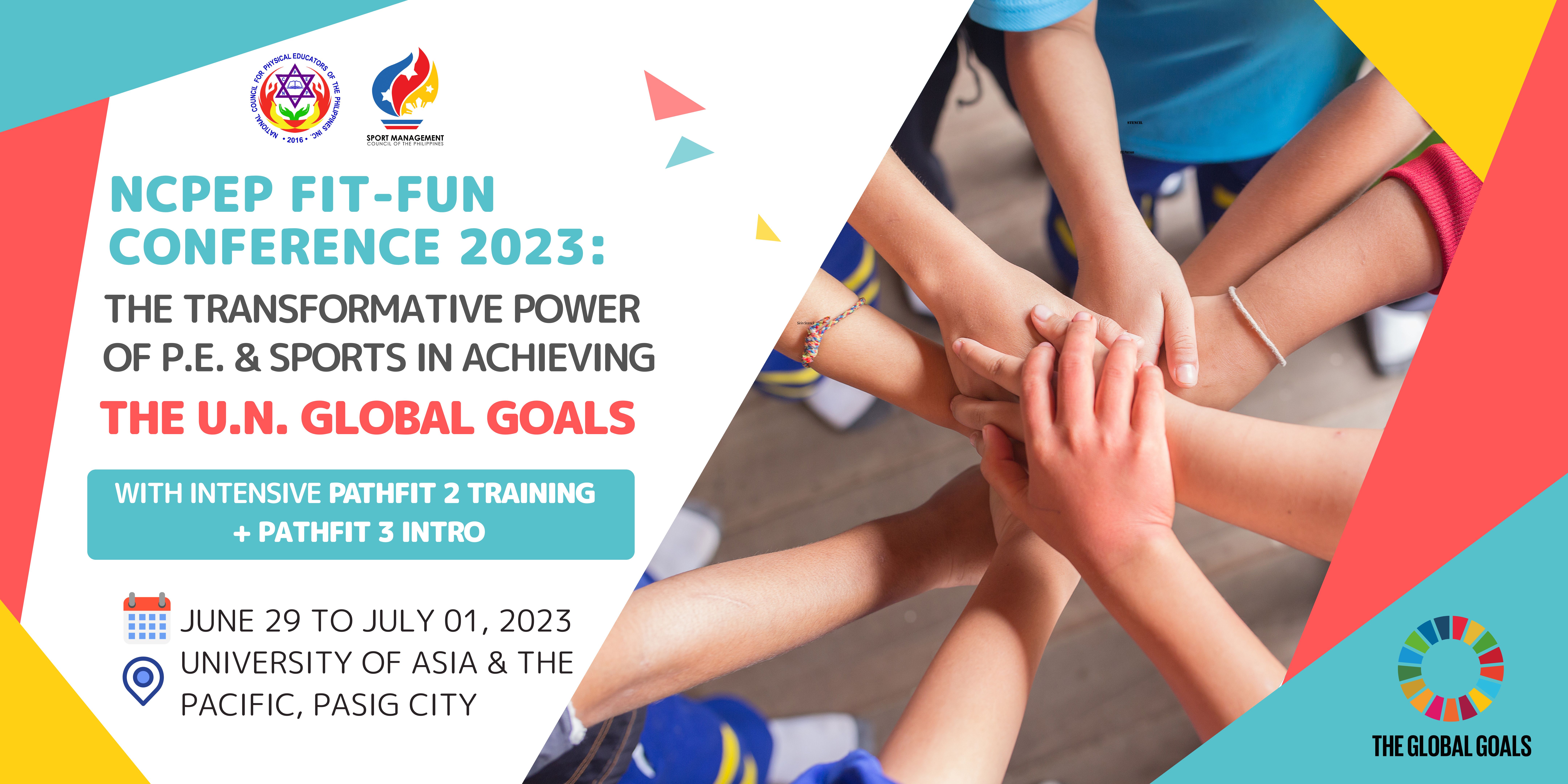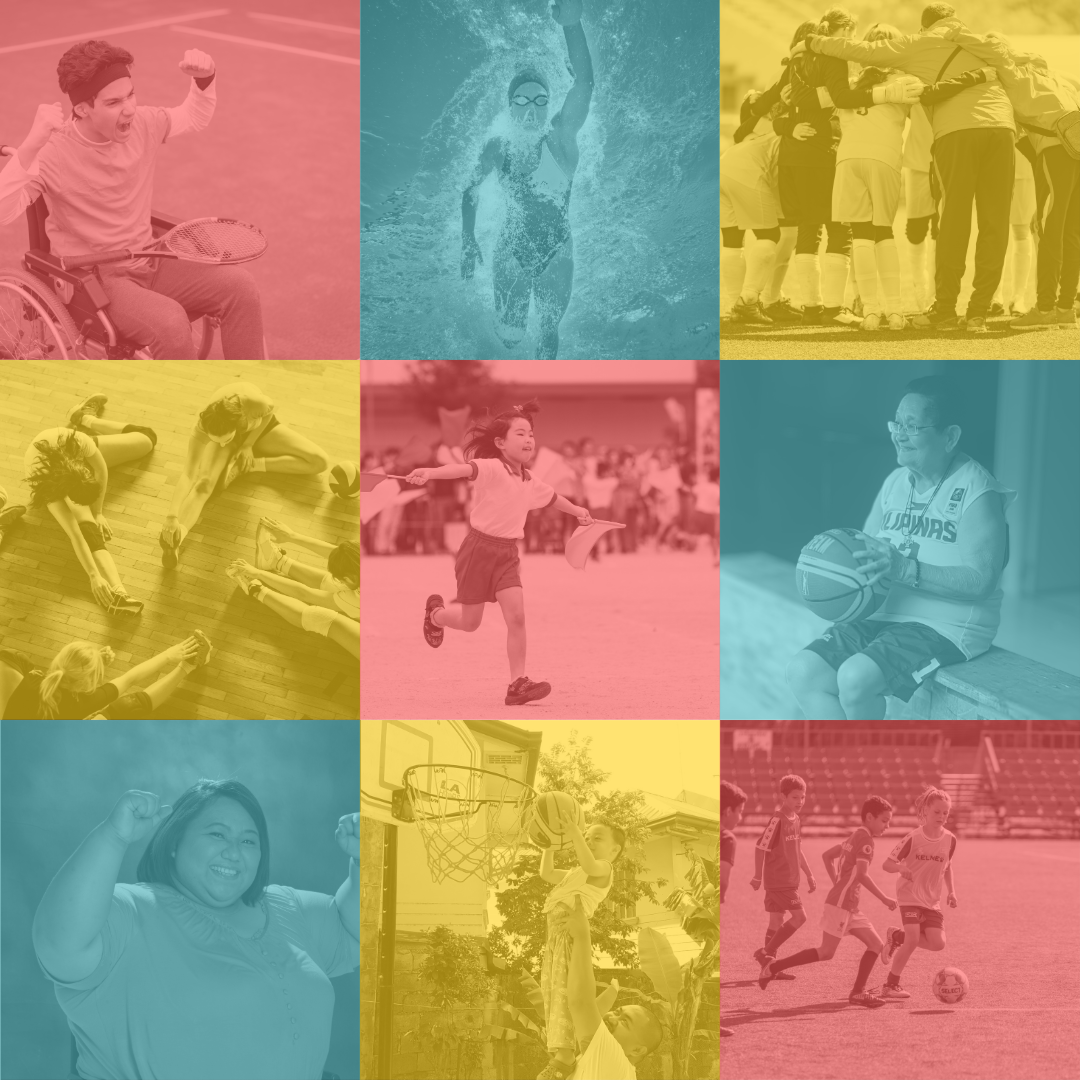 The National Council for Physical Educators of the Philippines (NCPEP) Inc., in cooperation with the University of Asia and the Pacific and SportPhil, is staging the "NCPEP FIT-FUN Conference 2023 with the theme: The transformative power of PE and Sports in achieving the UN Global Goals.
The United Nations acknowledges that P.E. and Sport can contribute to 7 of the 17 Sustainable Development Goals - inspiring people to live healthy lifestyles, promote gender equity, and build strong communities, among others.
The three-day conference from June 29 -July 1 will be full of new knowledge and mastery of the activities. We are excited to bring you this conference which will explore the many ways in which PE and sports can help achieve the UN Global Goals.
Frequently Asked Questions
The on-site registration fee gives you access to the 3-day conference of plenary talks on PE & Sports x SDG, and an intensive PATHFIT 2 (and introduction to PATHFIT 3) workshop. Lunch, snacks and drinks are provided, as well as conference kits containing your conference I.D., a shirt, towel, and water bottle.
The online registration provides you livestream viewing of the talks and the workshops in the gymnasium.
Yes. NCPEP is currently working to acquire the CPD units that can be earned for attending the conference. We will keep posted for the updated announcements on this.
NCPEP will monitor the attendees for their physical or online presence and participation to the conference and its activities. Therefore, a participant may receive as much as 3 types of certificates, which are:
Certificate of attendance – to indicate the days of actual attendance by the participant
Certificate of participation – to indicate the days of active participation by the participant
Certificate of completion – to be given after the conference after submission of assignments as provided by the workshop trainers. Details to be relayed during the conference.
PATHFIT or Physical Activities Toward Health and Fitness was rolled out by the Commission on Higher Education (CHED) under the Memorandum Order (CMO) No. 39, Series of 2021 to help strengthen teacher management of tertiary physical education towards the achievement of students' learning outcomes.
Pathfit 1 involves Movement Competency Training. Discusses the basics of movement as the foundation for building healthy, lifelong habits of physical activity.
Pathfit 2 involves Fitness Training. This course provides core strength, mobility training, exercise progression and periodic assessment for the development of muscular fitness in motivating student to maintain lifelong fitness.
Pathfit 3 involves Exercise Programming and Dance. This course deals with basic movement and rhythmic skills which includes interpretation and performance of Philippine folk dances. This is where teachers will also gain the ability to incorporate Pathfit 1 and 2 concepts within Pathfit 3.
Yes, of course. A fitness trainer or fitness enthusiast may benefit from attending the Pathfit 2 workshop in order to appreciate exercise sequencing, among others. The topics that are included are:
Training or exercise principles
Mobility and movement preparation
Resistance training and fundamental movement patterns
Cardio respiratory fitness training
Others: Yogilates = Yoga + Pilates
There are at least 2 online resources that you can use to find out the best way to get to UA&P from wherever you are.
For public transportation, please refer to the Moovit app
For driving directions, please refer to this Google Map link
Enter the UA&P from the main building along Pearl Drive. From there, there will be signages and ushers to lead you to the conference venue(s).
UA&P is located along Pearl Drive in Pasig City that has several nearby hotels, as well as malls and restaurants.
Some recommended hotels to fit every budget are:
We recommend that you also use online websites to find the most up to date information on hotel availability and proximity to UA&P.
The UN Sustainable Development Goals (SDGs) 1, 2, 3, 4, 5, 8, 11 and 16 can be related to sports and physical activity in the following ways:
SDG 1: No Poverty. Sports and physical activity can play a role in addressing poverty by providing opportunities for economic empowerment. In some cases, sports can serve as a pathway for individuals to overcome poverty through professional careers, sponsorships, and endorsements. Additionally, sports-based development programs can be implemented in low-income communities, providing access to sports facilities, training, and mentorship, which can help break the cycle of poverty and promote social inclusion.
SDG 2: Zero Hunger. Sports and physical activity can contribute to SDG 2 by promoting healthy lifestyles and addressing malnutrition. Sports programs in schools, communities, and institutions can emphasize the importance of balanced nutrition and encourage healthy eating habits. Furthermore, sports can be used as a platform to raise awareness about food security, sustainable agriculture practices, and access to nutritious food, particularly in underserved areas.
SDG 3: Good Health and Well-Being. Promoting good health and well-being is a core aspect of sports and physical activity. Regular participation in sports and physical exercise can help prevent non-communicable diseases, improve mental health, and enhance overall well-being. Sports programs can be designed to target specific health issues, promote healthy behaviors, and facilitate access to healthcare services, particularly in marginalized communities. Additionally, sports can be used as a tool for rehabilitation and therapy for individuals with disabilities or those recovering from illnesses.
SDG 4: Quality Education. Sports and physical activity are closely linked to quality education. Physical education in schools provides opportunities for children to develop motor skills, teamwork, discipline, and leadership qualities. Sports activities can also promote values such as fair play, respect, and perseverance, which are essential for holistic education. Furthermore, sports scholarships and initiatives can support access to education for talented athletes, enabling them to pursue their academic goals while developing their sporting abilities.
SDG 5: Gender Equality. Sports and physical activity can contribute to advancing gender equality by promoting the participation and empowerment of women and girls. Efforts can be made to provide equal opportunities, resources, and support for women and girls to engage in sports. This can involve initiatives that challenge gender stereotypes, provide safe and inclusive sports environments, and encourage female representation in sports leadership and decision-making roles.
SDG 8: Decent Work and Economic Growth in Sports. In the context of sports, SDG 8 focuses on promoting decent work and economic growth. This can be achieved by ensuring fair and equitable opportunities for athletes, coaches, and sports personnel. It involves providing fair wages, safe working conditions, and social protection measures for individuals involved in sports activities. Additionally, SDG 8 encourages the development of sustainable sports industries, including sports equipment manufacturing, infrastructure construction, and sports tourism, which can contribute to local and national economic growth.
SDG 11: Sustainable Cities and Communities through Sports. Sports play a significant role in achieving SDG 11, which aims to create sustainable cities and communities. Sports facilities and programs can contribute to the development of inclusive, safe, and accessible urban spaces. Investments in sports infrastructure, such as stadiums, parks, and recreational facilities, help in promoting physical activity, community engagement, and social cohesion. Moreover, sustainable sports events and initiatives can be organized, considering aspects such as waste management, energy efficiency, and public transportation, to minimize environmental impact and contribute to sustainable urban development.
SDG 16: Peace, Justice, and Strong Institutions in Sports. SDG 16 is relevant to sports as it emphasizes the promotion of peace, justice, and strong institutions. Sports can be a powerful tool for fostering social inclusion, reducing violence, and promoting equality. Sports programs and events can bring diverse communities together, encourage dialogue, and build bridges across different cultures, fostering understanding and respect. In addition, efforts should be made to ensure fair play, integrity, and ethical behavior within the sports industry, combatting issues such as corruption, doping, and discrimination. By promoting transparency and accountability, sports can contribute to the overall goal of achieving peaceful and inclusive societies.
It is possible to address multiple SDGs simultaneously by leveraging sports and physical activity into sports activities, initiatives, and organizations, as platforms for social change and development. Through inclusive and sustainable sports programs, initiatives, and policies, we can foster healthier communities, promote social inclusion, and contribute to the overall achievement of the SDGs.
Got to our website: Raceya.fit
Click on the top right menu and click on sign-up
Sign up using your Google account or by entering your details
After signing up, you can customize your raceya profile. you can also start registering for other events
Got to our website: Raceya.fit
Log-into your account.
Go to our events page: Raceya.fit/Events
Fill out the form and follow the prompts to pay for your event. wait for confirmation email.