My 2023 PR
December 31, 2023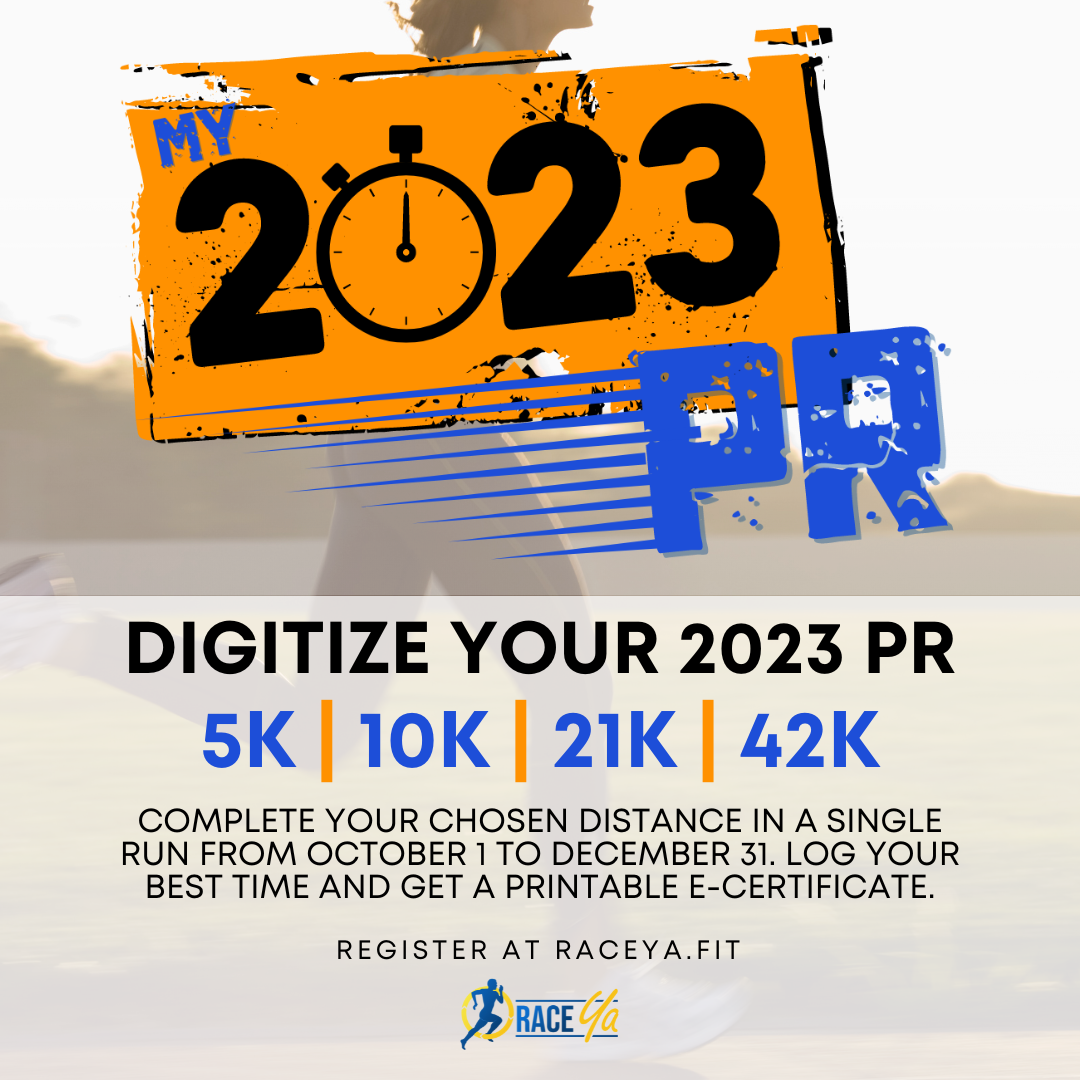 DIGITIZE YOUR 2023 PR.
Complete 5k, 10k, 21k, or 42k in a single run, or join all four categories. Log your best time and get a printable e-certificate to celebrate your milestone.
See how you fare on the leaderboard.
When: October 1 to December 31
Where: From anywhere in the world!
Categories: 5k, 10k, 21k, 42k
Joining Fee: P100
Special Awards:
Fastest Male per Category
Fastest Female per Category
Top 3 Male and Female per Age Group and Category
Join the event by selecting a distance to complete. You can also join multiple categories.
Run from wherever you are from October 1 to December 31.
Complete your chosen distance in one go and log your best time.
Frequently Asked Questions
After registering, your registration status can be seen in your profile. Log-in at raceya.fit/login.
Each participant shall need a RaceYa account to gain access to the registration.This will be your perpetual account which will give you access to other features in the platform.
If you already have an account, please log-in at raceya.fit/login. Please ensure that you have read the terms and conditions before submitting your registration.
SUBMITTED NOT PAID: After submission of registration and before payment, your registration is set to
PENDING PAYMENT. This will change after you have paid via GCash or Paypal or have uploaded your bank deposit proof of payment. An email is auto sent with payment instruction for bank deposit.
PAID: Your status is set to PAID after successfully paying via Paupal, your payment is paid via Dragonpay-Gcash or proof of payment is uploaded to your account if bank deposit.
REGISTERED Your status is set to Registered when registration is confirmed. You will also receive an email confirmation. You may start logging on to raceya.fit/login to start your race.