Kabayan Run Series 2023
April 22, 2023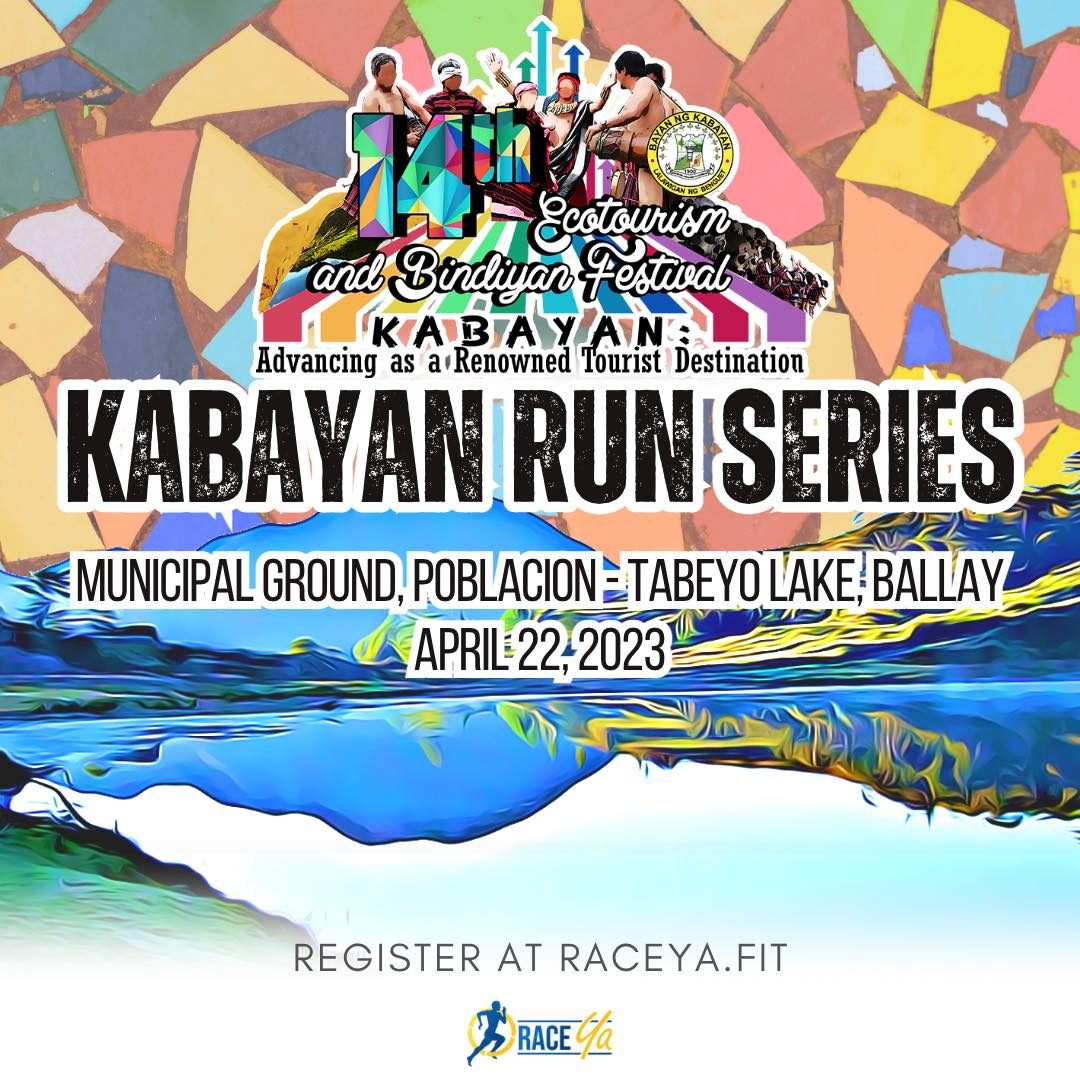 KABAYAN RUN SERIES is organized by the Local Government of Kabayan in partnership with Philippine National Police - Kabayan in celebration of the 14th Ecotourism and Bindiyan Festival held annually in the month of April. It is also organized to help a beneficiary.
The Kabayan Run Series starts at the Municipal Ground in Barangay Poblacion, Kabayan ascending to one of the mountain lakes specifically at Lake Tabeyo in Barangay Ballay, Kabayan. Total distance from start to finish is about 15 kilometers where the course is through paved roads and mostly uphill. Expect high altitude running, cool climate and marvelous mountain views near the finish line.
Event Details
Event Date: April 22, 2023
Venue: Municipal Ground, Poblacion - Tabeyo Lake, Ballay, Kabayan, Benguet
Time: 6:00 am
Distance: 15.2 km
Registration Fee: P 1200
RACE INCLUSION AND REGISTRATION FEES
P1,200.00 registration fee inclusive of the following:
Event Shirt
Medal
Finisher's meal.
*NOTE: a portion of the registration fee will go to a beneficiary named Lacson L. Colas, 18 years old, student, of Abucot, Eddet, Kabayan. Mr. Lacson is the eldest among his 6 siblings. His father sadly passed away while his mother left him and his siblings to fend for themselves. They are currently living with their relatives however upon assessment of their living condition, it is found out that the house of their relative is too small to accommodate them all wherein they sleep in a cramped room with no bed. A portion of the registration fee will be used to procure materials to build bed for them to peacefully sleep at night and enough space for them to call home. This program is through the Pabahay Project of the Philippine National Police.
AID STATIONS
Starting Line to WS1 (Barangay Hall, Gusaran, Kabayan): 5km
WS1 to WS2 (Liang, Ballay, Kabayan): 7km
WS2 to Finish Line: 3.4km
Total of 15.4km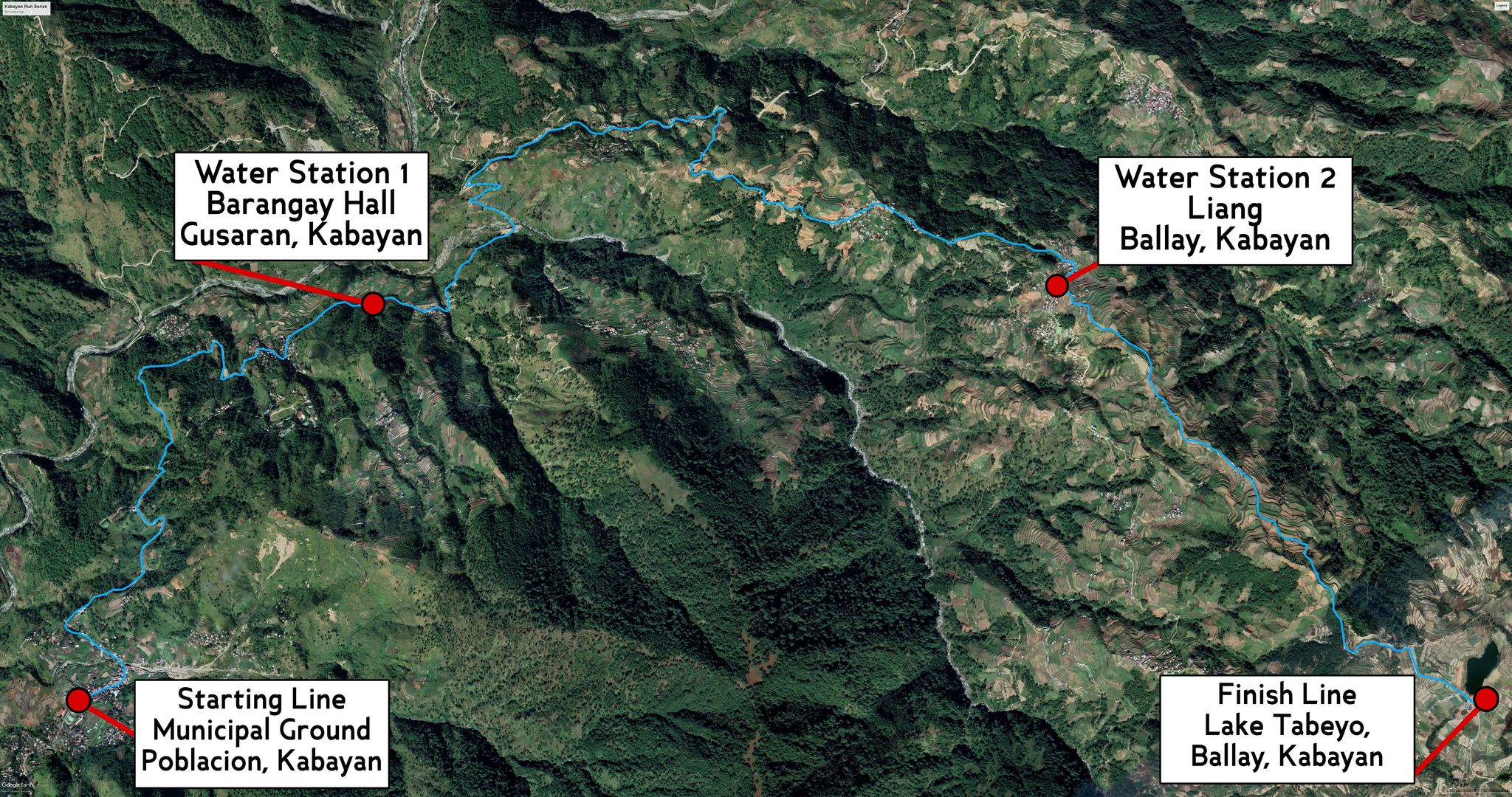 Other Information
RACE KIT CLAIMING
Race kit will be provided at the Municipal Building, Poblacion, Kabayan, Benguet
HEALTH MANAGEMENT
Participants should follow the health and safety protocols required by the LGU if any. Wearing of mask is optional.
MANDATORY EQUIPMENT
There will be Water refilling stations along the Race Course. It's a must that you bring your own water bottle or Hydration packs to ensure proper hydration all throughout the race, no paper cups will be provided during the race and racers will be required to refill their own hydration system from the water containers provided in the stations.
Each racer must be self-contained/ self-reliant. Complete with the following mandatory items:
• Hydration bottle/ pack (at least 800ml)
• Trail food/ water
• Whistle
• Cellular Phone
• Whistle
• Emergency Blanket
• Headlamp
• Rain Coat (in case of rain)
PIN OF STARTING LINE - https://goo.gl/maps/qZJSMDKKBYDvpbr99
Coordinates: 16.62359210738457, 120.8380474743579
PIN OF FINISH LINE - https://goo.gl/maps/XMXx8bLXU1SGD6v66
Coordinates: 16.67788997137363, 120.87473636831291
PUBLIC TRANSPORT
To reach Poblacion, Kabayan by commuting, you may ride either a bus or a van.
The bus station is located at Dangwa Station, Baguio City and will take about 3-4 hours to reach Kabayan. The bus starts at 2PM every day from Baguio City going to Kabayan. The fare costs about Php 250.00/pax.
Kindly click this link for the location:
https://goo.gl/maps/TJtoZic3ns5CUD9M8
Another van station is located at Hope Christian Academy, Km. 5, La Trinidad Benguet. The fare is about Php 280.00/pax. The van starts at 9am, 11am, 1pm, 2pm, 3pm every day from La Trinidad – Kabayan.
Kindly click this link for the location:
https://goo.gl/maps/86MUH8gJvcJWKQ5G9
*NOTE: Fare and schedule of said public transportations may change without prior notice
ACCOMMODATIONS
There are limited accommodations based at Poblacion, Kabayan. List of accommodations are listed below:
1. Esther Akiki Inn
2. Jonalyn Palispis Homestay
3. Pinecone Lodge
List of accommodation may be updated through the Kabayan Tourism Facebook Account. To be up to date, click the link below:
https://web.facebook.com/kabayantourismoffice/
CAMPING
There's no available campsite at the starting point. Participants may pitch their tents for waiting at the area to be designated by the organizer. This will be on a first come, first serve basis. Participants should practice "clean as you go" on the designated area.
PARKING
There are parking spaces available at Kabayan Central School Grounds, Poblacion, Kabayan, Benguet.
Event Rules
1. The athlete's responsibility is to understand and know the rules and regulations before entering the course and participating in the competition.
2. Cut-off time is 6 Hours for the 15-kilometer run; failure to finish the race within the cut off time will mean a DNF (Did Not Finish) status on the race result.
3. Athletes are not allowed to race bare chested. We must respect the culture of the people living in the race area. Failure to comply to this rule might result in disqualification from the race.
4. Athletes are required to report to the start area at least 5 minutes prior to the start of their designated run. Reporting too late can result in not being able to start at all. The organization can decide if the time for starting later will be compensated or not.
5. For those parts of the course where public roads are used, athletes must respect traffic regulations and behave like (running) pedestrians are expected to behave.
6. Deliberately blocking other competitors' progress will result in disqualification. There will be no (time) compensation in case the competitor is blocked by another competitor, official, any other person, or anything else.
7. Athletes are required to provide and accept assistance from other competitors in distress, whose safety, is endangered, and/or who need medical assistance, up and until the moment this role has been taken over by volunteers or medical staff.
8. Outside assistance:
• Limited outside assistance is allowed from another athlete competing in the same event.
• No outside assistance is allowed from any person not competing in the same events. These include but are not limited to spectators, friends, family, volunteers, support crew, photographers, police, or marshals.
9. Athletes are obligated to:
• Know, understand and follow the rules and regulations at all times
• Practice good sportsmanship at all times
• Be responsible for their own safety and the safety of others
• Obey instructions from race officials and event staff at all times
• Treat other athletes, officials, volunteers, media, sponsors, and spectators with respect and courtesy
• Not disposing of litter or equipment on or around the course except at clearly designated places. All items must be kept with the athlete and disposed of appropriately at the end of the race
• Not attempt to gain unfair advantages in any way
• Have to be present at the briefing which starts 1 hour before the first start group starts.
Gunstart : 5am
Cut off : 7 hours
Registration Information
Participants can only register via register.raceyaya.com, Participants should ensure they have read all race and event details, rules, and protocols and agree to the terms of participation by ticking it before submitting registration.
1. Participants should read all details and FAQs on this page and the terms and conditions before submitting their registration.
2. Participants should use an accessible email where confirmation and event updates and announcements will be sent if any. Updates may be posted and updated on Kabayan Tourism Facebook Account(https://web.facebook.com/kabayantourismoffice/). It is the participants' responsibility to be informed of any updates.


Please read the TERMS AND CONDITIONS on the use of the Registration Platform.
Prizes
Champion : Php 15,000.00
Runner-up : Php 13,000.00
3rd Place : Php 10,000.00
Finishers : Medal
*NOTE: Only those who finish within the cut-off time will be eligible to receive the medal and certificate.
Frequently Asked Questions
After registration, your KABAYAN Run Series 2023 registration status can be seen in your profile. Log-in at raceya.fit/login.
Each participant shall need a RaceYa account to gain access to the registration.This will be your perpetual account which will give you access to other features in the platform.
If you already have an account, please log-in at raceya.fit/login. Please ensure that you have read the terms and conditions before submitting your registration.
SUBMITTED NOT PAID: After submission of registration and before payment, your registration is set to
PENDING PAYMENT. This will change after you have paid via GCash or Paypal or have uploaded your bank deposit proof of payment. An email is auto sent with payment instruction for bank deposit.
PAID: Your status is set to PAID after successfully paying via Paupal, your payment is paid via Dragonpay-Gcash or proof of payment is uploaded to your account if bank deposit.
REGISTERED Your status is set to Registered when registration is confirmed. You will also receive an email confirmation. You may start logging on to raceya.fit/login to start your race.