Hari ng Ahon 2
October 08, 2023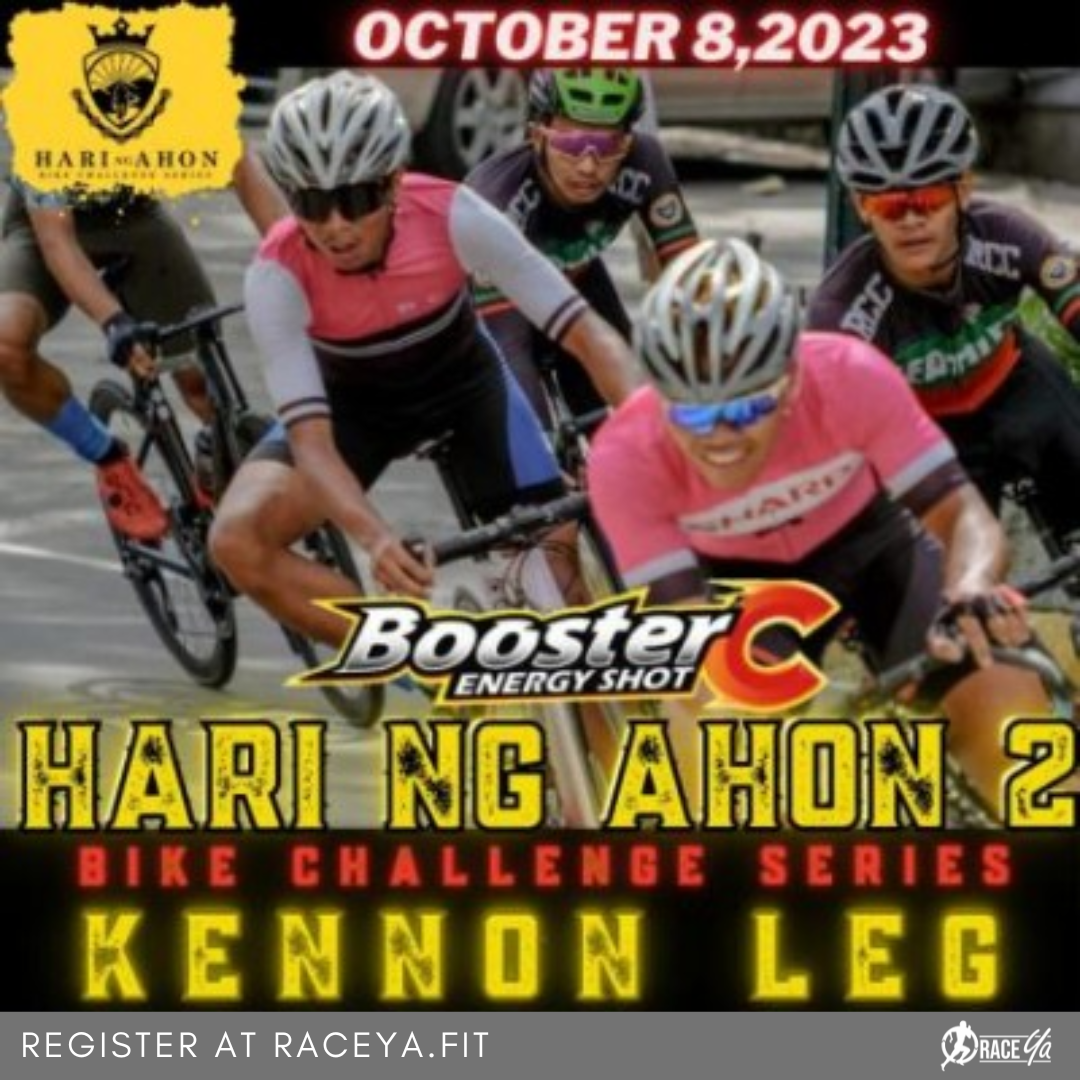 HARI NG AHON BIKE CHALLENGE SERIES – an unparalleled cycling experience like no other! Now in its second year, this event is tailor-made to ignite your passion for biking and elevate your fitness journey.
Spread throughout the year, our race series boasts five exhilarating challenges set against the stunning backdrop of uphill routes leading to Baguio City. Brace yourself for breathtaking climbs that will truly test your biking skills.
With multiple age categories, there's a spot for every rider. The top ten finishers in each category earn prestigious trophies, but even if you don't make the top ten, you'll proudly wear a coveted finisher's medal and earn well-deserved bragging rights.
Our race is all about inclusivity, welcoming riders of all ages. Whether you're a seasoned pro or just starting out, you're invited to be part of this extraordinary cycling community.
Join us for the HARI NG AHON BIKE CHALLENGE SERIES – where passion meets adventure, and every pedal takes you closer to greatness!
EVENT DATE AND TIME: October 8, 2023 6:30 AM
VENUE: Kennon Road Lion's head Baguio Benguet
DISTANCE: 30KM
CATEGORIES
MOUNTAIN BIKE
Age categories:
Male

Below 19
20-29
30-29
40-49
50-59
Above 60

Female

20 below
21-35
36-49
50 above
ROAD BIKE
Age categories
Male

Below 19
20-29
30-29
40-49
50-59
Above 60
Female

20 below
21-35
36-49
50 above
DISTANCE: 20KM
CATEGORIES
MOUNTAIN BIKE
Age categories:
Male
ROAD BIKE
Age categories
Male
The organizers reserve the right to merge categories in cases where there are less than 10 participants for each age category.
ENTRY FEES (FOR ONE LEG OF THE RACE ONLY)
Tier 0 - Php 1,000 (Promo Rate Registration)
Tier 1 - Php 1,100 (Early Bird Registration)
Tier 2 - Php 1,300 (Regular Registration)
Tier 3 - Php 1,500 (Late Registration)
RACE KIT CLAIMING
October 7, 2023 from at Toyville Albergo, No. 1 Villamor Street, Lualhati, Baguio City near Wright Park from 8am to 6pm
October 8, 2023 at the starting line at the Lion's Head, Kennon Road, Baguio City from 4:30am to 6am
AWARD/ PRIZES
Top ten in each category shall receive Trophies.

Male/Female Individual MTB
Male/Female Individual Road Bike
Male/Female Executive MTB
Male/Female Executive Road Bike
ONLY PARTICIPANTS SHALL BE ALLOWED TO RIDE THE ROUTE. NO OUTSIDE ASSISTANCE SHALL BE ALLOWED EXCEPT ALONG THE DESIGNATED AREAS ALONG THE RACE ROUTE.
RACE RULES
These rules are are intended to create an atmosphere of sportsmanship, equality, and fair play. It also ensures that the participants' safety and protection are of primary importance. It shall penalize participants who gain unfair advantage or violate the rules.
A) General Conduct:
All participants:
Are expected to practice sportsmanship at all times.
Will be responsible for their own safety and the safety of others.
Should know, understand and follow the Competition Rules.
Are expected to obey traffic regulations and instructions from race officials. The route of the race shall not be closed to traffic, hence the participants are supposed to ride safely and be mindful of the traffic conditions.
Should treat other Participants, officials, volunteers, and spectators with respect and courtesy.
Avoid the use of abusive language.
Inform a Race Official after withdrawing from the race.
There shall be aid stations along the route, but the participants are expected to be self sufficient for their nutrition and hydration during the race.
Escorts riding alongside the participants are not allowed, although assistance from spectators and supporters, other than those which help the participants to move forward, are allowed provided that the same is not given while onboard a moving vehicle including bikes, motorcycles and motor vehicles.
Littering or unnecessary damage to the environment will not be tolerated and could lead to disqualification.
The riders must complete the entire distance of the race by following the official route.
The riders must act in a polite manner at all times, and permit any faster rider to overtake without obstructing.
Riders must respect the countryside and ride only on the official route. Riders must avoid polluting the area and not leave any waste or litter.
No glass containers of any kinds are permitted on or near the course.
Riders must not use offensive or abusive languange during the race, act in an unsportsmanslike manner, be disrespectfully to the officials or ignore the race regulations.
Participants are not allowed to have escorts, or aid vehicles alongside them during the race.
B) Equipment
Mountain bikes and road bikes in good working condition will be allowed during the race. For Mountain bikes, the minimum tire width is 1.95 inches.
A rider not wearing a helmet at any stage of the race will be removed from the course immediately and is deemed disqualified.
C) Race Numbers:
All athletes are required to wear their bib numbers at all times during the bike. Numbers must be clearly visible at all times. Numbers may not be cut or folded or altered in any way. DO NOT transfer your number to any other athlete or take a number from an athlete that is not competing.
D) Health:
Participants acknowledge that this activity is strenous and to be able to join, participants should be in excellent physical condition. Their health and welfare is of paramount importance. By starting in a race, the participants declare they are in good health and are in appropriate physical condition to complete the race;
Participants are encouraged to perform periodic health evaluation (PHE) and to undergo a pre-participation evaluation (PPE) prior to engaging in competitive sport.
E) Eligibility:
The participant's age is determined by their age on December 31st in the year of competition.
Participants who are minors are required to secure the consent of their parents before joining the race.
A participant who competes in a category different from his/her age will be disqualified from the events he/she took part in. Any awards, prizes and points will be removed.
Race registrations are non-refundable and non-transferable except as may be allowed herein. Both participants caught competing under someone else's registration / or allowing the use of his race registration will be disallowed from joining any All Out Multisports race for a minimum period of one (1) year to a maximum of two (2) years, at the sole discretion of All Out Multisports.
F) Registration:
All participants must provide a Government issued ID at race kit pick-up prior to competition.
All participants must pick up their race kit at the designated place and time.
G) Illegal Equipment:
Headphone(s) and headset(s), mobile phones or any other electronic listening communication device
Glass containers/bottles
Bicycles with missing front or rear brakes
H) Insurance:
All participants in the event must be covered by their own personal accident insurance that will cover any accident before, during and after the race.
I) Force Majeure:
In the event of cancellation or of definitive interruption of the competition for any reason outside the control of the Organizers, and in particular, a cancellation due to any case of force majeure, due to any decisions by public authorities ( in particular for reasons of public health, of safety or of preserving public order ) due to any risks of bad weather or bad weather conditions at the time of the event, the Organizer will incur no liability whatsoever in regard to the competitors and registration fees will not be reimbursed. The competitors hereby renounce any reclamation right of request for repayment whatsoever, either in the case of a cancellation or of a definitive interruption of the event.
J) Protests:
Protests concerning the eligibility of a participant shall be made to the race official before the start of the race.
Protests concerning the safety of the course or its variance to the regulations must be made to the organizers no later than twenty-four (24) hours before the start of the race.
A participant, who protests against another participant or official, must do so to the race organizers within fifteen (15) minutes of his/her finish time. However, the intention to write a protest has to be announced to the race organizer within five (5) minutes of his/her finish time. After this deadline, only protests following this process will be admitted.
Protests concerning mistakes in timing and results (time errors, athletes' ranking) may be delivered in writing by the athlete to the Race Organizer within thirty (30) days after the competition.
The protest must be accompanied by a deposit of Php 2,000 and will be refunded if the protest is successful. If the protest is denied, there will be no refund and the money will be retained by Race Organizer.
Information to be included:
The alleged rule violated
The location and approximate time of the alleged violation
Persons involved in the alleged violation
A statement, including a diagram of the alleged violation, if possible
The names of witnesses who observed the alleged violation
Frequently Asked Questions
After registering, your registration status can be seen in your profile. Log-in at raceya.fit/login.
Each participant shall need a RaceYa account to gain access to the registration.This will be your perpetual account which will give you access to other features in the platform.
If you already have an account, please log-in at raceya.fit/login. Please ensure that you have read the terms and conditions before submitting your registration.
SUBMITTED NOT PAID: After submission of registration and before payment, your registration is set to
PENDING PAYMENT. This will change after you have paid via GCash or Paypal or have uploaded your bank deposit proof of payment. An email is auto sent with payment instruction for bank deposit.
PAID: Your status is set to PAID after successfully paying via Paupal, your payment is paid via Dragonpay-Gcash or proof of payment is uploaded to your account if bank deposit.
REGISTERED Your status is set to Registered when registration is confirmed. You will also receive an email confirmation. You may start logging on to raceya.fit/login to start your race.