Grand Pasay District 8 Eagles Run
October 30, 2022

Registration Ended
3 months ago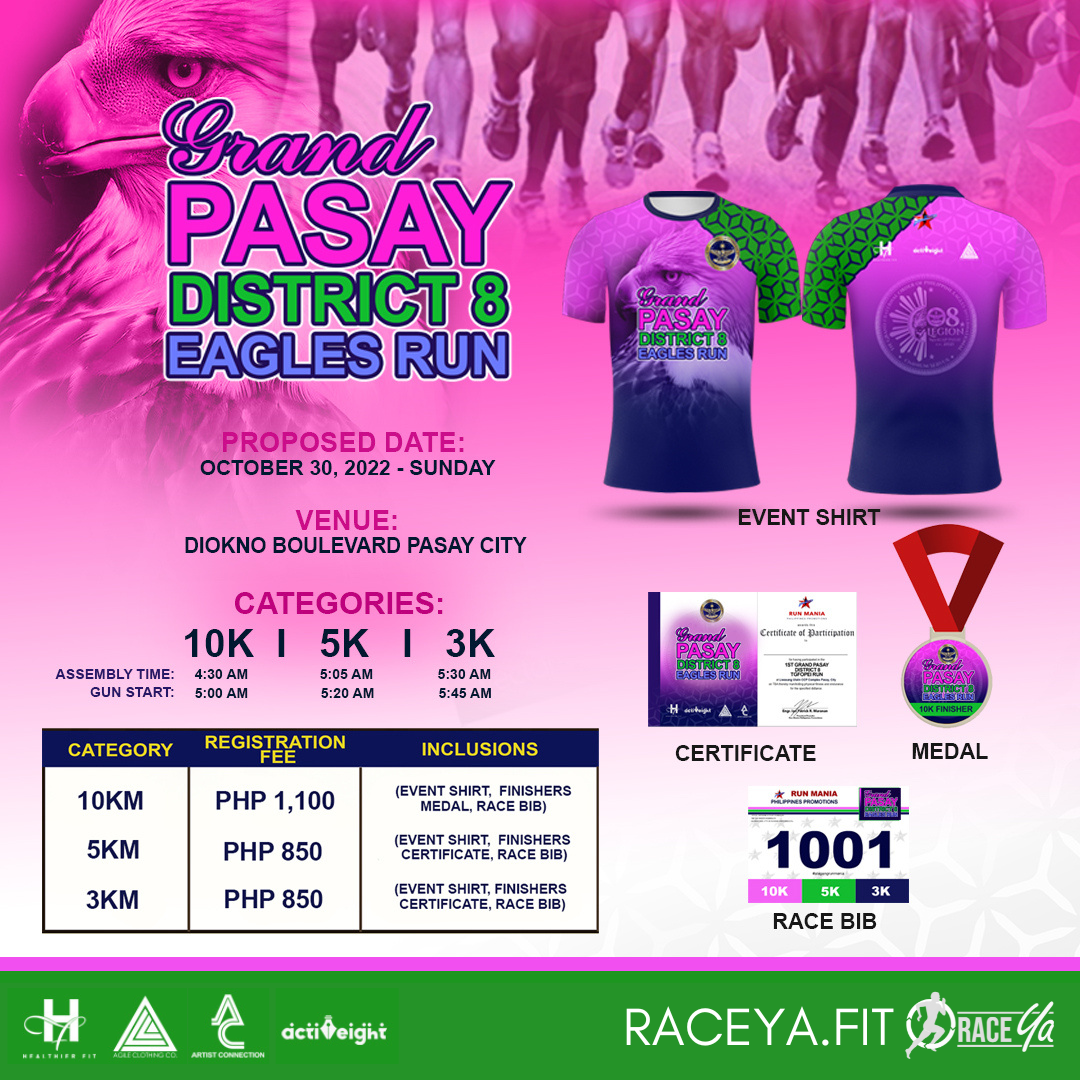 Event Details
Event Name: GRAND PASAY DISTRICT 8 EAGLES RUN
Event Date and Time: OCTOBER 30, 2022 4:30 AM
Event Venue: Diokno Boulevard (Between Diokno Bridge and Senate Building) Pasay City
How to go to Venue: If coming from manila, get off Vito Cruz along taft ave. there are ORANGE JEEPS there going to CCP and their last stop will be the SENATE OF THE PHILS.
Registration Fee:

10km - 1100 php

5km - 850 php

3km - 850 php
Gun-Start:
10km 5:00 AM
5km 5:20 AM
3km 5:45 AM
Race Rules
1. At 4:00 a. m. all runners must be at the designated assembly area per category for announcements and warm up exercises.
2. There will be separate winners (first, second and third) per category for men and women runners. Each winner will receive a prize, a medal, and a certificate. All non-winners will receive a certificate of participation.
3. Participants shall be in their appropriate running attire.
4. Each runner will compete on his/her registered category. Change in race category is not allowed
5. Race bib must be pinned in front of the shirt and must be always worn during the race.
6. Race bib number is non-transferable.
7. Minors 18 years old and below must have a parental consent and always accompanied by a guardian.
8. Pets are not allowed to accompany runners.
9. The organizer's decision is final and irrevocable.
SAFETY and HEALTH TIPS
Ensure you have done adequate training before stepping up to the start line to help prevent muscle cramps.
• Dress appropriately for the weather including good shoes and sun protection.
• Make sure that if the participant is not feeling well the day of the event, he/she should not participate in the event.
• Take advantage of water stations to keep your hydration levels up – but don't over hydrate. Your water intake should be governed by thirst.
• If you get a stitch, stop running or slow down to give your body a chance to recover.
• Stay alert for potential dangers on the route and this includes traffic and people not participating in the event.
• Be aware of warning signs, such as extreme tiredness and cramp.
• If you stop sweating, get help immediately.
• If the marshals are concerned about your wellbeing, listen to them.
Registration Reminders
Participants can only register via register.raceya.fit, Participants should ensure they have read all race and event details, rules, and protocols and agree to the terms of participation by ticking it before submitting registration.
1. Registration is only confirmed after payment. Paid fees are non-refundable, non-transferable & non-creditable to future RunMania races.
2. Participants should read all details and FAQs on this page and the terms and conditions before submitting their registration.
3. Participants should use an accessible email where confirmation and event updates and announcements will be sent if any. Updates may be posted and updated on this page and in RunMania and RaceYa social media accounts. It is the participants' responsibility to be informed of any updates.
Please read the TERMS AND CONDITIONS on the use of the Registration Platform.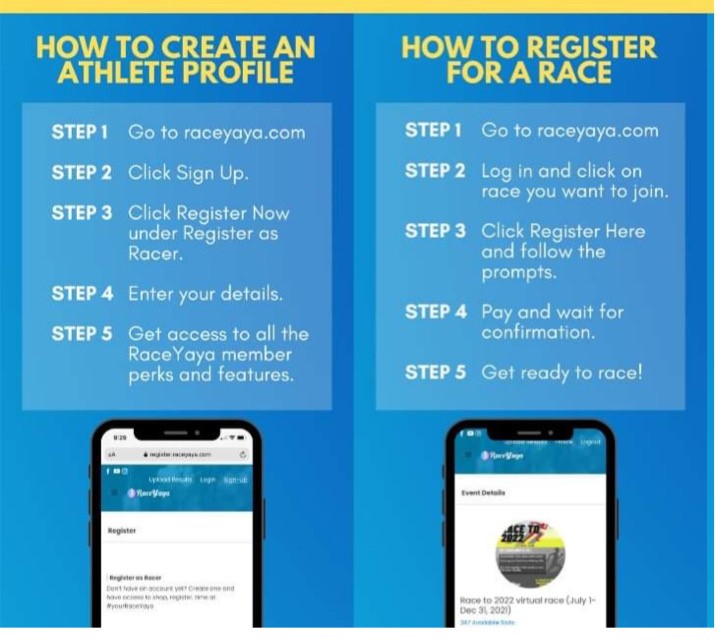 Frequently Asked Questions
After registration, your Grand Pasay District 8 Eagles Run Event registration status can be seen in your profile. Log-in at raceyaya.fit/login.
Each participant shall need a RaceYaya account to gain access to the registration.
This will be your perpetual account which will give you access to other features in the platform.
If you already have an account, please log-in at raceyaya.fit/login.
Please ensure that you have read the terms and conditions before submitting your registration.
SUBMITTED NOT PAID: After submission of registration and before payment, your registration is set to
PENDING PAYMENT. This will change after you have paid via GCash or Paypal or have uploaded your bank deposit proof of payment. An email is auto sent with payment instruction for bank deposit. PAID: Your status is set to
PAID after successfully paying via Paupal, your payment is paid via Dragonpay-Gcash or proof of payment is uploaded to your account if bank deposit.
REGISTERED Your status is set to Registered when registration is confirmed. You will also receive an email confirmation. You may start logging on to time.raceyaya.com to start your race.
If you are joining as a team of 10 or more athletes, you may make consolidated payments. Registration should still be done individually as each participant is required to have an account so they can review all registration terms and conditions. Please email your request at [email protected]
Yes, you can. However, we encourage everyone to be inoculated before the race as additional protection for you and the people involved in the race.
Paid fees are non-refundable, non-transferable & non-creditable to future RunMania races.
Registration Ended
3 months ago