FIREATHLON CAMIGUIN 2023
September 17, 2023

Registration Ended
3 months ago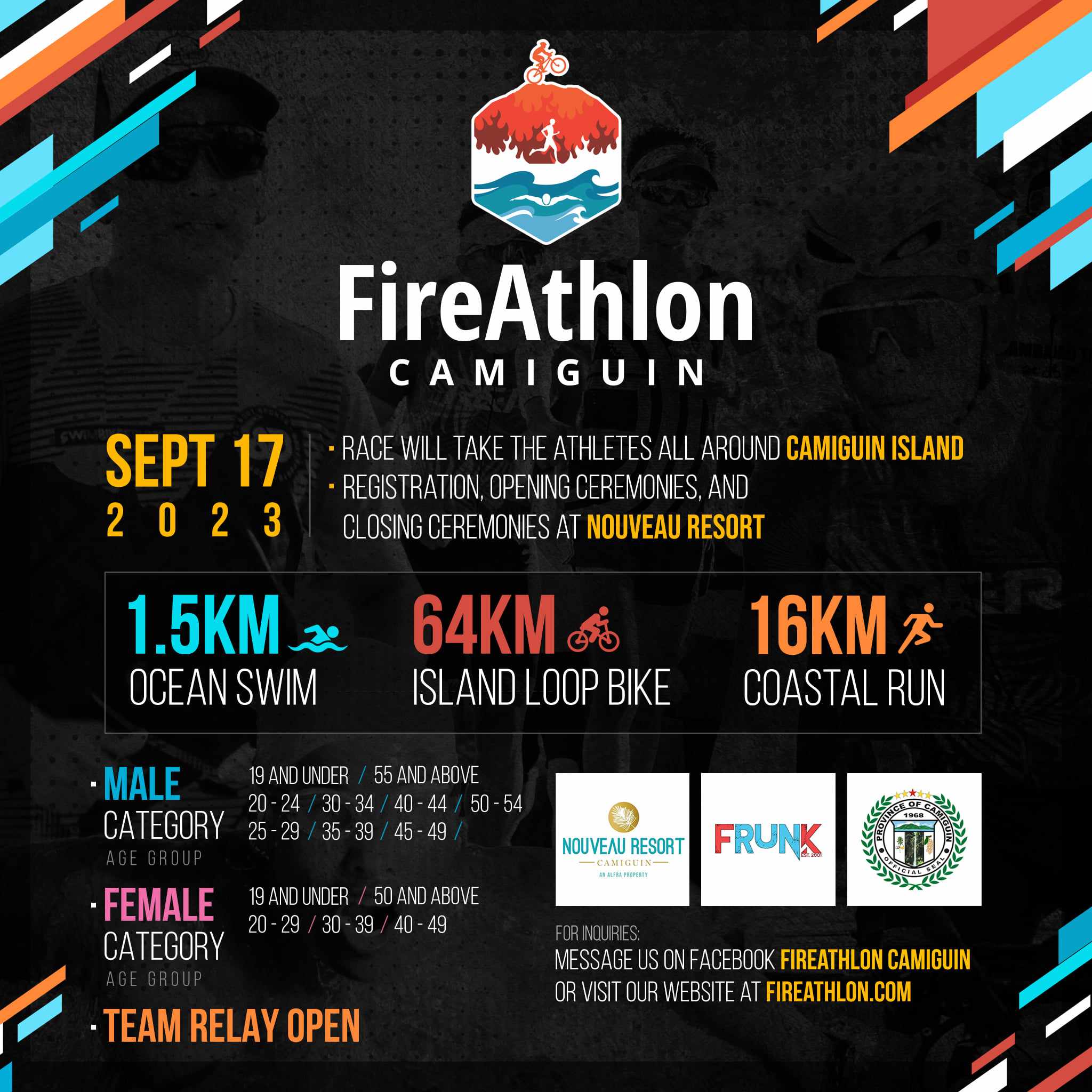 FireAthlon 2023
The Province of Camiguin, with SwimBikeFrunk as organizer, is holding FireAthlon. FireAthlon is a multi-sport even consisting of open water swim, cycling, and running on Sept 14-17, 2023. Camiguin, dubbed as little Hawaii, has a moderate to challenging sports terrain, and made even more aspirational by its beautiful beaches and volcanic topography.
FireAthlon is a challenging race perfect for advanced beginners to seasoned athletes, veterans and elite athletes.
Registration, opening ceremonies, and closing ceremonies will be held at Nouveau Resort, but the race will take the athletes all around Camiguin Island.
Event Details
Event Date: September 17, 2023
Event Time: 6:15 am
Event Venue: NOUVEAU HOTEL AND RESORT CAMIGUIN, Mambajao, Camiguin
Distance:
1.5km - Ocean Swim
Registration Fee:
Early Bird:
Individual: 3200
Team: 7500
Regular Rate:
Individual: 3500
Team: 8000
Category:
Elite Divisions
Team Relay
Open (Male)

Age group

19 AND UNDER
20 to 24
25 to 29
30 to 34
35 to 39
40 to 44
45 to 49
50 to 54
55 and above
Open (Female)

Age Group

19 under
20 to 29
30 to 39
40 to 49
50 to 59
60 above
Race Schedule
SEPTEMBER 14 THURSDAY:
TRIATHLETES WELCOME SEAPORT AND AIRPORT, WITH DRUMMERS
SEPTEMBER 15 FRIDAY
•10AM OPENING OF FIREATHLON EXPO AT NOUVEAU RESORT, REGISTRATION AND RACE KIT CLAIMING
•10AM TO 5PM 3PM-5PM TRIATHLON COACHES SPEAKING ENGAGEMENT ON TRIATHLON TOPICS SUCH AS NUTRITION, EQUIPMENT, and RECOVERY
•700 PM DRUMMERS WELCOME
SEPTEMBER 16 SATURDAY
•615 AM FIREATHLON 3KM RUN FOR MANGROVES ALL TRIATHLETES AND LOCAL RUNNERS ARE INVITED FOR THE EVENT
•8AM OPENING OF SWIM AREA FOR SURVEY NOUVEAU RESORT DOCKING AREA
•10AM TO 6PM REGISTRATION AND RACE KIT CLAIMING CONTINUES
•2PM TO 6PM BIKE CHECK IN
•3PM RACE BRIEFING EXPO AREA (BATCH 1)
•4PM RACE BRIEFING (BATCH 2)
•430PM WELCOMING OF PARTICIPANTS BY GOVERNOR, MAYOR AND CONGRESSMAN DECLARING THE INAUGURAL FIREATHLON CAMIGUIN ISLAND OFFICIALLY OPEN
•5 PM CARBOLOADING
•530PM FIRE DANCE
SEPTEMBER 17 SUNDAY
•4AM OPENING OF TRANSITION AREA AND BODY MARKING
•540AM TRANSITION AREA
•6AM WARMUP
•610AM SENDING OFF SPEECH BY GOVERNOR
•615AM GUNSTART
•12 NOON AWARDING AND POST RACE MEAL FOR ATHLETES
•1PM DECLARATION OF CLOSING
About the area
1.5KM Swim course will start and finish in front of Nouveau Resort facing Mantigue Island.
64 KM Bike course is a one-loop bike course with moderate to challenging terrains around the picturesque island, passing through all 5 municipalities.
16 KM Run course will start at Nouveau Resort towards the city of Mambajao, will turnaround at the 8KM mark, and finish back at the Resort.
Frequently Asked Questions
You should not join multiple categories. It is very exhausting! You can choose elite, by age group or relay open. You can definitely cheer for your friends though.
Yes! We have cash prizes. Cash prizes will be awarded to the top finishers!
Yes we do! Stay-tuned for the announcement.
After registration, your FireAthlon Camiguin 2023 registration status can be seen in your profile. Log-in at raceyaya.fit/login.
Each participant shall need a RaceYa account to gain access to the registration.This will be your perpetual account which will give you access to other features in the platform.
If you already have an account, please log-in at raceya.fit/login. Please ensure that you have read the terms and conditions before submitting your registration.
SUBMITTED NOT PAID: After submission of registration and before payment, your registration is set to
PENDING PAYMENT. This will change after you have paid via GCash or Paypal or have uploaded your bank deposit proof of payment. An email is auto sent with payment instruction for bank deposit.
PAID: Your status is set to PAID after successfully paying via Paupal, your payment is paid via Dragonpay-Gcash or proof of payment is uploaded to your account if bank deposit.
REGISTERED: Your status is set to Registered when registration is confirmed. You will also receive an email confirmation. You may start logging on to raceya.fit/login to start your race.
Registration Ended
3 months ago