Doi Nhok Trail: King of North 2023
November 24, 2023

Registration Ended
6 months ago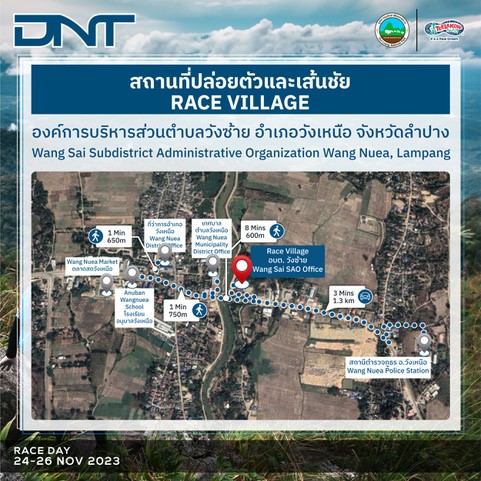 Inclusions
The registration fee includes the following services:
Bib Number
Accident insurance
Race T-shirt (everyone receives on bib day. Postage is not available)
Finisher medal (Only those who finish in time and follow the rules and regulations only)
Finisher T-shirt for all distances except 5 and 14 km.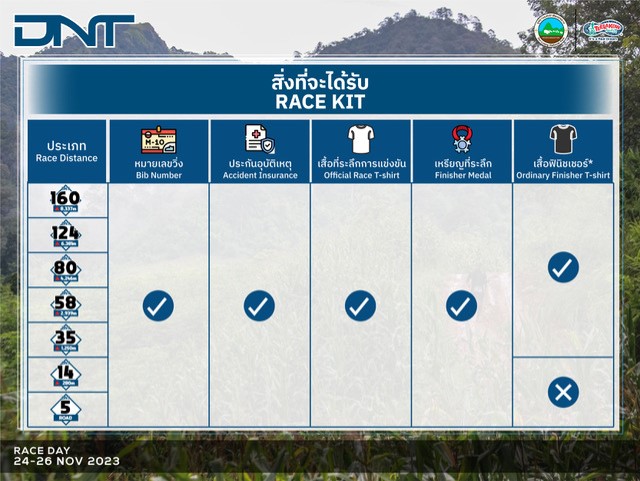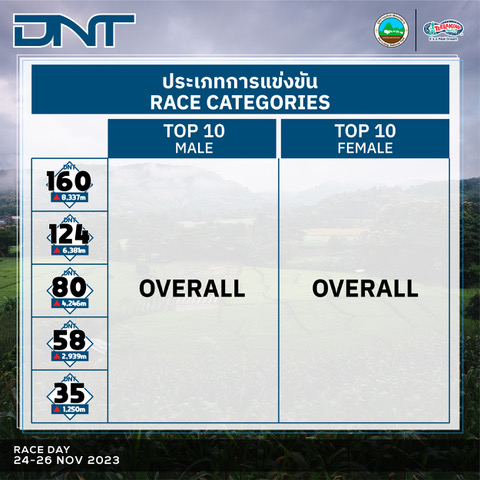 Podium Ranking
Award-winning runner You can check your own list from the timing system and must receive an unofficial score report to show to the officials
Award ceremony
Date 25 Nov 2023 4:00 PM DNT 124 I 160
Date 26 Nov 2023 12:00 DNT 35 I 58 I 80
Runners are required to verify their identity by presenting one of the following cards to the staff.
ID card or driver's license, passport
We reserve the right to award prizes to runners whose information does not match the details shown on the bib numbers.
We reserve the right to award prizes to runners who do not complete the specified route.
Protesting the result of the match It can be done within 30 minutes. If more than, it is considered that the result announcement is final.
Awards will be awarded immediately to the group or age group of the winners who have completed the number of awards reported.
Reserves the right to deliver prizes by post.
Drop Bags
Drop Bag (80 124 & 160K)
80 124 (1 Point)
160 (2 Points)
Drop off your luggage on the BIB day and get it back after 4 Hrs cut off time at each point of luggage drop off.
For other distance, Luggage can be deposited and returned on 26 Nov 2023 from 04:00 – 14:00
Participants must keep their bags sealed and waterproof.
Do not accept valuables such as mobile phones, money, necklaces, rings, car keys, etc.
Registration Reminders
Participants must be 18 years of age or older.
Registration can be handed over to another person and/or name can be changed by April 30, 2023 or slots are full, will not be able to change and service fee 200 THB.
Refunds are not possible in all cases.
Applicants using a special discount code. Or apply using a special price according to the conditions announced It is not possible to change the name in all cases.
Contestants must present themselves only.
If the runner cannot join the race, can leave a friend to pick up instead within the day and time announced If you do not recieve, it is forfeited. The organizer reserves the right to deliver by post.
Participants must run using their own running number only. In the case of not using your own running number. The referee has the right to immediately expel from the competition and disqualify.
Mandatory equipment for 35, 58, 80, 124 and 160K
Phones with AIS network signal is recommended.
35K, 1 head torch, minimum brightness 150 lumens, with 1 set of batteries.
58, 80, 124, 160K. 2 head torches, minimum brightness 150 lumens, with 2 sets of batteries.
Reflective vest
Whistle
Water backpack and/or water bottle, distance 35K, total volume 2 liters or more
Water backpack and/or water bottle, distance 58, 80, 124, 160K, total volume 3 liters or more
Emergency blanket, distance of 35K., 1 piece I, distance of 58, 80, 124, 160K., 2 pieces
Basic first aid equipment.
*** No service for glasses, plates, bowls, spoons for service throughout the competition ***
*** According to the regulations of the Department of National Parks Containers are not allowed bottle (PET ) packaging in all cases
General practice
Mandatory equipment must be carried with the participants during the race
The team has the right to randomly inspect the mandatory equipment throughout the competition period.
Running bib must be worn on the front of the body and must be visible at all times during the competition.
Participants must have your own water bottle or hydration pack. The event has no service a glass of water available throughout the mpetition. Including the race village.
Participants who are unable to arrive on time will be considered as a run incomplete (DNF – Did Not Finish).
Littering is prohibited. If the team sees or has a complaint with clear evidence will be disqualified.
Contestants followers and team must behave with manners organized and being an athlete all the time.
Rules and Regulations
Competitors must wear reflective vests during the night time. If there is none, the race controller will consider stopping the race immediately.
Contestants must wear bright head torches. If found, do not use a head torch. The race controller will consider stopping the race immediately.
Competitors must wear a water backpack. with compulsory equipment If it is detected that there is no water bag. The race controller will consider stopping the race immediately.
Cheating all cases will result in immediate disqualification from the contest.
The race director has authority. To add to the various regulations during the competition due to crashes, unexpected events or unusual events for the purpose of maintaining competition or is it necessary to complete the competition successfully? or continue to Operate the race director reserves all rights to all rules, interpretations or enforce the decisions of the race director are final.
Stimulants are not allowed during the competition. If found, they must be disqualified immediately.
Pacers are not allowed under any circumstances.
Runners are allowed to receive assistance from their followers only at designated service points.
Runners are not allowed to receive assistance during the race route.
Withdrawal or exclusion from the competition
In case of withdrawing, the participant or his/her companion must immediately notify the staff at the nearest service point, name and time of withdrawal.
No welfare. All for the wrong time or distance due to getting lost.
After registration, your Doi Nhok Trail registration status can be seen in your profile. Log-in at raceyaya.fit/login.
Each participant shall need a RaceYa account to gain access to the registration.This will be your perpetual account which will give you access to other features in the platform.
If you already have an account, please log-in at raceya.fit/login. Please ensure that you have read the terms and conditions before submitting your registration.
SUBMITTED NOT PAID: After submission of registration and before payment, your registration is set to
PENDING PAYMENT. This will change after you have paid via GCash or Paypal or have uploaded your bank deposit proof of payment. An email is auto sent with payment instruction for bank deposit.
PAID: Your status is set to PAID after successfully paying via Paupal, your payment is paid via Dragonpay-Gcash or proof of payment is uploaded to your account if bank deposit.
REGISTERED Your status is set to Registered when registration is confirmed. You will also receive an email confirmation. You may start logging on to raceya.fit/login to start your race.
Registration Ended
6 months ago