Bridgetowne Obstacle Park Launch Competition
Limited Slots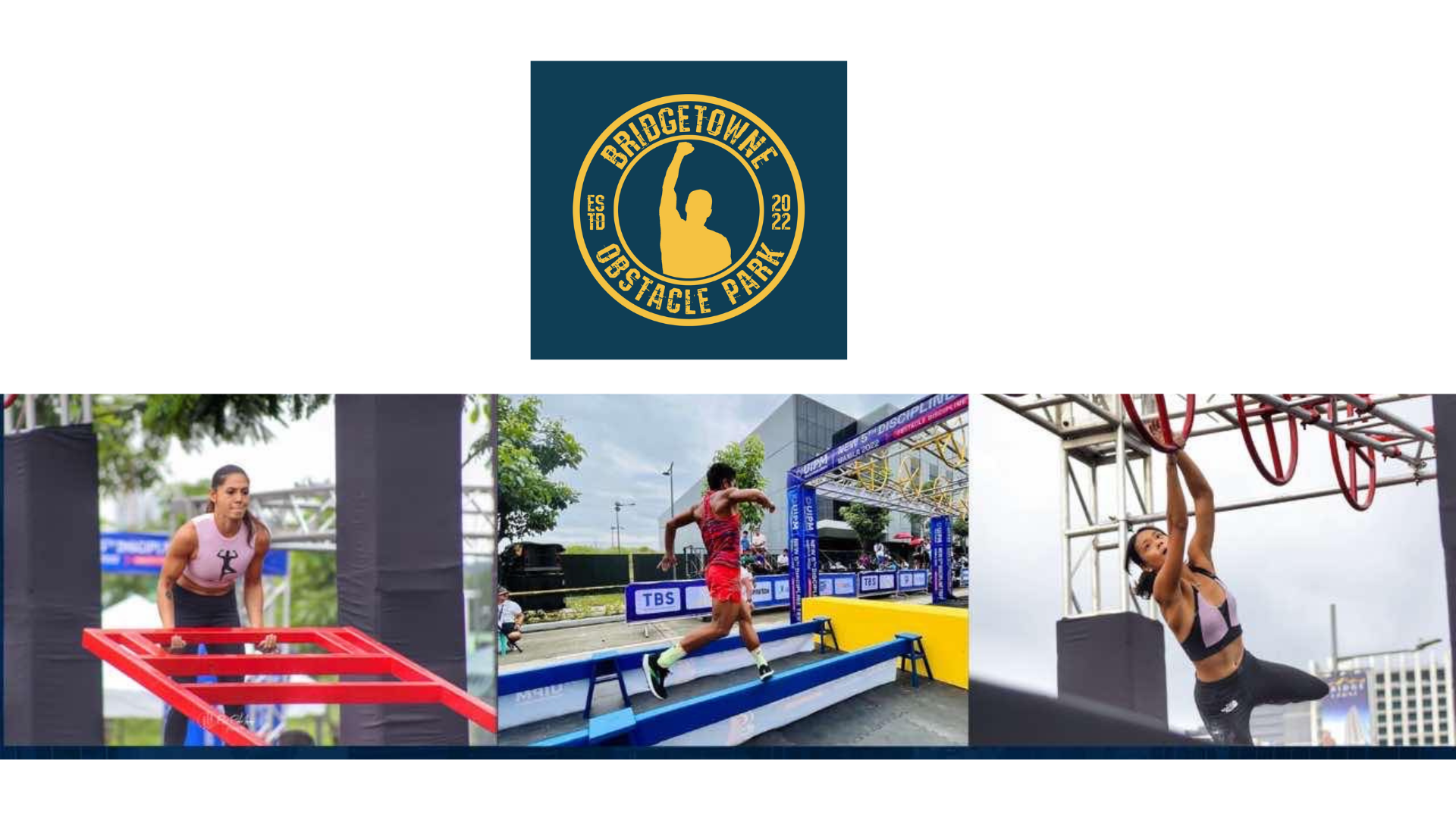 Registration Ended
2 weeks ago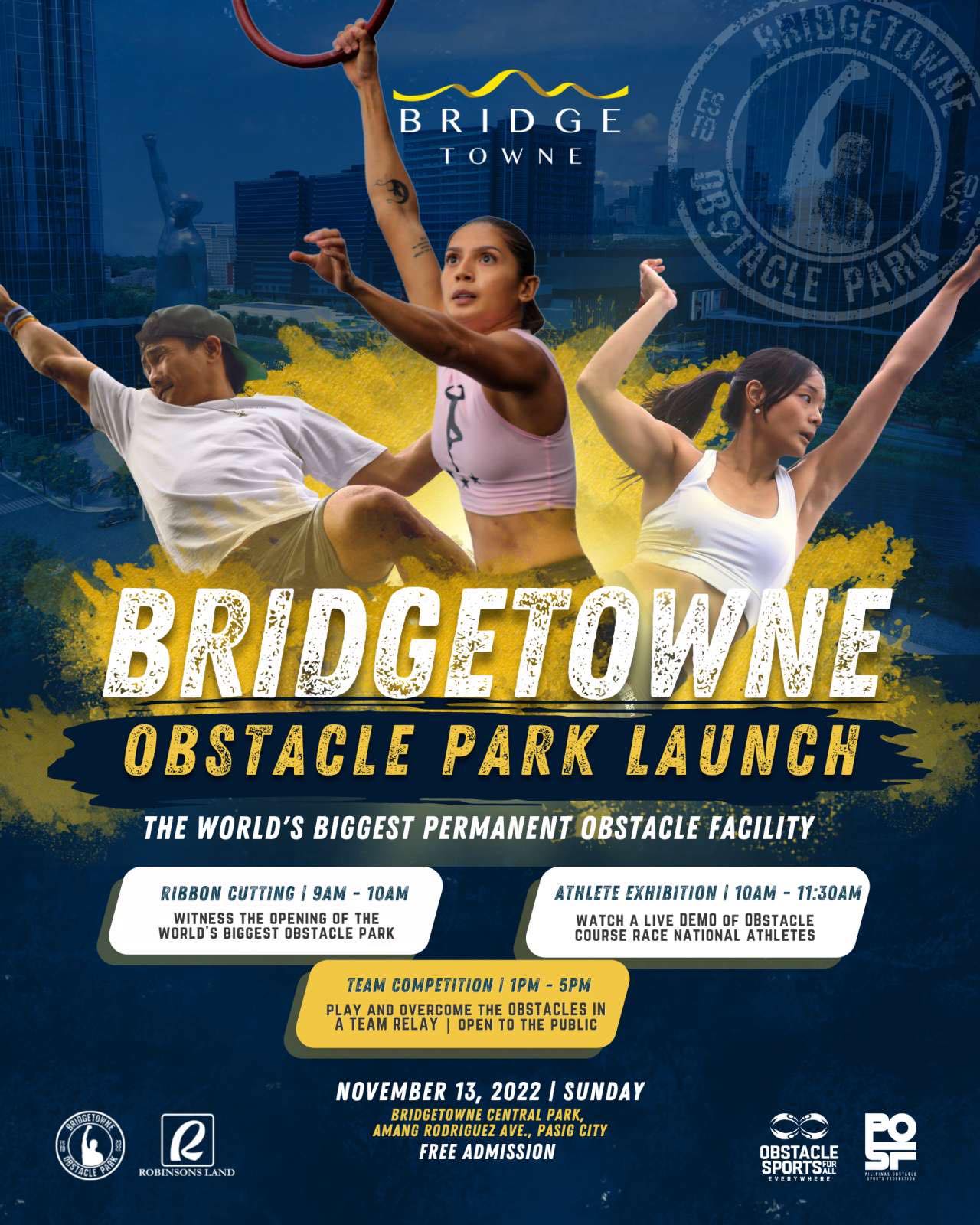 BRIDGETOWNE OBSTACLE PARK opens to the public on October 29 and you are invited.
The Bridgetowne Obstacle Park is a 6,000 square meter park with 25 obstacles and is the biggest permanent obstacle facility of its kind in the world.
The Park shall be open for training sessions and obstacle course races managed by certified coaches and national and elite athletes. This Park, operated by POSF, is an important part of its Obstacle Sports-for-All-Everywhere initiative.
Bridgetowne is a real estate development spanning the border of Pasig and Quezon City in Metro Manila, the Philippines. It is a mixed township and business park situated in a former industrial area on both banks of the Marikina River near the junction of Eulogio Rodriguez Jr. Avenue and Ortigas Avenue. MAP
Bridgetowne's expansive spaces and roads make it conducive to outdoor sports such as Obstacle Course Races (OCR) – there is plenty of space to set-up the obstacles, biking, running and more, making it a great and safe place for families, young and old alike, if they're looking for active fun, sports and adventure," says Loise Albert Montes, Senior Development Director for Bridgetowne.
BRIDGETOWN OBSTACLE PARK LAUNCH COMPETITION RULES
This event is open to the public - any individual from all level of obstacle sports ability may join. Participant should ensure that they are physically fit for the challenge before joining.
Team Composition: Members will be selected randomly form launch attendees who will register to join the competition. There will be a maximum of ten teams during the event day.
Each team will have one member of the National team and one or two members of the National Developmental Pool. You will be randomly assigned to a team.
Participant may also register as a team and field a team of 10. (No national team member or Dev Pool team member).
EVENT SCHEDULE
9 am - Official Opening Ceremonies
10am - Demo by the National Team - open to the public
- Onsite registration
1pm - Onsite Registration
- Warm up / Announcement of Team Groupings
2pm-3:30pm - Team Competition
3:30pm -5pm - for SEA GAMES (National Team and Dev Pool only)
Competition Mechanics
A. Timed obstacle course race
B. Team time trial (i.e., 1 team at a time and not head-to-head)
C. Fastest Time/ Fastest Team Wins
Best of 2 attempts/ runs (i.e., not the average) for the Elimination/ Qualifying Round
Number of Attempts per obstacle: 2 maximum then the athlete can move on to the next obstacle. Failure to complete an obstacle will mean a 10s penalty to the participant/team.
Maximum number of assigned obstacle per team member: 2 Obstacles
Maximum number of team members per team: To be announced on event day
Top 4 Teams in the Elimination/ Qualifying Round shall advance to the Championship Round/ Finals. Championship Round Ranking shall be based on Best of 2 runs..
The organizing team may decide to consider the first round as the championship round on event day.
Rules is subject to change on event day. This will be discussed before the run.
REGISTERED PARTICIPANT MUST ARRIVE AT 1PM ON EVENT DAY TO BE COUNTED IN THE COMPETITION. REGISTRATION SLOTS WILL BE GIVEN TO WALK-INS FOR THOSE WHO WILL NOT ARRIVE ON TIME.
Frequently Asked Questions
Each participant shall need a RaceYaya account to gain access to the registration.
This will be your perpetual account which will give you access to other features in the platform.
If you already have an account, please log-in at raceyaya.fit/login.
Please ensure that you have read the terms and conditions before submitting your registration.
There is no payment needed. Kindly present the event confirmation on event day.
Yes! Join us and celebrate this milestone. Anyone can watch the event from 9am-5pm. You may also try the obstacles for free from 10am -12 noon even if you are not joining the team competition. There is no need to register if you are not joining the team competition.
Registration Ended
2 weeks ago