Bridgetowne Run The City
December 31, 2023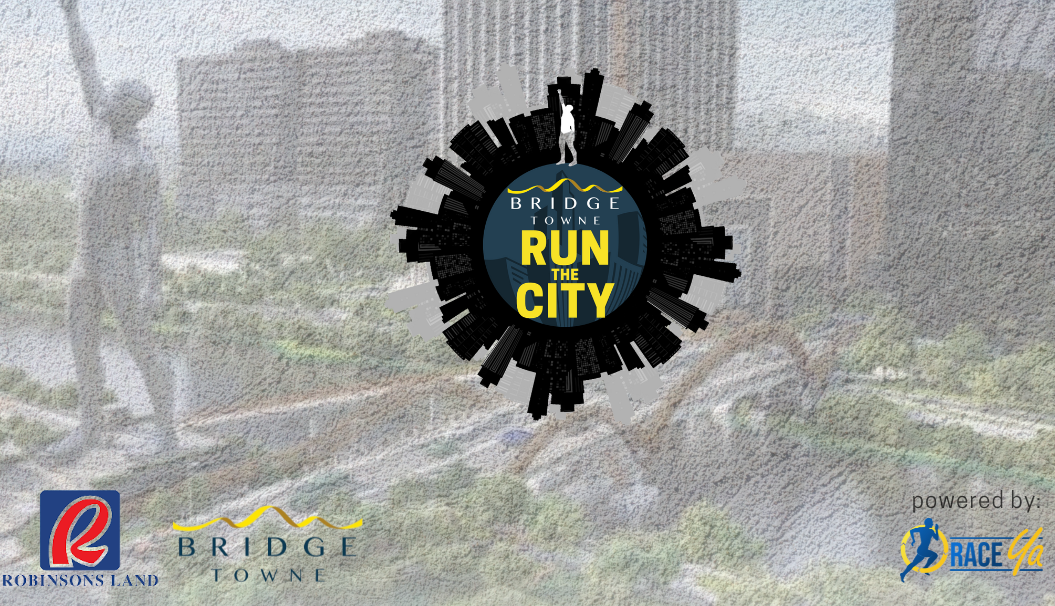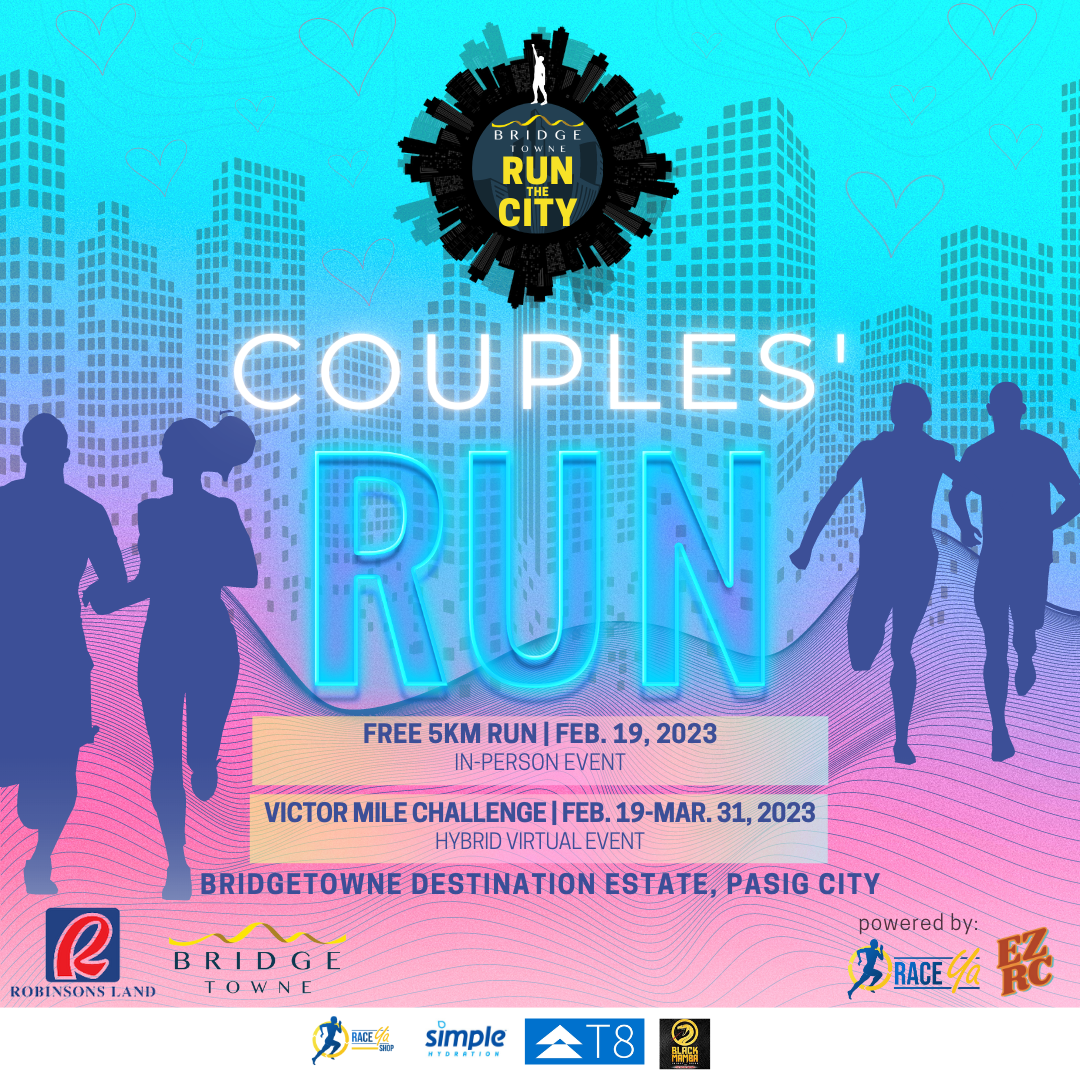 Free
All slots are filled up
Come one, come all. Bridgetowne is opening its gates to everyone whether you walk, run or jog this February.
PARTICIPATION IS SIMPLE. JOIN OUR GROUP 5K RUNS THIS FEBRUARY, APRIL AND JUNE AND/OR RUN OUR CHALLENGES EACH MONTH TO GET REWARDS!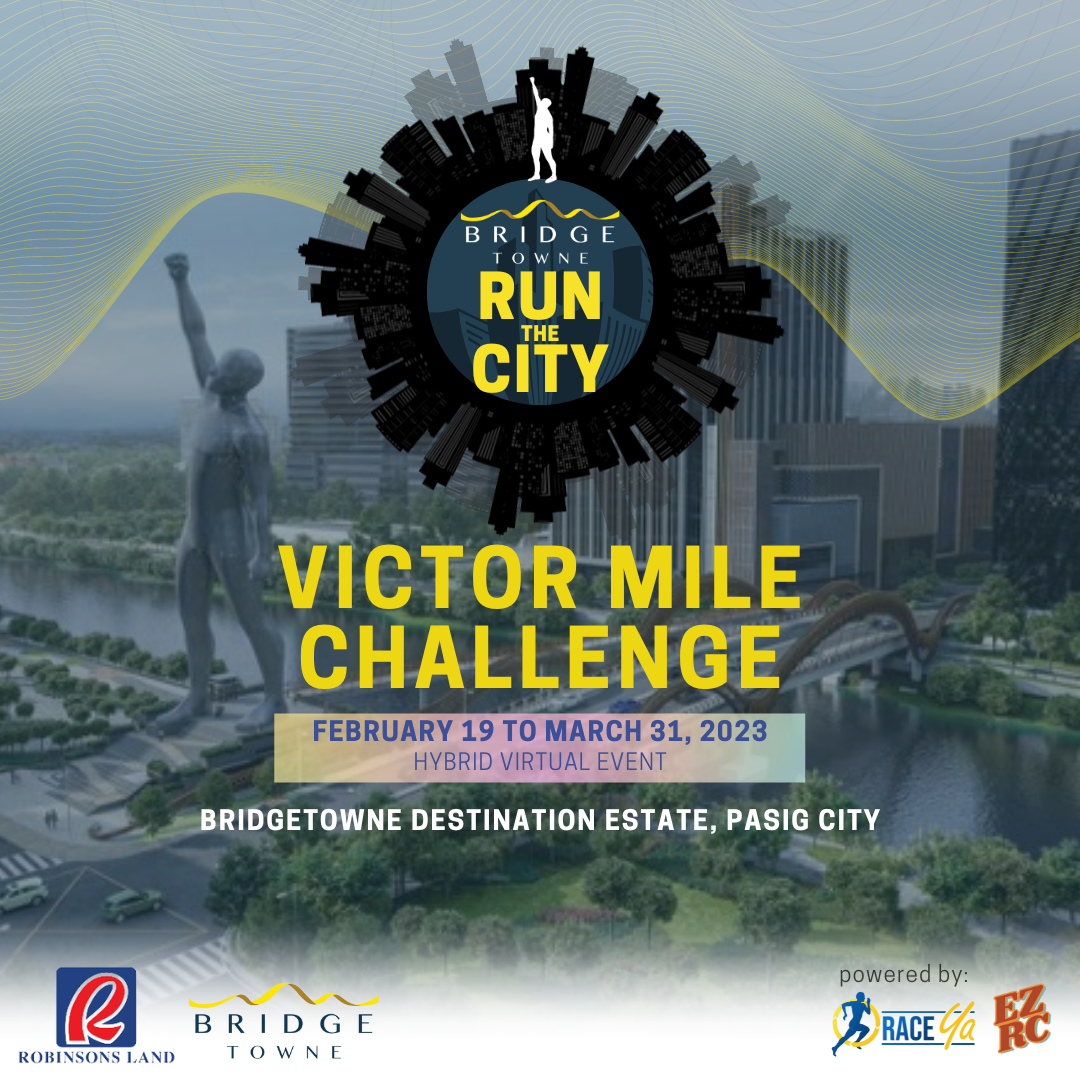 After the COUPLES' RUN, we invite you to keep running, walking and jogging. Visit Bridgetowne and challenge yourself to do the Victor Mile Challenge.
This is a Hybrid-Virtual Run: Register online, get to the starting line, follow the route, upload your run and get your digital badge as you finish and earn Race Ya points!
Running is a lifestyle and Bridgetowne supports you as they open their gates for you to log as many miles as you can your time, your pace, your race.
WHAT YOU CAN WIN:
Most Number of Victor Mile Finish
Log as much Victor Mile Challenge and win gift certificates from Race Ya! and gifts from our sponsor
Fastest Victor Mile Finisher – Male and Female
Attempt your fastest mile and win one T8 Commando Underwear and other gifts from our sponsors
Best Victor Mile Couple Photo
Post your Victor Mile Finish photo online and #BridgetowneRuntheCity #WhereWinnersGo #RaceYa and our Instagram account @yourraceyaya (Don't forget to set your post to public so we can see.)
BRIDGETOWNE DESTINATION ESTATE
Named as the Best Township Development and Best Township Masterplan Design at the 2022 PropertyGuru Philippines Property Awards, Bridgetowne Destination Estate is a 32-hectare master-planned, fully integrated development connecting two of the country's main city centers – Quezon City and Pasig City. Espousing the live-work-play-inspire lifestyle within a green, sustainable community, Bridgetowne will have a full-scale premium shopping mall, retail strip malls with innovative F&B concepts, premium-grade office buildings, a 5-star hotel, and diverse residential offerings.
Bridgetowne is the place "Where Winners Go"
Soon to rise will be a 20-story-high public art installation called "The Victor" designed by Filipino-American visual artist Jefre Figueras Manuel and a bridge designed by the late National Artist for Architecture Francisco "Bobby" Mañosa connecting the East and West portions of the estate to be unveiled in 2023. The Bridgetowne Central Park, set within the heart of the development, will be the main communal activity space in the estate.
This is group-paced run inside Bridgetowne Destination Estate to be led by the EZ Run Club pacers. Register in a team of two. It can be your better half, your best friend, fave workout partner, officemate or classmate, a family or relative or even your furry friend. Running is best shared with someone! (If you don't have a buddy to run with you, just let us know when you register and will find you one!)
Join us for a 5K FUN RUN at the COUPLES' RUN happening on February 19, 2023.
Bring your best buddy you love to share the gift of wellness with, come in two's and we shall finish a five (5) kilometer distance inside the wide paved roads of Bridgetowne.
Register online, show up at 6am and start with the group, finish the run and get your digital badge, and earn Race Ya points!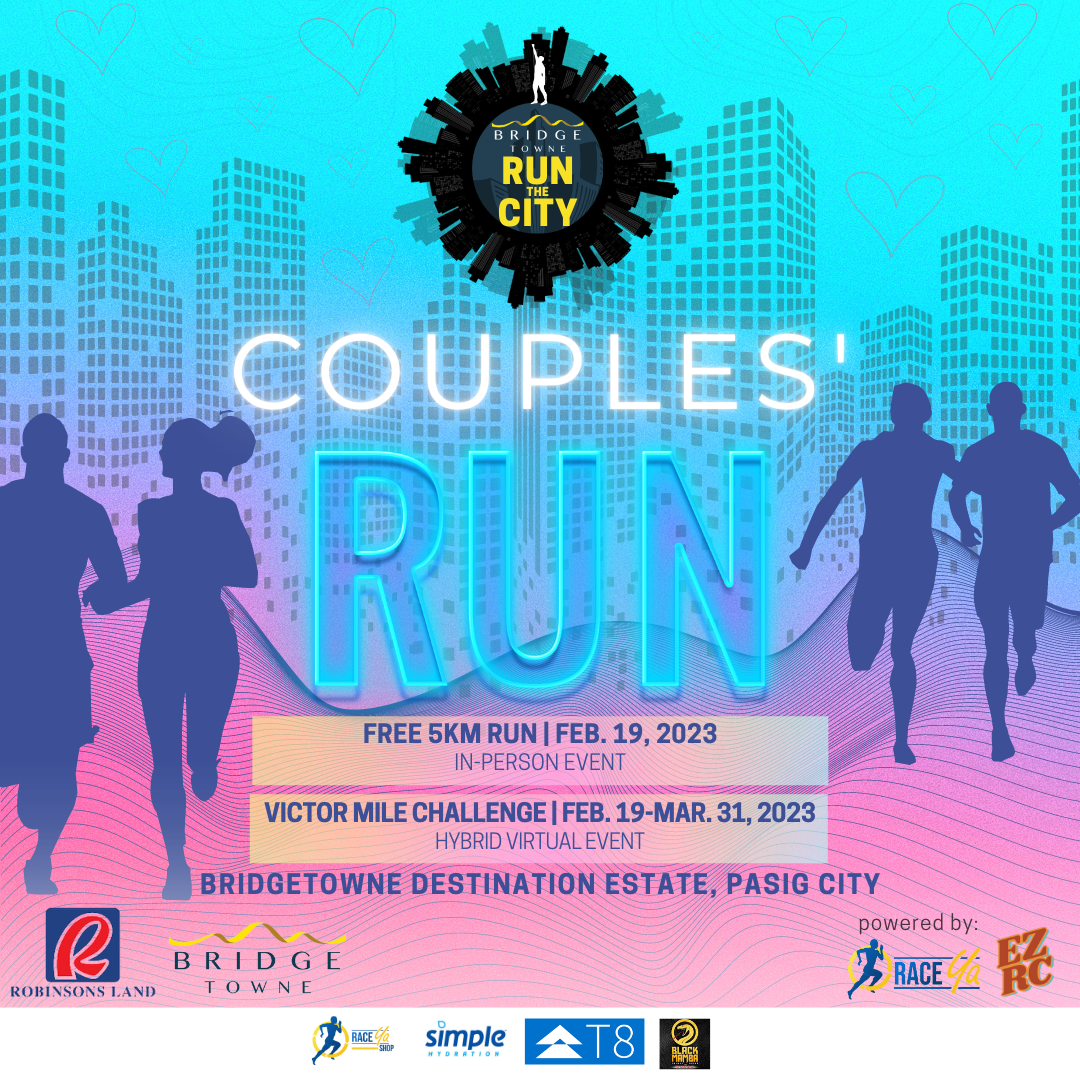 TOGETHER, RACE YA AND BRIDGETOWNE IS ON A MISSION TO HELP EVERYONE FIND THE ATHLETE IN THEM WHERE WINNERS GO!
RACE YA!
Race Ya is on a mission to help anyone find the athlete in them through its digital platform. WHO, in a study mentioned that the Philippines has the lowest number of physical activity in Southeast Asia. It is our goal to get more people doing physical activities, get out at least once a week, enjoy the outdoors, run, walk or jog and enjoy the rewards of accomplishing something.
Frequently Asked Questions
After registration, your BridgeTowne Run The City 2023 registration status can be seen in your profile. Log-in at raceya.fit/login.
Each participant shall need a RaceYa account to gain access to the registration.This will be your perpetual account which will give you access to other features in the platform.
If you already have an account, please log-in at raceya.fit/login. Please ensure that you have read the terms and conditions before submitting your registration.
SUBMITTED NOT PAID: After submission of registration and before payment, your registration is set to
PENDING PAYMENT. This will change after you have paid via GCash or Paypal or have uploaded your bank deposit proof of payment. An email is auto sent with payment instruction for bank deposit.
PAID: Your status is set to PAID after successfully paying via Paupal, your payment is paid via Dragonpay-Gcash or proof of payment is uploaded to your account if bank deposit.
REGISTERED Your status is set to Registered when registration is confirmed. You will also receive an email confirmation. You may start logging on to raceya.fit/login to start your race.
Who can join: Anyone!
What I need: Lace up. Dress in any comfortable clothes ideal for running. Bring your own hydration. Tag your buddy.
What time do we start: Registration starts at 5:30am. Run starts at 6:30 am.
What is a paced group run: You will be grouped based on your pace: Easy, Slow, Mid, Fast. If you feel like slowing down you can take it easy and join the next group when they past you.
First Timers: This Fun Run is ideal for first timers. We've got you.
This will be held in open roads. Participant should exercise caution when running.
Start any time from February 19-March 31, 2023. You may run, jog or walk the route.
Run Route
Participant should run in the route in Bridgetowne shown in the map. Download the gpx here or check this strava route.
Participant should start at the designated start line and finish at the Victor statue which is the Victor mile finish line
What to Prepare before your Race
Participant may use any watch, phone application or treadmill which can measure their time and distance. Participant should start his/her watch or app at the planned start time and turn it off when target distance is met for each run. Participant must ensure he/she has trained well for the distance. Train, Hydrate and eat well! The goal is to meet the personal challenge you have set for yourself to finish a Victor mile or more.
How to Do the Challenge
1. Start time will be at 5am of February 19, 2023 and ends March 31, 2023 at 8pm.
2. Participant should turn on their watch/app during their activities. This can involve walking, running, hiking or simply moving around.
2. Participant must ensure he/she has trained well for the activity. Train, Hydrate and eat well!
Health Protocols
1. Participants should do their activity following the health protocols in their location in relation to the COVID Safety Protocols.
2. Participants should ensure their safety during their activity. We highly discourage over exertion which may compromise the participant's health.
Tracking
1. Participant should start his/her watch or app at the planned start time and turn it off when the activity is done.
2. Don't forget to enjoy!!!
Uploading of Results
1. Participant has to submit their steps within three days after their activity/ Log-in to your RaceYa profile and upload your results as indicated. This automatically updates the live leaderboard at raceya.fit
2. Participant is expected to exhibit the value of sportsmanship in their uploaded results. We will be flagging results which cannot be validated or has possible irregularities based on the link submitted. We may disqualify results based on validation. Please note that we are doing this for fun and to celebrate moving.
3. Official Results will be validated within twenty-four hours after submission. Please check your email as we will be sending communications should your submission require additional information for validation.
4. The ranking will be based on the total number of kilometers. Contest on the published results should be done via email at [email protected]. We will not entertain any online contest and we highly discourage any form of bashing and disrespectful post against other athletes. The organizing committee will decide on the contest based on available proof.