#NotAlone Boracay, A Beach Fun Run for Mental Wellness
April 29, 2023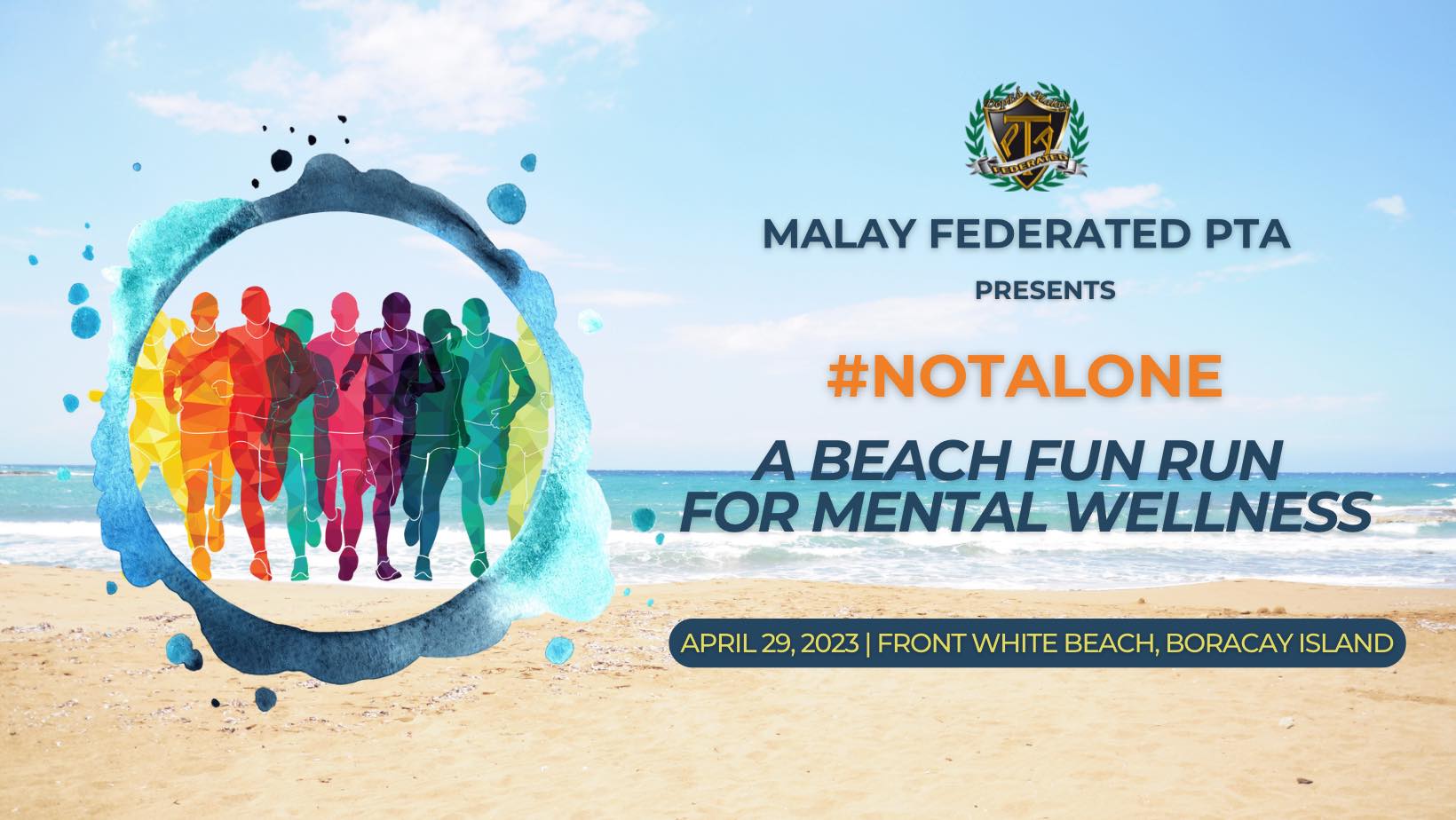 PHP 699
Aklanon Child (5 to 12)
PHP 699
Aklanon Teen (13 to 17)
PHP 6,990
Aklanon Student Group Rate (10 plus 1 FREE)
PHP 799
Student Child (5 to 12)
PHP 799
Student Teen (13 to 17)
PHP 799
Aklanon Individual
PHP 7,990
Aklanon Barkada Discount (10 plus 1 FREE)
PHP 8,990
Barkada Discount (10 plus 1 Free)
PHP 2,599
Aklanon Family (2 Adults and 2 Kids)
PHP 2,999
Family (2 Adults and 2 Kids)
Registration Ended
1 month ago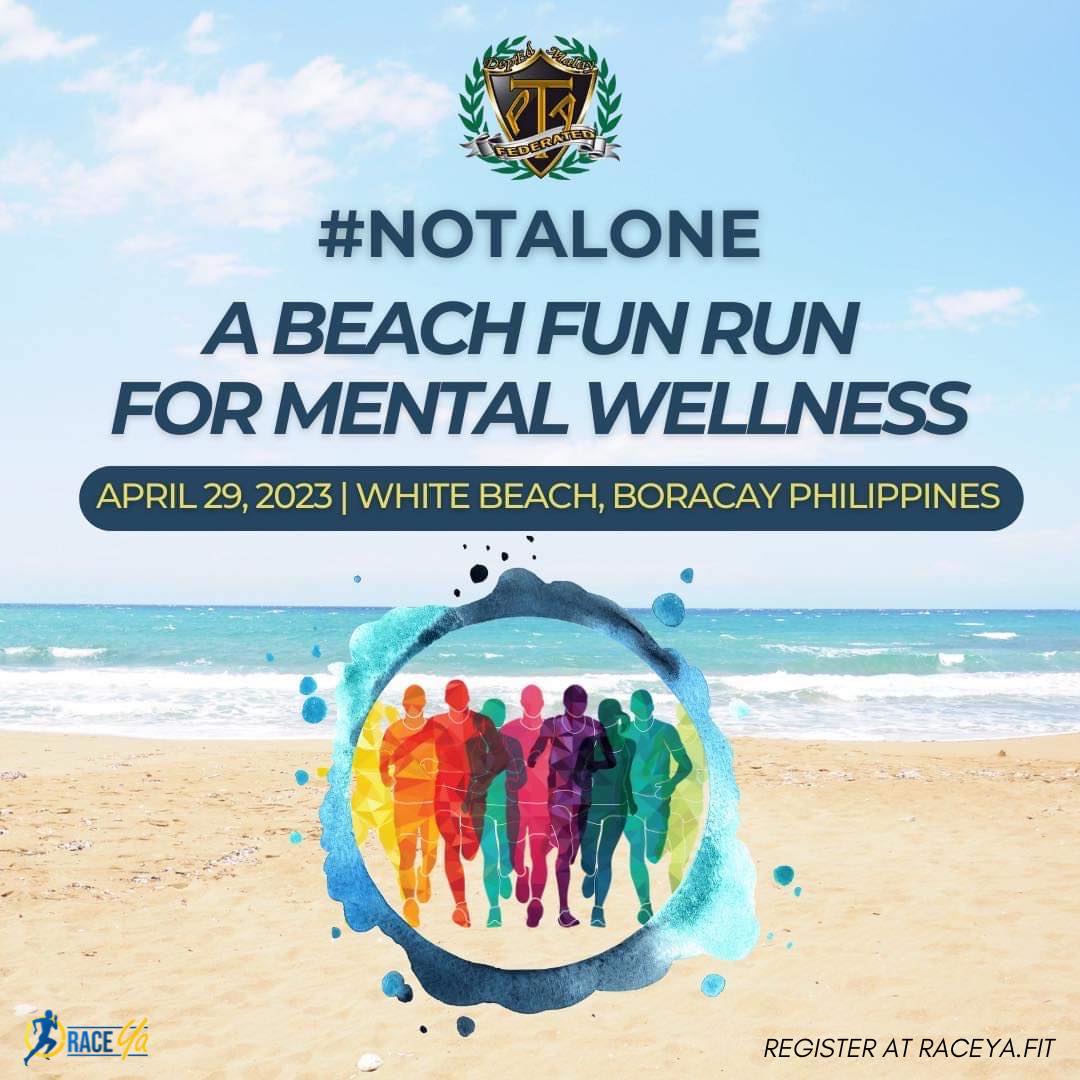 Event Date and Time: April 29, 2023
Event Venue: Boracay Uptown Beach Front, D'Mall, Boracay Island
Event Schedule:
Assembly Time: 4:30am

Opening Ceremonies 5am

Warm-up Zumba 5:15am

10Km Gun Start at 5:30am

5km Gun Start at 5:45am

3Km Gun Start: 6am

1Km Gun Start: 6:15am
Awarding Events: 7:30am.How to go to Venue:
Take an e-trike and get off at D'Mall, walk towards the beach path and turn left. Walk until you get to Boracay uptown beach front.
Categories:
1km distance
3km distance
5km distance
10km distance
Inclusions:
Singlet, Race Bib, Souvenir loot bags, Finisher Certificates
Additional Information:
Student Child/Teens, Open Adult /Elite, Family Category; Start/Finish Line will be at Boracay Uptown Hotel Beachfront, Race Course will be posted on official Facebook Page www.facebook.com/NotAloneBeachRun
Reference Registration Code is required to claim your race kit.
Family Team Rule: Must start and end at the same time.
Barkada runners can run separate events and are eligible to run under the open individual category.
*NOTE: Only those who finish within the cut-off time will be eligible to receive finisher's certificate.
PRIZES:
3K Family Winner: 3D2N Stay at Savoy Hotel Boracay with breakfast
1K Family Winner: 3D2N stay at Hue Hotel Boracay with breakfast
Other exciting prizes await the top finishers in each category.
Finishers will receive a Finishers Certificate & loot bags.
Race Reminders
Registration Code is required to claim your race kit.
Aklanons are required to show local ID at the claim counter.
Personal Water/hydration bottles are encouraged to avoid littering the beach premises.
Event Cut Off: 7:30am
Race Kit Claiming will be provided at The Shoppes at Canyon B Mall. Just take the etrike and get off at "Robinsons".
Frequently Asked Question
After registration, your #NotAlone Boracay, A Beach Fun Run for Mental Wellness registration status can be seen in your profile. Log-in at raceya.fit/login.
Each participant shall need a RaceYa account to gain access to the registration.This will be your perpetual account which will give you access to other features in the platform.
If you already have an account, please log-in at raceya.fit/login. Please ensure that you have read the terms and conditions before submitting your registration.
SUBMITTED NOT PAID: After submission of registration and before payment, your registration is set to
PENDING PAYMENT. This will change after you have paid via GCash or Paypal or have uploaded your bank deposit proof of payment. An email is auto sent with payment instruction for bank deposit.
PAID: Your status is set to PAID after successfully paying via Paupal, your payment is paid via Dragonpay-Gcash or proof of payment is uploaded to your account if bank deposit.
REGISTERED Your status is set to Registered when registration is confirmed. You will also receive an email confirmation. You may start logging on to raceya.fit/login to start your race.
Registration Ended
1 month ago