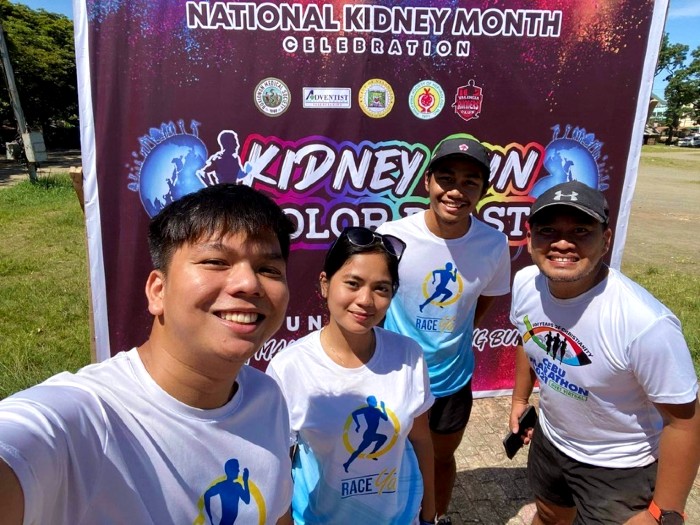 Race Ya Goes to Bukidnon for National Kidney Month
Posted at June 14, 2022
June is National Kidney Month in the Philippines. It is being celebrated to raise awareness and focus on finding ways to better kidney care. Each year, around 30,000 patients undergo dialysis, with roughly 30% of those being affected by chronic kidney diseases.
Last June 12, 2022, the Kidney Run Color Blast was held in Valencia City in Bukidnon, in celebration of National Kidney Month. This event was hosted by the City of Valencia and Valencia Runners Club, in partnership with the Adventist Medical Center - Valencia (AMCV).
Race Ya supported this event and partnered with the organizers as the official online event registration platform and timing partner.
Proceeds of this event will be used to raise funds for the dialysis patients and charity patients of AMCV. The hospital's charity program aims to provide emergency and medical services to the indigent population and the uninsured who are unable to or have a limited capability to pay.
This running event had four categories: 3km, 10km, 21km. and 42km. This event had a great turnout with more than 650 runners who participated across all categories.
Valencia Runners Club shares, "These past few years, Valencia Runners Club (VRC) has been passionate in facilitating organized runs within Valencia City to promote a healthy lifestyle through running and inspire others to try the sport too.
As always after each event, our group consistently finds time-recording of the runners a nightmare. When Adventist Medical Center - Valencia tapped the services of VRC during the Kidney Run Color Blast, our group decided to tap the services of Race Ya through its registration platform and timing capabilities. The event was a huge success on our end! Not only those several local running elites spearheaded by 2022 Sea Games Marathon Silver Medalist Christine Organiza-Hallasgo graced our event, but other running elites from neighboring regions joined the run as well. So it is only fitting that a reputable timing system was there to capture those amazing finishes.
And Race Ya delivered! By sending an energetic, good-mannered, and very accommodating team, Valencia Runners Club never made a mistake in reaching out to them. We can only wish there would be a second time around."
Tin Ferrera of Race Ya shares, "We are grateful for the opportunity to not just be able to provide digital solutions but offer collaboration and cooperation for the Kidney Run Color Blast. This event is true to our mission to enable organizers in their sporting events allowing them to be connected and to reach out to more individuals resulting in the growth of the event and the sports itself. It also created sports tourism opportunities for a provincial event."
It was a successful event. Everyone had fun while promoting fitness and supporting an important cause for National Kidney Month.
For more races and events for a cause, keep posted here at Race Ya through our different social media channels. Join our community on Facebook, and sign up at raceyaya.com.