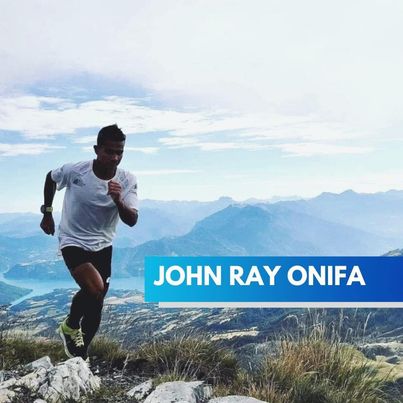 Onifa Set to Tackle the Biggest Trail Race in the World
Posted at August 19, 2021
The Philippines top ranked runner John Stingray Onifa is in Europe for the most prestigious trail running event in the world, the Ultra Trail Du Month Blanc (UTMB). This will be the longest race he will tackle in his career.
Onifa will be the first Filipino to join the race as an elite. For 2021, there are 8 Asians in the list, 5 from China, 1 from Hong Kong, 1 from Japan and 1 from Thailand https://utmbmontblanc.com/en/page/233/2019-elite-runners.html The leaderboards have been dominated for years by European and American runners. Last year proved, otherwise, when Wong Ho Chung from HK finished 6th.
We had a brief catch up with Onifa to ask him about his expectations for the race.
Onifa shared that he is happy that he is able to go to Europe early. He spent two weeks in Grenoble, 5 days in GAP. "Natuwa ako natikman ko yun snow. I was able to climb up to 3163 meters in Vieux Chailol for my training and a lot more. " His usual training would be to climb from 1600 meters to 2000+ meters. "Nag-relax din pagkatapos ng training, swimming sa lake", he said while showing us his view at that moment.
John Ray stayed with a Filipina friend he met in HK, Shedy who is now in Europe with her husband Mike. He said he is grateful that he was given the chance to train longer before the race in the mountainous alps conditions. "Iba yun trails dito parang zigzag, non-stop and high altitude talaga and ang ganda ng view talaga. Sa HK madalas diretso lang pataas. Pero okay naman, sanay naman yun paa ko sa ibang condition. Sa atin mas rugged trails naman."
With no live races for the almost two years, it may be hard to stay on track and keep race fitness but Onifa and his team made sure he is race ready. In April he took gold in the first live trail race in HK, Action Asia's 24K. In Feb 2021, he smashed 12 minutes off the course record by the World Tour Champion, Gediminas Grinus of the 56k category of HK 100 Flex Virtual. He also beat in January the 3 decades old HK Trails coursed record by 7 minutes. Read more about it here. With his exemplary performances despite the lockdowns, we asked him what his expectations for his race are.
"Mahirap yun 171kilometer, first time ko, pero nag-training naman ako. Hindi siya madali pero masaya ko kasi yun laban mo mga elite runners talaga.
John Ray is part of The North Face Adventure Team based in Hong Kong. He has Andy Dubois as his coach consultant and Joint Dynamics helped him with strength work especially since he got injured in the first few months of 2020.
Indeed, he has a big and grueling feat ahead so we ask him what will motivate him. "Yun mga nag support and tumulong sa akin ang motivation ko. Saka alam ko madami nag follow ng live sa tracker, kahit sa race solo ka lang, alam ko na excited sila makita yun performance ko. I'll give my best pero syempre alam ko masakit pero handa naman ako. " John ray said.
John Ray has arrived in Chamonix, France for his final recce runs on the race course as we share this.
Don't forget to follow John Ray on race day! Share and tag him to let him know you're tracking him as he does his best for the 2021 UTMB.
Watch him take flight here in HK https://youtu.be/T9rzY8RFni4
UPDATE:
John Stingray Onifa started the race easy as plan and has climbed to top 17th place by the time he has reached the 81st kilometer, halfway to the race at Cormayeur. He was racing according to plan, just behind his teammate Chung, watch the video here of the live UTMB broadcast where he was mentioned by the commentators as the athlete from a small fishing village in Panay Island who is currently tackling the huge climb in Col Ferret 105K in the race. Watch here
The downhill to La Fouly was still within his race plan at 110k per his tracking. He had to call it a day after reaching the 127k in Champex as he is unable to recover from the leg injury.
CREATE YOUR RACEYA PROFILE l REGISTER FOR A RACE l SHOP FOR GEAR AND NUTRITION l HOST A RACE