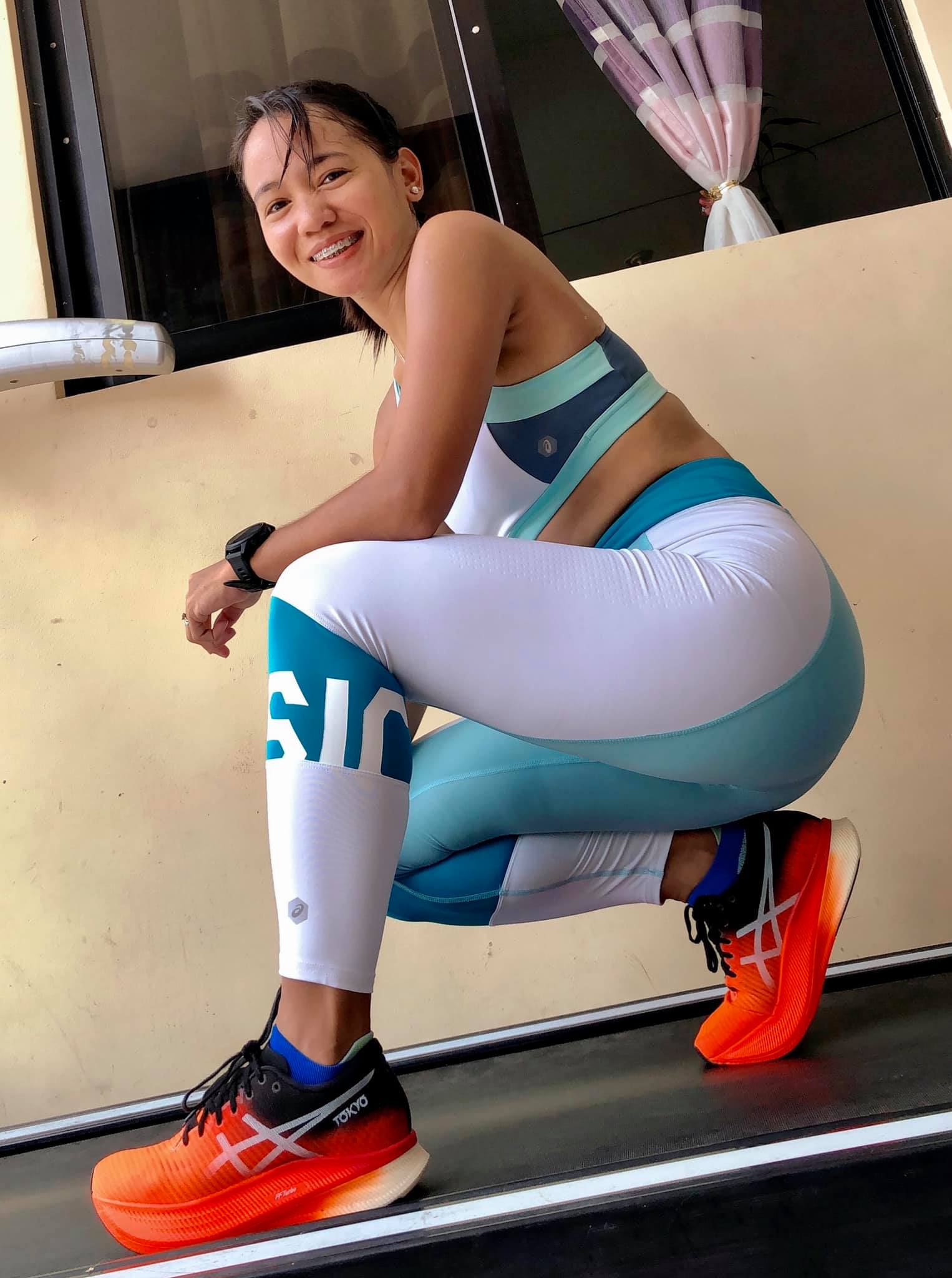 Mary Joy Tabal on Strength Under Adversity, Doing What You Love, and Running in These Trying Times
Posted at August 30, 2021
While the world is plunged into strangely sterile times and activities long taken for granted grow frustratingly distant, hope that we're going to make it out of this seems more and more difficult to come by. Caught in these ruts, we look to torchbearers who renew our own hopeful fires and set us back on course to get back up and chase our goals.
One such torchbearer pursuing many goals at any given point in time is Cebu's six-time Milo Marathon Queen, national record holder for the half and full marathon events, and the first Filipino female marathoner to compete in the Olympics, Mary Joy Tabal.
(Photo from Mary Joy Tabal's FB page)
Tabal, also a gold and twice silver medallist at the SEA games, though super-human in her half and full marathon times of 1:16:05 and 2:43:31 respectively, lives in the same world we all do. Hence, as the pandemic and all its restrictions kept us from doing everything we would've wanted, Tabal saw the prospect of her joining the Tokyo 2020 Olympics' marathon dim–with the qualification events she planned on joining being called off.
But she kept her hopeful fire alive
Already Tabal has set her focus on training for the menu of upcoming global races. With the support of her local gym, the Central Command Armed Forces of The Philippines (AFP), and a second-hand treadmill, she is able to live and train daily despite being stuck, with all of us, in a pandemic. Tabal points to the strength of community in keeping her fire burning brightly as she says, "The local support here in Cebu is really heartwarming", but she doesn't sugar coat the difficulty of the situation. "​​In Cebu, my training schedule is superb if there [isn't] a pandemic," she continues "[in this pandemic] we athletes are greatly affected".

Under adversity, she found her strength in other work
"Being stuck in our house for the first six months of the pandemic was the hardest," Tabal tells us, "but [it was the] most reflective moment for me since we learned to live while being stuck and afraid of the virus." Caught in a pandemic, and deviating from her usual tasks, Tabal found strength in her passion for baking and business by starting Queen Mary's Kitchen where she sells cookies, cupcakes, heart-shaped cheesecakes and other home-baked goods.
In her words, "I am trying my best to be productive every day while [locked-down], doing anything that can help me cope with day-to-day living. Just living one day at a time."
Of course this is all dotted around an undeterred training schedule. When asked what motivates her to keep training with so much already on her plate, Tabal tells us that she's motivated by the various sporting and Olympic committees trying their best to keep operating while observing pandemic-mandated health protocols. "This means that despite the pandemic, we still have a chance to do what we love while representing the country and showing the world that there is hope through sports and that we can overcome this pandemic," she says.
Where the running fire was born
Upon being asked her first memory of running, Tabal recalls running around the rocky, mountainous roads of her childhood neighbourhood, Guba. "I needed to do chores for my parents in order to support our daily needs including going to and back from stores...about 300 meters [away]." She also recalls traversing the distance from her house to her school two kilometers up a hill.
Tabal tells us that she first thought herself a strong runner during the 6th grade where she managed to reach Palarong Pambansa–in the same year she won the school's intramural sprint competition. Since then, Tabal has cemented her name as a top Philippine athlete, in 2010 embarking on a sparkling long distance running career, which features Milo Marathon events (she won six years straight), marathons across Asia, the prestigious Boston marathon, and of course the Rio 2016 Olympic marathon.
On being an Olympian, Tabal says, "I gained a lot from the Rio Olympics. Being an athlete, I need to prepare for myself 101 percent because even if you are an Olympian there are things that won't go as planned and no one is there to help you but yourself." She also looks ahead and outward to the upcoming generation of running talent as she tells us, "[I]f I will be given the chance to be with our Olympic Organising Team to help our athletes...I will surely share so as to help our government prepare for an Olympic program."
And she believes the keys to success belong completely to you
"I do believe that it's just a matter of our own thinking and setting our own limitations," she tells us. But the resilience she has since shown is borne on the back of massive efforts made: "I dreamed [of joining] the Olympics with no resources at all. Just me, my coach and my dedication of achieving that Olympic dream."
So in these trying times, as dreams float around more hazily than ever, the secret to mustering the will to hold our goals still while chasing our dreams doesn't come in a jar. The secret is simply planning and focus. "If you know that you want to be an Olympian, then you will make a plan for that and give your 101 percent focus on achieving that," Tabal tells us.
And while most of us have let our dreams of joining the Olympics slide behind day jobs, perhaps we can take this message to renew our focus on bringing down our running times, dedicating time to planning our training (before or after work of course), and like Cebu's Marathon Queen, work on giving back to the sport when we can.
Joy in her Shoes for Joy gift giving
Perhaps, aside from the restrictions of this pandemic, we set many limitations on ourselves in our thoughts. At the end of the day, as Tabal reminds us, "You are the only one setting limitations."
by: Jaymes Shrimski
CREATE YOUR RACEYA PROFILE l REGISTER FOR A RACE l SHOP FOR GEAR AND NUTRITION l HOST A RACE