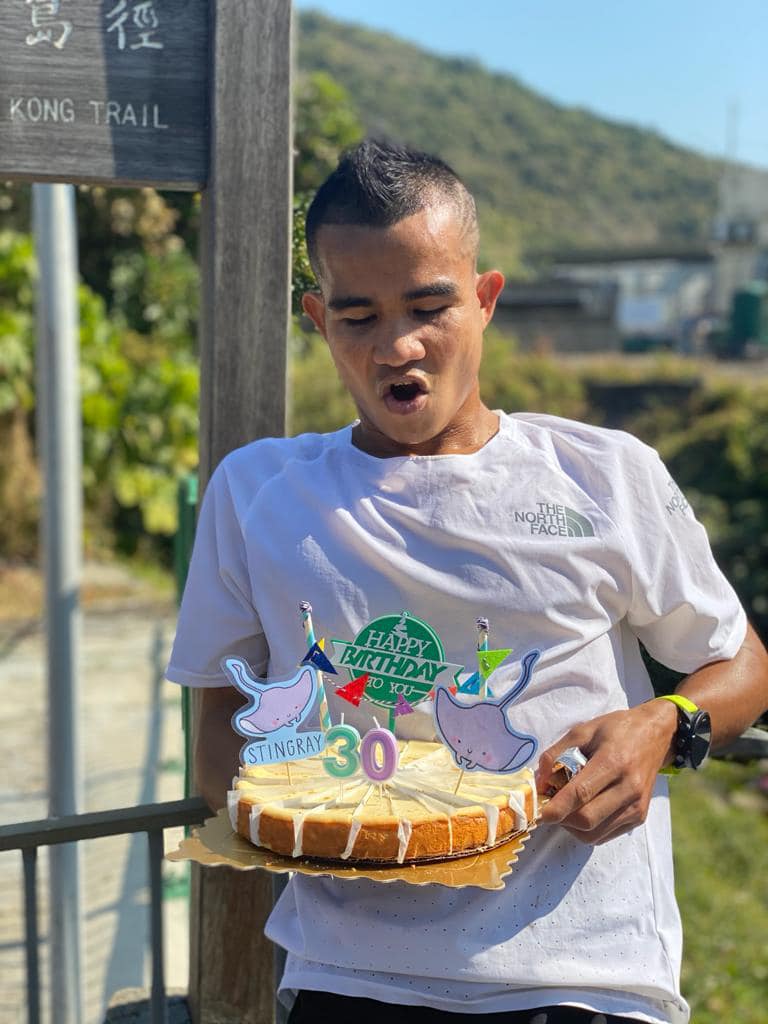 Laban Lang! The Story of John Ray's Attempt to set the Course Record at the Hong Kong Trail
Posted at January 18, 2021
SECOND ATTEMPT (Update January 29)
"Sana maging inspirasyon niyo ito na kaya nating labanan kahit ano mangyari, lalo na at pandemic ngayon" John Ray shared after beating the three (3) decades old Hong Kong Trail's FKT (fastest known time) and Greenpower race record by 7 minutes. This is his second attempt.
Two weeks ago, John Ray said, I'm not happy with my results. Nabigla kasi ako at nag-dizzy sa last 15K kaya ako bumagal. Mahirap pala ang unsupported compared sa may nagsupport. He shared that he will attempt again and he did!
Quoting from The North Face Adventure Team Facebook Page:
It was a historic day in Hong Kong trail running this morning as Stingray ran the entire 43km Hong Kong Trail in a blistering 3 hours and 26 minutes unsupported. After nearly 30 years in one of Asia's oldest Ultra trail races no one has run faster than 3hours 39 minutes. It was already a remarkable time on this technical trail, and set a decade ago by Will Davies when batting Stone Tsang and Daren Benson to the finish line. Stingray set the unsupported record 2 weeks earlier but failed to break the supported race record when his day unraveled from dehydration.
Here are five things he shared that has helped him nail it this time.
Eat more
Took some electrolytes halfway
Used the new The North Face Vectiv Shoes
Help in recovery from Joint Dynamics by Allan Chu, the Needleman
Coaching and Assistance from his Asia Pacific Adventure Team and Andy Dubios of Miles 27
"I am so happy today, motivation ko talaga na gusto ko ma-beat yun kasi 30 years na daw na course record. Kailangan determinado ka talaga."
FIRST ATTEMPT
With the halt of mainstream racing amidst the pandemic, John Stingray Onifa has kept his competitive spirit high. Coming from a setback, nursing an injury for a few months, Onifa celebrated his 30th birthday with an attempt to break the decade old record of Will Davies in the Hong Kong trail of 3:39 hours.
John Ray finished the 43 kilometer long HK trail 7 minutes behind the course record, making it the fastest "unsupported" record in the route and second fastest record, ahead of other athletes who finished it in an official race.
John Ray said it was tough but he was happy to finish and also test his endurance and speed after his injury. He hopes that this inspires everyone to keep fighting amidst the challenges of the pandemic. "Laban Lang!"
Here is the full race report from The North Face Adventure Team Hong Kong Facebook Page:
FULL REPORT - Stingray sets solid self-supported FKT on Hong Kong trail but not without big drama.
Stingray set off today at 7:39 am to attempt to both set a self-supported FKT (fastest known time) as well as break the supported race record on the iconic Hong Kong Trail. The 43 km (1,200 meter elevation gain) course
spans the length of HK Island and has 26 years of competitive racing every January as part of Greenpower race, one of the first Ultra trail races in Asia. Will Davies the race record holder came to the start to wish Stingray well. He remembered how he battled Stone Tsang and Darren Benson the whole way 10 years ago when he set the record but still said, "conditions good today, I think you can do it."
Stingray set a blistering pace to the half-way point to reach Wong Nai Chung gap road in 1hr 39min. Wong Ho Chung, Hong Kong #1 ranked runner, followed Stingray for a short section with a go pro commented, " Wa he was so crazy fast! - especially on such a technical trail....I could hardly keep up and after 20 min was at my limit and stopped."
Feeling good Stingray continued to push hard over the 2 peaks, Jardine Lookout and Mt. Butler, still feeling fairly smooth into the long Tai Tam road downhill. But on the 7km catchwater his day almost completely unraveled.
Stingray explained, " I felt good still until Tai Tam road but on the catchwater I suddenly became so dizzy and bit hot and had little water. My legs were still ok but big headache and like felt drunk and I slow down so much. I even think maybe need to stop, but keep fighting. On the stairs up Dragons Back I'm searching for more water. When reach finish I feel like dying!...I never felt like that before. My head was exploding.
Amazingly, Stingray still finished in 3hrs 46min which is still the second fastest time on Strava behind supported efforts along with the race record also supported. Stingray chose to to have No support as a more pure form of racing and to make easier for others to attempt an equal FKT effort.
Team Director, Ryan S. Blair, said, "Stingray took a big gamble to start so fast and try to smash the race record unsupported and despite the blow-up was just amazing he held on still to fight and set a very solid unsupported FKT. That last hour he was so on edge..he pushed through some seriously hard moments there but I think he had extra motivation to make sure to finish on his 30th birthday! We are all just super happy his recent injuries held up well and hopefully this can set him up for a great 2021."
About John StingRay Onifa
"Stingray," was a moniker given by his manager during his first competition outside the Philippines in Thailand where his life took a major turn after he beat The North Face Adventure team captain Ryan Blair. Stingray stands for being "madulas at matinik", John Ray shared.
The former farmer and fisherman initially dreamed to be a soldier attempting to join since 2012 which forced him to start running. He was then discovered by trail running friends and got supported to join locally organized races around the Philippines which he swiftly won and set course record in until he joined the race in Thailand in early 2018 which found him moving to Hong Kong to join The North Face Adventure Team. John Ray has then competed in various trail races around the world, such as the Ultra Trail competition in Mount Fiji, and the UTMB in France, among others.