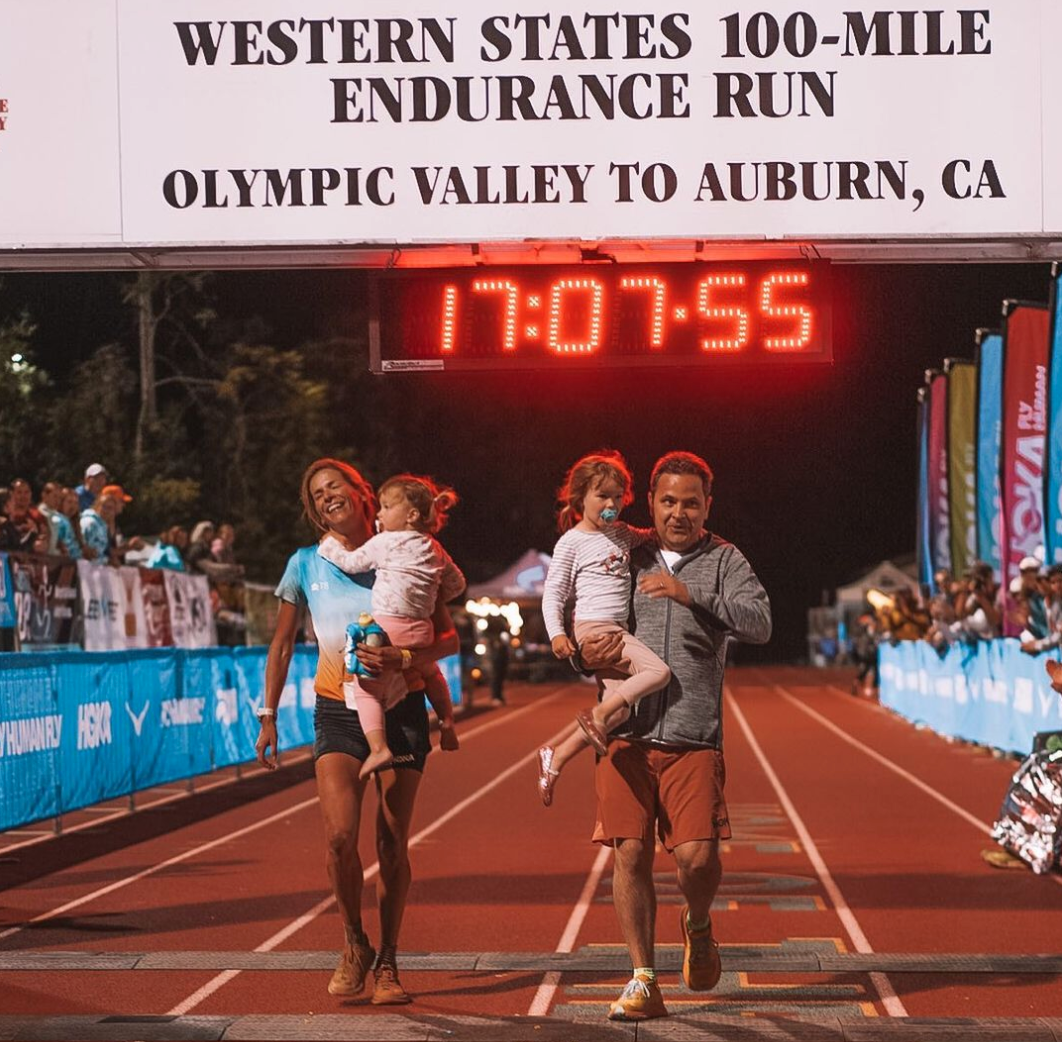 Get to Know Eszter Csillag - the 3rd Female Finisher at the Western States 100-Mile Race
Posted at July 11, 2023
Hong Kong-based runner Eszter Csillag recently completed the Western States Endurance with an impressive third-place finish.
Eszter only started trail running when she moved to Hong Kong in 2016. Originating from Hungary, Eszter shared that she has always been active and into different kinds of sports. Back then she was only running on the road for fitness.
"I enjoyed my first run in Twin Peaks in HK." This was the start of trail running for her and since then, she's had many accomplishments during events in Southeast Asia. Notably, she finished fifth at the 2022 Ultra Trail du Mont Blanc (UTMB), despite it being her first 100 miler, and was the fourth female during the 2021 World Mountain Trail Running Championship in Thailand with a very deep field of elite women from 69 countries.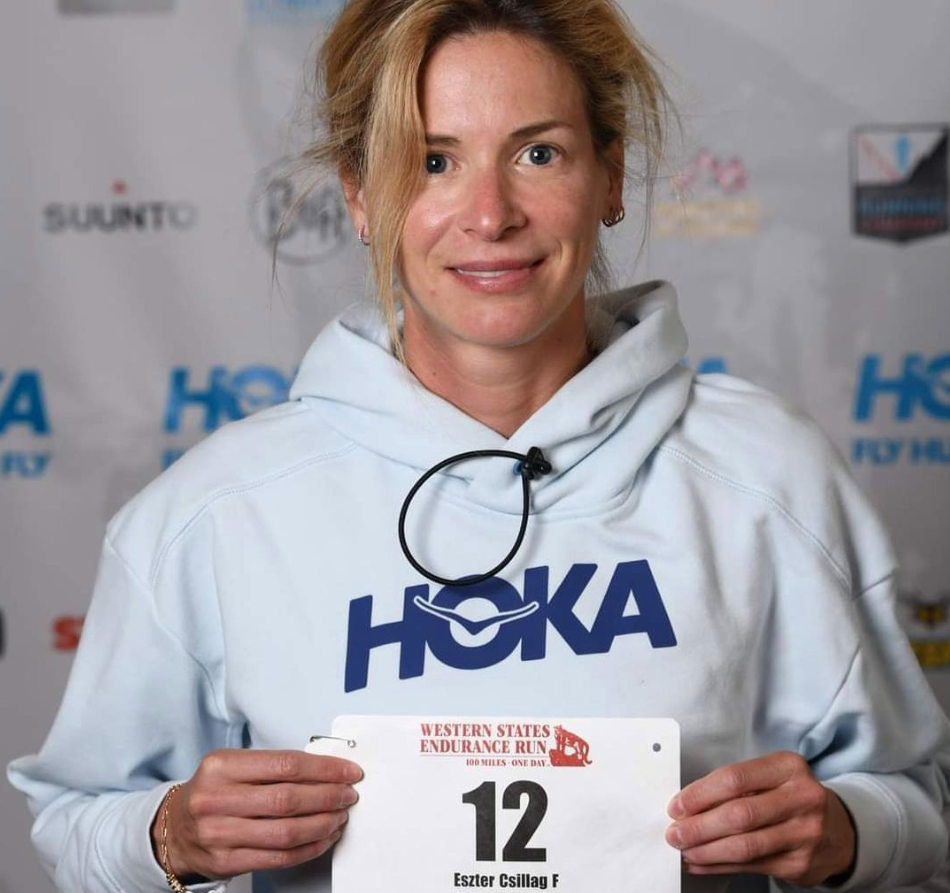 Last week, Philtra had the opportunity to interview Eszter and delve into her experience participating in the WSER. No less than our CEO Tin Ferrera, who's also the Secretary General of Philtra, interviewed her.
The Western States Endurance Run (WSER) is the longest-running 100-mile endurance trail race in the world. This annual event attracts elite runners from various corners of the globe, who come together to compete in this challenging race. While the WSER is a grueling event, getting into it as a participant is also a challenge in itself.
Eszter recalls how she got in. "After the World Mountain Trail Running Championship, I went back to Hong Kong and did the application for Western States knowing that it takes a few years if not 10 years to get into. This was for the lottery."
"Then I needed to select a qualifying race and I could only select Trans-Gran Canaria and not UTMB so I sent an email to the race organizers. For me, UTMB was a better race and I wanted to use that as a qualifier instead of the Trans-Gran Canaria. I got a response from Craig, the race director, and he told me that I got the golden ticket from UTMB. So I got in."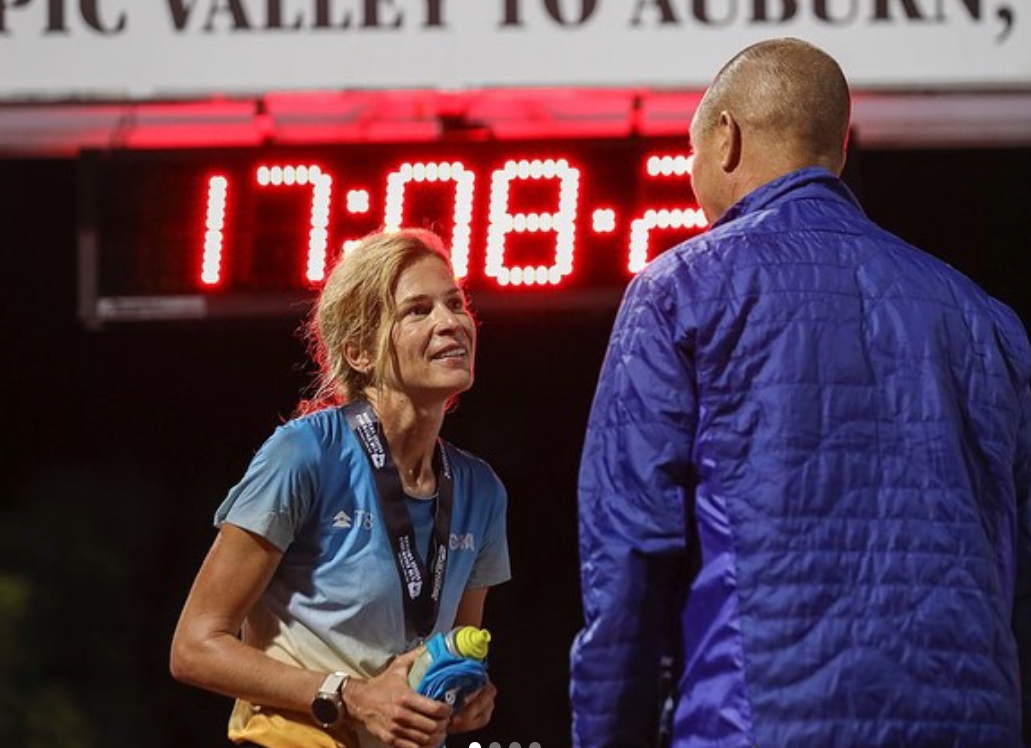 By December 2022, Eszter secured her slot for the Western States Endurance Run which was set to take place on the last weekend of June 2023. After getting in the race, here comes another crucial part: the training.
"In December, I didn't train. I was pretty much done after the World Championships and I still went for the Malaysia Mountain Trail Festival so I took a break in December. By the end of that month, I had a plan in mind. Basically, I decided to work on my speed because WSER is so runnable."
Eszter focused on her speed. Her first big race was the Oxfam Trail Walker, which was a team race where participants ran 400km in teams of four. This was in Hong Kong and for Eszter, it was a good first test to see if she was in good shape. She also joined the NN Marathon Rotterdam 2023 where she aimed to work on her speed and get in some mileage.
"Last year, I ran my first two marathons and they were both around 2 hours and 59 minutes. For the marathon in Rotterdam, I finished in 2 hours and 45 minutes so I was super happy. I hit my goal and that was a really beautiful moment." It was after the marathon that Eszter shifted her focus on training for the Western States Endurance Run.
"My training included downhill running. I had specific training sessions that were focused only on the downhill and a lot of mileage, and not much on elevation. This was because I also get some elevation just by getting more mileage in and that was enough for WSER. Downhill sessions were really important because most of the course was downhill and this can destroy your quads."
"Then I joined a training camp which was fantastic. It was organized by the team that also organized WSER and we covered 110 kilometers of the race course in three days. Anyone can join the training camp so it's not limited to just the race participants. There were eight stations along the course, not as many as during the race, but it was enough. At the end of every day, there was a different meal served and the whole community was just super beautiful."
Eszter stayed in the US after the training camp to run more on the race course.
"I moved up to Tahoe Lake, which is above 2,000 meters in elevation and that became my elevation training. It's close to the starting line at Olympic Valley so the first 50 kilometers of the course was covered in snow during that time. This allowed me to be more familiar with moving and running in the snow, which is something that we don't have in Hong Kong."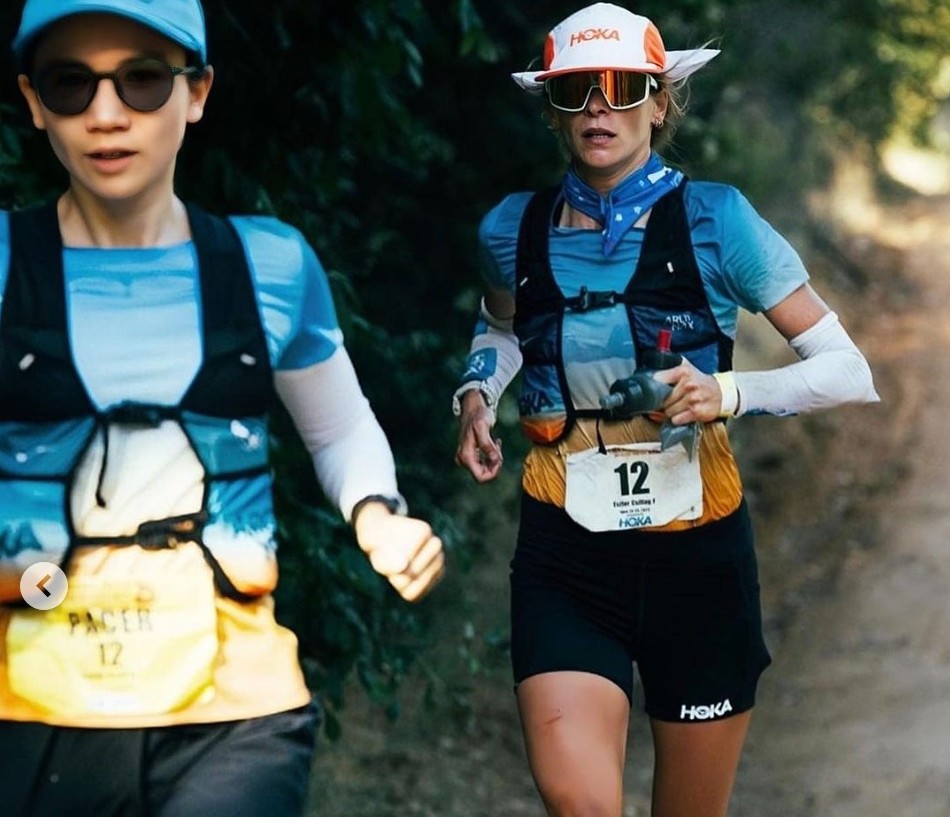 Ida Nilsson, a Swedish long-distance runner, is Eszter's coach. "I've been working with Ida since June 2021 and she's amazing. It's good to have a female coach who can be tough with you when you want, so I hugely appreciate what she has done with me. We also ran together in the same race in Thailand and at the World Championship."
Of course, not everything goes off without a hitch. Eszter has experienced some roadblocks while she was training for WSER - one of which was during the Stairmaster Lantau event where she DNFed.
"It was like something that went down so so hard. For me, it was surely a challenge that I had to overcome. It took me a while. Then a week before the race, I was trying different shoes for running in the snow and I felt some pain. I panicked because it was a week before the race and I couldn't run 100 miles with that pain. I found a masseur who told me that there was just some tightness in the area."
Despite these roadblocks, Eszter had a great race as a result of her intensive training and properly gearing up. She was decked out in Hoka apparel and bag, with the Hoka Tecton X and Tecton X2 for her shoes. She also used the T8 Neck Cooler, which frequently uses, as it's designed to carry ice - perfect for keeping her cool during races. She also shared that the most important part is the other people who played a huge part in this race – her race crew, her pacers, and her family whose commitment was there even in the weeks leading into the race.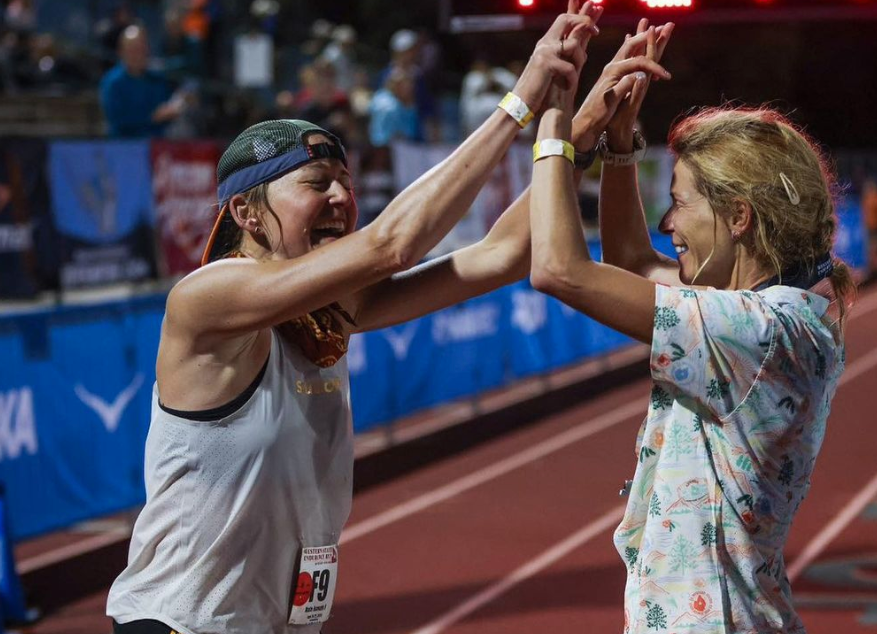 With the Western States Endurance Run being a prestigious event, there were only 370 runners who toed the starting line and it felt like a close-knit community. The event was very well-organized and efficient. The views were scenic and seeing the sun rise on Lake Tahoe was quite memorable for Eszter.
For Eszter, the race doesn't really start at the beginning, so she played safe to ensure she didn't blow up. She ran with other participants which helped as the first part was covered with snow and it would be hard to follow it alone. She shared these moments with Leah Yingling and Jenny Quilty until Robinsons Flat.
After running alone for some time, she found herself with the women leads and there's a lot of them close to each other and pushing each other. Her first pacer from Bath Road, Xiang Fuzhao, ensured they were moving forward. "I just followed", Eszter shared.
Just like any 100-miler, there were highs and lows. Eszter shared that one of the lows was during the river crossing wherein her second pacer, Helen Miller, was with her trying to get her energy back while Katie Asmuth, who finished in fourth place, was her energy bomb. They worked together from Rucky Chunky. It wasn't until the uphill part in Pointed Rocks when she got the lead from Katie. It was 10 kilometers from there and she pushed hard together with Helen until the White Bridge where everyone was waiting.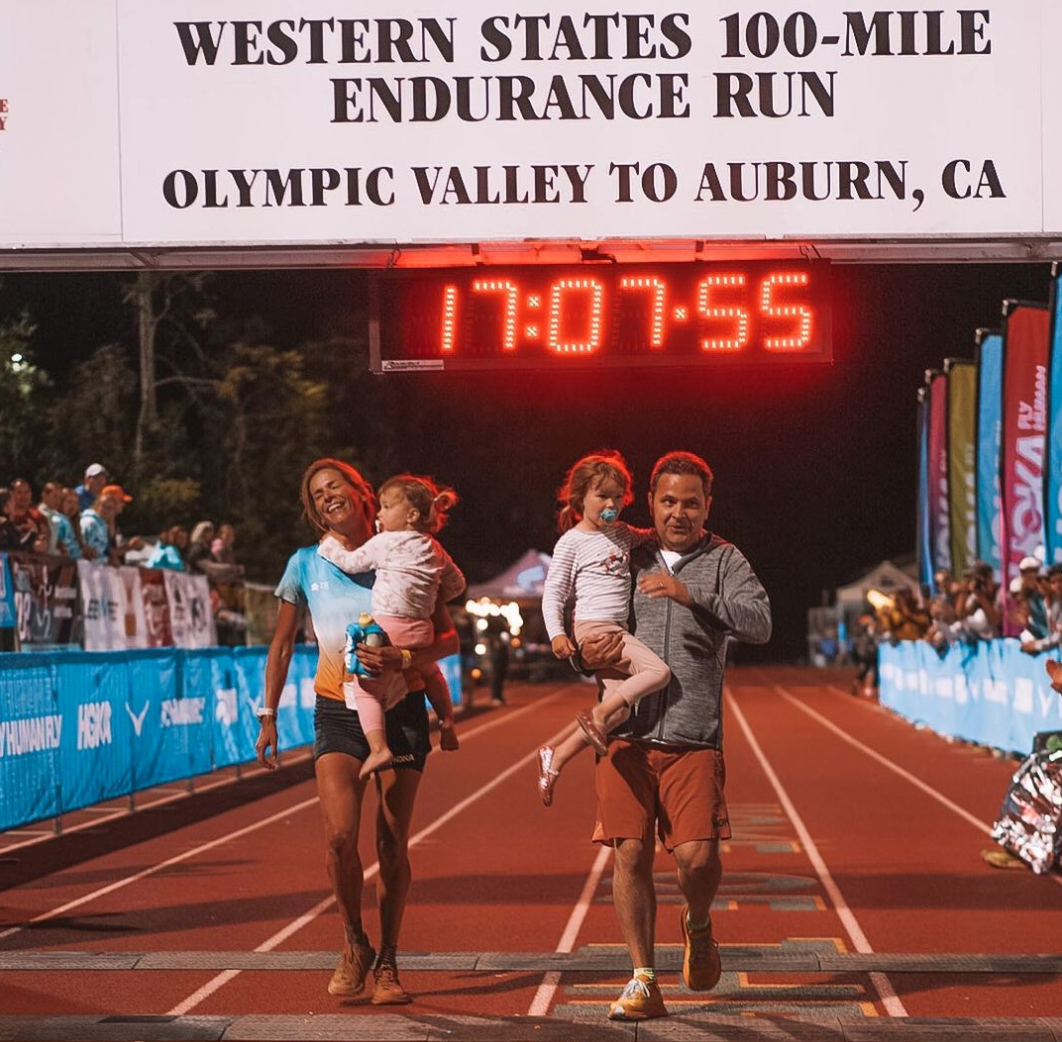 "I was just so happy to be on the track. At the last 10 meters, I saw my husband with our two daughters, and we ran to the finish line together, with me carrying one daughter and my husband carrying the other. It came out as one of the best family photos that we have. It was so touching, and I found this moment so powerful."
Indeed, this is not just an amazing show of performance and talent, Eszter's focus and the GRIT she has shown in WSER is inspiring for everyone especially for women. The conversation on Girls Running in Trails continued on after, watch the full interview here.