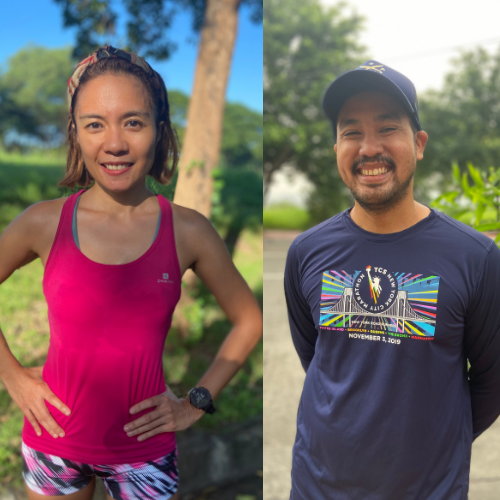 Elements of Beating Your PRs in a Pandemic
Posted at December 08, 2021
Runners Abi Paco and Andro de Rivera both beat their personal records in the heat of a pandemic. Having set aside ambitions long lost to lockdowns and restriction measures, these two runners had to find the drive to keep improving. Here they share the tenets to their success with us
Jaymes Shrimski shares the Race Ya! story of Abi and Andro.
=====================================================
Spending almost two years in a pandemic does something to whatever mental machinery governs motivation. It's simply more difficult to find, goals are more difficult to set, and our personal running records hover above us more difficult to reach than ever. If anything, this pandemic has been a time to re-focus our selves on what matters–our physical and mental health, time spent with loved ones, a positive relationship with our professional lives. At least for those of us lucky enough to have been spared by the disease.
Now, as the two-year mark approaches and as restrictions slowly melt away, we approach a shift-in-gear moment. Just as businesses re-open, our goals and plans are unearthed again–begging now to be worked at louder than before. Whether these goals are breaking PRs or winning races or going out for a run at least four times a week, there are tips we can employ to keep ourselves motivated–as well as sane and free from injury. Even as we charge full-steam ahead at our goals, we must do so with a thought-out training plan, a positive mindset, and perhaps a group of likeminded runners to keep us company.
We spoke with two likeminded runners, Abi Paco and Andro de Rivera, each of whom recently broke PRs (and even more recently, broke them again). In our chats, we unearthed shared tenets for PR-breaking success that runners of any fitness level can utilize.
MEET ABI PACO
Abi, 38, is a financial advisor and freelance professional events host who, in the heat of a busy schedule, manages to run, swim, cycle, and play piano. Having gotten into running in October 2016 at the prodding of a friend, she has since found running to be the key activity aiding the cardiovascular strength needed to manage her Ventricular Septal Defect, a congenital heart condition. Since that initial prod, Abi has completed local races including the Milo 21KM and 42KM runs, The Bull Runner Marathon, Pinoy Fitness 10K and 21K Challenges, as well the Taishin Women Taipei Half Marathon. In early 2020, she was preparing for the Seoul International Marathon–an ambition which was cut short by the lockdowns resultant of the COVID-19 outbreak in the country.
But even with that setback, she's managed to train effectively and consistently. In September she beat her 5KM PR with a 23:40 time and in the same month beat her 21KM PR in 1:49:25. The month prior, she'd beaten her 10KM PR with a 47:45 time.
When asked about how she finds the time to set goals and beat them, she cites proper time management. "When you have a big goal in sight, you will consistently do the little things (trainings and workouts) that all add up to the bigger picture, even when you don't feel like doing it, or even when you think you can't because of your busy schedule," says Abi. A self-described goal-oriented person, Abi maintains a weekly schedule, plotting down all her work and training activities for the week ahead of time, making it easier for her to fit everything in. "A lot of things can be achieved with proper time management and also with prioritizing the important over the impertinent," she adds.
"I signed up and worked with Coach Ken Mendola as my running coach in July 2017," says Abi. "Since then, I have never stopped training." Abi runs four times a week, incorporating a mix of speed runs, easy jogs, and tempo runs into her weekly plan. She also has one long run (LSD, "long slow distance") per week. Her training routine is accented by swimming, which she does two to three times per week, as well as strength and core training–done twice a week. On nutrition, Abi sticks to real food and avoids anything white, e.g. white bread and white rice. She also underscores the importance of proper recovery. "I fully embrace recovery days by maximizing rest when needed," says Abi. "I go to bed early and get 8 hours of sleep every day."
Currently, Abi and her team are training to beat their 10KM PRs around the 3rd week of December. She's hoping to hit 46 minutes. Even with disciplined and consistent coaching and a goal-oriented mindset, there are days where things simply don't kick into gear. "There are certain days [where] I just don't feel like lacing up or getting up to do a workout. If and when that happens, I force myself to get up and complete my workout (even if it means crying while running)," says Abi. After workouts like this, she rewards herself with a good meal ("even a cheat meal," she adds) to bring back her sanity and keep her motivated.
Asked about how she has managed to progress so quickly, Abi points to consistency. "To begin with, I am not gifted with the talent of running. [I believe] that there is no magic in running, but only positive results brought about by consistency and discipline."
Aside from December's 10KM PR attempt, Abi hopes to run an international marathon in 2022 with her eyes set on the Osaka Marathon where she's hoping to achieve a sub-4 time.
Update: Abi recently smashed her 5KM PR with a time of 22:30 while averaging 4:32 per kilometer.
MEET ANDRO DERIVERA
When Andro, 32, isn't at work for his family's business–a Holiday décor Factory specializing in Christmas items–watching running shoe vlogs, or hanging out with his girlfriend, he's running. Andro didn't always enjoy running though. "I use to hate running," he says, "but eventually fell in love with it when [my employer at the time] required me to join races." Andro started with the 5KM distance but set himself up with the goal of finishing his first 10KM.
"My first 10k was horrible and clocked in at 1hr 45," Andro recalls. "I remember I chafed so bad." Chafing aside and now with a benchmark time to beat in tow, Andro began the process of researching to improve his time. This led him to conversations and training sessions with coaches and athletes who have all had their hands in helping him meet his running goals. One of his largest milestones is the New York City Marathon. On being drawn in the lottery and running the race in 2019, Andro says, "It was the best race of my life! The energy of that city is crazy!" He hit his marathon PR for the race and still calls it the best race experience of his life.
With the onset of the pandemic, running international races would have to wait, but this didn't deter Andro from improving his running times. He recently brought his 5KM PR down to 27:00 from 29:00 in Arcovia and finally nabbed a sub-1 10KM with a 59-minute time (down from 1:03). "I always wanted to hit a sub-110KM and it's every runner's dream to hit a sub-1 10KM," says Andro. "I've been attempting to do that since 2017 and I finally got it this year. Going to the run of course there was a mix of nervousness and excitement [as] there's always the question, 'What if I don't hit my goal time?' Sometimes it's best to let go of the goal time and just have fun."
Andro attributes this success to the work he has put in and the instruction from his coach Miguel Aldeguer. "He makes sure the program he makes is tailor fit to my current fitness level," says Andro. Currently, Andro trains three to four times a week with strength training workouts embedded in his program ("Shout out to my coach at Segoviastrength, coach John Aquino!"). This strength training has helped Andro a great deal by improving his running form and efficiency. "I worked hard on my hip and glute strength, stability and single leg balance," says Andro. His coach pin-pointed his imbalances and worked on those to make sure he wouldn't get injured.
Asked whether he prefers running in groups or alone, Andro responded that he enjoys long runs alone. "[This allows me to] zone in in the moment [and] assess where I am in life. Long slow running transports to me a place where I can just be me." On hard workout days, he prefers running with a group. "I enjoy suffering with other people, hearing them scream, taking deep breaths and [making] "ayoko na" comments," says Andro. "[It's] all smiles after a hard session."
Looking to 2022, Andro hopes to run another international race. Reflecting on his aspirations, he says, "[I hope to] get a slot maybe in Berlin or finally do Chicago." Perhaps well-aware of the possibilities of future lockdowns–even though the current numbers look promising–Andro comments on disciplined, sustainable training: "But maybe the best goal I can set for myself is to stay consistent. As long as you stay ready, you can do anything."
Update: Andro recently brought his 10KM even further down to 57:55, shaving over a minute off his previous PR.
WHERE WE CAN GO FROM HERE
Whatever hand of cards life deals you with, you'll be charged with playing the game. There are always things you can do to improve; pivots you can make, new challenges you can attempt.
Abi and Andro have pulled together a list of elements that all runners can use to play the game even a bit better. Training consistently, working with like-minded people, and having fun are notions at the heart of both of their training programs.
Whether working with a coach is the right path for you to take or not, perhaps its time to reach out to that one friend you always see running on your social media feeds. Or perhaps it's finally time to reach out to that running group you've been seeing online (they're all friendly people!). Your training schedule never has to be perfect. A perfect one doesn't exist. But getting out there and putting in the work, even starting with calm paces and short distance efforts, is the "money in the bank" that goes a long way to improving your times over the long run.
More importantly in these times, taking care of yourself is the golden standard for training. Rather than exhausting yourself, time to recover needs to be protected. Reward yourself for the hard work you've put in and take breaks when your body tells you to. In a pandemic that grew out of unsustainable practices, the least we can do is create sustainable practices in our own lives.
And that asks us to see that running isn't some task haunting us with numbers to beat but rather, that it's fun. It's a chance to improve ourselves and join a community focused on getting better.
REGISTER FOR A RACE l GET READY: GEAR UP l GEEK ON YOUR RESULTS