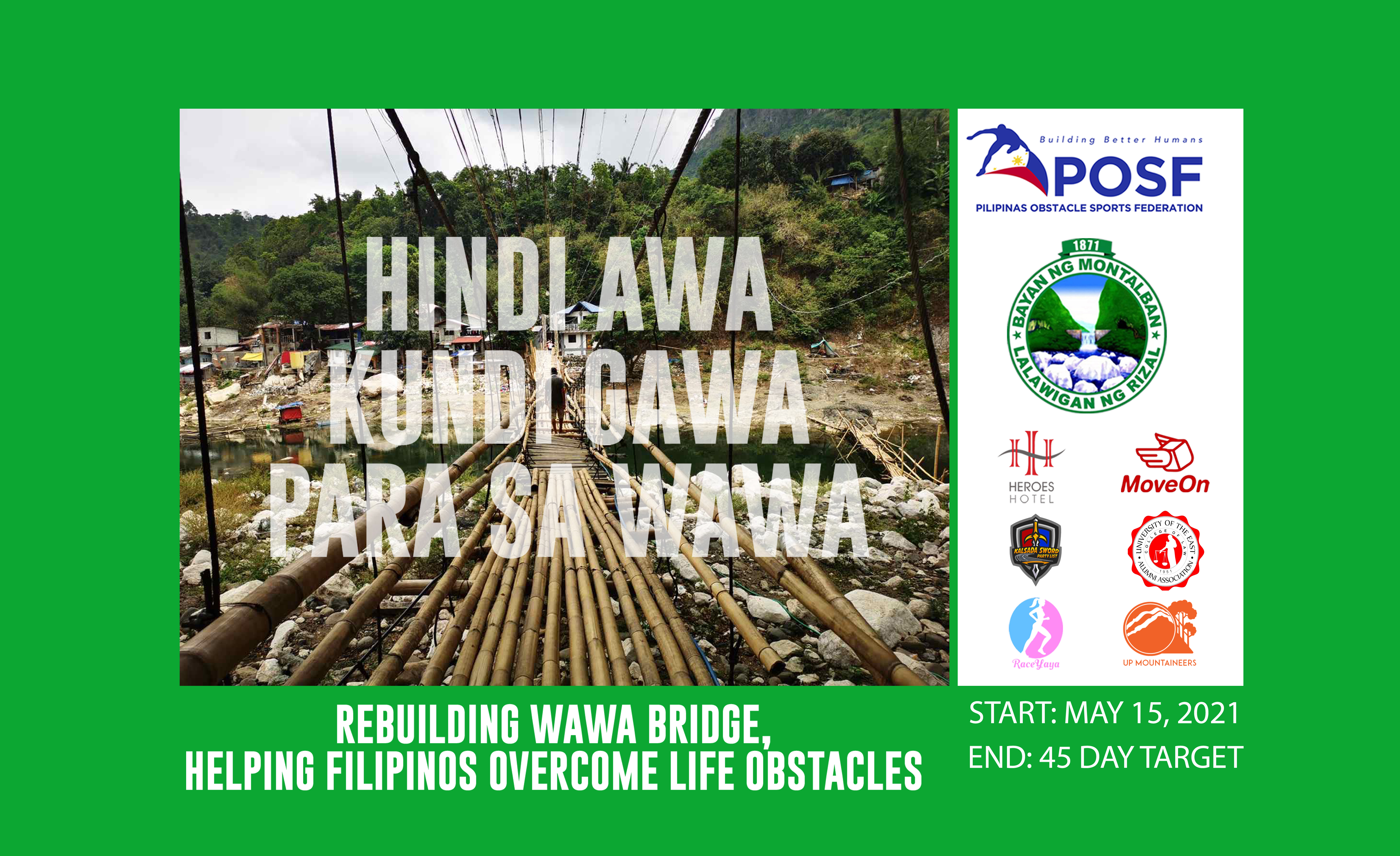 Athletes Work to Rebuild the Wawa Bridge
Posted at May 18, 2021
Wawa Bridge was flooded and destroyed by super typhoons Quinta, Rolly, and Ulysses in November 2020. The bridge serves as access for the local residents living in the surrounding mountains connecting Mascap, Purray, and San Rafael to Wawa and the town proper of Montalban, Rizal. Without the bridge, the area will experience a halt in most economic activity, as they now lack support in the transport of people and goods. A makeshift bamboo bridge was constructed which has augmented the need for access. This, however, proves unsafe and temporary with several minor accidents and mishaps that has already transpired as locals traverse the shaky and unsecured bridge daily. With the rainy days coming, the need to rebuild the bridge is deemed urgent.
The Pilipinas Obstacle Sports Federation, in coordination with the Municipality of Rodriguez (Montalban), Rizal, and supported by RaceYaya, Move On, Heroes Hotel, UP Mountaineers, donors and volunteer athletes is kicking off the reconstruction of the bridge in May 2021. Through the federation activities and fundraising efforts, we are hoping we have enough funds to rebuild the bridge before rainy days come. "This is in line with our thrust to help Filipinos overcome life obstacles and help build better humans. Eto ay "Hindi Awa kundi Gawa para sa Wawa, "" says Atty. Al Agra, POSF President.
Athletes can pledge to run, bike and do burpees in May 2021 via a Virtual Challenge in RaceYaya aimed to raise additional funds for the rebuilding. Registration is online at register.raceyaya.com. From May 8 until May 31, athletes can do the workout and compete with other athletes from wherever they are, following the minimum health and safety protocols in their location. They can watch other athletes compete in a live leaderboard portal at raceyaya.com. Their registration fee for the event will be donated in the rebuilding efforts.
Watch Kaizen dela Serna, Sea Games Gold Medalist invites everyone to take part here.
POSF members and other endurance athletes have also volunteered to put into real test their obstacle sports skills as they volunteered to take part as part of the labor force. The project is also expected to employ 100 locals who were greatly affected by the pandemic as Wawa is still not opened for tourism. "We are excited to work together with the locals in rebuilding an integral part of their daily lives. For us, it's our access to reach the mountains that we hike and climb. For them, it is their life, says Tin Ferrera of RaceYaya.
UP Mountaineers Head Thumbie Remigio, POSF Trustee and Chair of the Competition Committee will be overseeing the project. This is a different kind of project. While mass gathering and races are cancelled, we shall take part in a real life race to rebuild the bridge. Mannie dela Serna of Heroes Hotel and Move On Ph is also one of the supporters of the project and shall assist Thumbie in this role.
"We are very grateful to have the community of athletes giving back to our locals through the Wawa bridge project. They have been the regular visitors of our mountains for their outdoor activities and we look forward to rebuilding the bridge for the Montalban community.", Municipal Mayor Dennis "Tom" Hernandez shared.