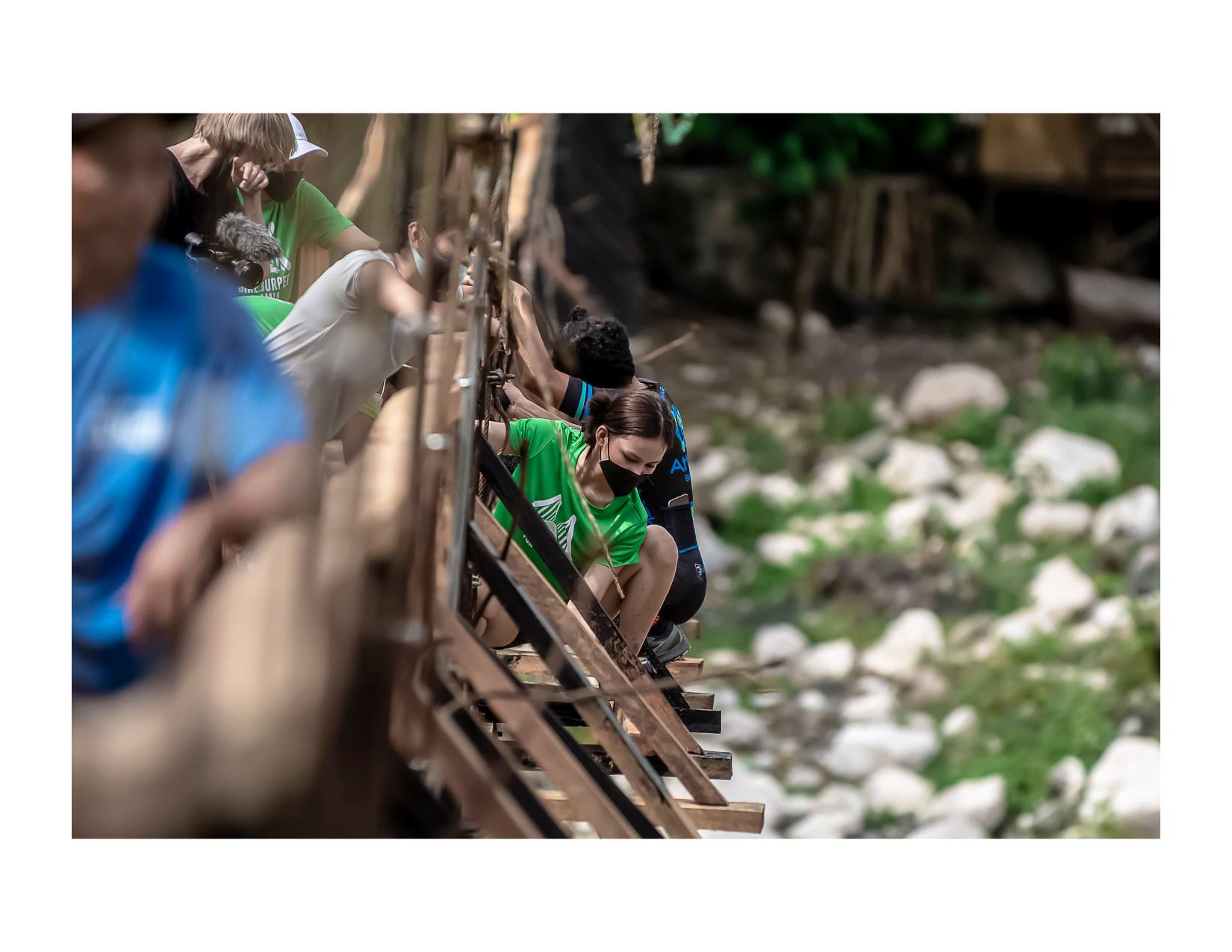 ATHLETES UNITED TO HELP OVERCOME OBSTACLES ON CROSSING THE TYPHOON-DEVASTATED BRIDGE IN WAWA, MONTALBAN, RIZAL.
Posted at July 19, 2021
"More than physical activity and competition, sports have a deeper purpose such as moving and pushing for change. Ang buhay naman kasi parang obstacle sports. We were able to use our skills to help others conquer their obstacles. For us, the bigger medal is being a responsible citizen and helping make life better not just for ourselves, but for our fellow Filipinos. For POSF, we build better humans," Atty Al Agra shares.
WATCH THE DOCUMENTARY VIDEO HERE
The Pilipinas Obstacle Sports Federation, in coordination with the Municipality of Rodriguez (Montalban), Rizal, and supported by UE Law Alumni Association, Kalsada Sword, RaceYaya, Move On, Heroes Hotel, UP Mountaineers, donors and volunteer athletes rebuild the Wawa Bridge in Montalban, Rizal. The project kicked off in May 2021 and will be fully finished on July 24, 2021 with the unveiling of the marker.
Wawa Bridge was flooded and destroyed by super typhoons Quinta, Rolly, and Ulysses in November 2020. The bridge serves as access for the local residents living in the surrounding mountains connecting Mascap, Purray, and San Rafael to Wawa and the town proper of Montalban, Rizal. Without the bridge, the area will experience a halt in most economic activity, as they now lack support in the transport of people and goods. A makeshift bamboo bridge was constructed which has augmented the need for access. This, however, proves unsafe and temporary with several minor accidents and mishaps that has already transpired as locals traverse the shaky and unsecured bridge daily. With the rainy days coming, the need to rebuild the bridge is deemed urgent.
"It is a delight to see the locals crossing a safer, stable and enduring bridge again. This is timely as Montalban has opened its doors for tourism again, being our nearest haven for outdoor activities where we can hike, trail run, rock climb or simply enjoy nature. The rebuilding of this bridge is our way of giving back to the community here who welcomes us warmly every time we visit for our training and other outdoor activities. The place is close to eveyone's heart, which made it easy to invite fellow athletes to help either by joining our virtual fundraising events in RaceYaya, volunteering, or donating. The funding needed for this project is massive and it is indeed a blessing to have the POSF leading its funding. We are also grateful for corporate and organization who donated: Move On, Heroes Hotel, Kalsada Sword and UE Law Alumni Association," said Tin Ferrera
UP Mountaineers Head Thumbie Remigio, POSF Trustee and Chair of the Competition Committee shared the rebuilding itself has presented all kinds of obstacles from fundraising, logistics, supply sourcing, among others. "Para siyang isang obstacle course race na mahaba. And we have to solve the problem as it comes and be resourceful. In the end, there is a finish line and it is rewarding. The athletes who helped has put their skills into practice from carrying wood, hanging on the bridge to paint, and running errands for the core team of workers. The volunteer work has helped us speed up the project and save on costs also." Remigio shared that they have employed most of the locals in the surrounding sitio during the rebuilding, most of them are displaced workers due to the halt of tourism activities in the area.
"We are very grateful to have the community of athletes giving back to our locals through the Wawa bridge project. They have been the regular visitors of our mountains for their outdoor activities and we look forward to rebuilding the bridge for the Montalban community," Municipal Mayor Dennis "Tom" Hernandez shared.
VIDEO FEATURE
EVENT: Run, Bike and Burpees from Wherever You Are. Workout and Help Rebuild Wawa Bridge - YouTube
POSF: REBUILDING THE WAWA BRIDGE - YouTube
POSF: Hindi Awa Kundi Gawa Para Sa Wawa | A Message from Atty. Alberto C. Agra - POSF President - YouTube
FIRST RUN EVENT Run for Wawa: A Fundraising Project to Help Rebuild Wawa Bridge - YouTube
NEWS FEATURE
ONE NEWS: Some national athletes take part in rebuilding Wawa bridge - YouTube
DZMM: https://www.facebook.com/208963696117502/videos/266850075140107
https://www.spin.ph/life/guide/athletes-to-help-rebuild-wawa-bridge-before-rainy-season-a1017-20210506
https://raceyaya.com/blog/view/athletes-work-to-rebuild-the-wawa-bridge
https://interaksyon.philstar.com/hobbies-interests/2021/05/10/191437/workout-for-a-cause-gretchen-ho-invites-public-to-join-fundraising-event-for-wawa-bridge/
https://news.tv5.com.ph/breaking/read/helping-hand-helping-communities-overcome-real-life-obstacles
https://womaninaction.ph/stories/helping-communities-overcome-real-life-obstacles