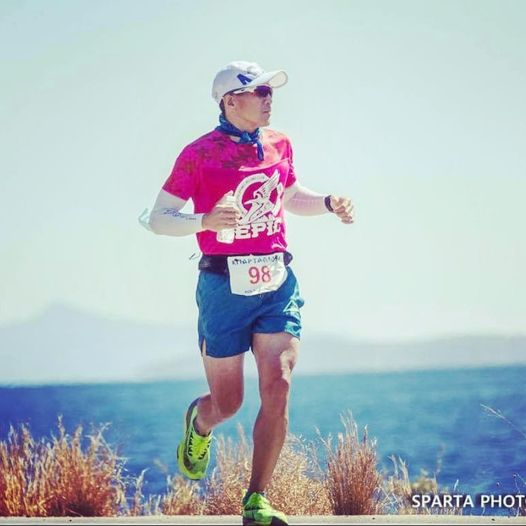 An Ultramarathoner's Journey Through Covid, Recovery, and Spartathlon 2021 
Posted at October 11, 2021
Rolando Espina is a self-described ultraltrarunner, triathlete and endurance junkie. 2021 had him set up to run both the PTL UTMB® and the SPARTATHLON Ultra Race, but his plans were derailed after a bout with Covid-19. In an open letter, he shares his story of recovery, immense strength, and joy.
As a healthcare worker in Dublin, Ireland, I was privileged to get vaccinated last January to protect myself from Covid-19. I work in the intensive care unit of a hospital and I see firsthand how devastating the disease can be and know all its symptoms so well.
On August 3, I woke to chills and a mild cough after my night shift. I already had my daughter scheduled for a swab test that day because of symptoms she'd had two days prior and decided to get us all swabbed on the same day. Just to be sure.
The day after, we got the swab results back. Positive.
I wasn't surprised or scared as we were all pretty healthy and should've gotten by with mostly mild symptoms. Just a few days, and everything would be alright. After all, I was fit and had a great year of running–hitting PB's in many distances from the 10 to 100 kilometer distances. I was in good shape for the two major ultra road/trail events coming in the next few weeks as well as the September scheduled Spartathlon.
But boy, I was so wrong.
Getting vaccinated will not give you total immunity–we all get that. But because of my asthma, I was hit pretty hard. The fourth to eighth days of symptoms were the worst, and thankfully Merci, my wife, who happens also to be a nurse, had very mild symptoms. If not for her, I'd most likely have been hospitalized. I'll be forever grateful for her.
It was depressing not being able to walk up the stairs without stopping for a breather. We changed our bed sheets daily because I was sweating so much from a fever which never normalized even after taking paracetamol and having a cold bath. The fever and non-stop unproductive cough weakened me so much that I was close to calling an ambulance on some occasions. Despite having no sense of smell and very little sense of taste left, I hydrated and ate like a pig. Save for a severe asthma attack, eating well was the only way I'd keep myself from getting hospitalized.
On the ninth day post-symptoms, I felt a bit better and knew that I would recover sooner if I remained determined. My recovery would take longer if I waited for my system to heal itself naturally. By this point, I had already deferred my 100-mile race and sadly cancelled Petite Trotte à Léon (PTL) for obvious reasons.
Big question at this point: will I have enough time to recover for Spartathlon in September?
On the eleventh day post-symptoms, I was cleared to go out for some fresh air and start my recovery process. I remain thankful to all our friends who gave us the food and goods we needed during the hard times we had (You know who you are, guys). A few days after, I tried to run a kilometer with my mate Celso Caliguia. I didn't finish, having only managed to cough and puff my way to 700 meters.
I think of Spartathlon.
A day after, I woke up and decided to run-walk for 21 kilometers. I told myself, "If I fail, there will be no Spartathlon 2021 for me". I finished the half in 3 hours and was completely wrecked afterwards. I remained in bedrest the following day with my wife Merci asking me why I was doing this to myself. She already knew the answer.
There is hope.
But will there be enough time?
Two days after my 21 kilometer test, Celso and I went for another half-marathon effort. I struggled but was definitely getting better. I challenged him to do another half-marathon the day after as he was preparing himself to run the virtual Dublin marathon. I promised Celso to pace him for a PB if he would help me with my recovery plans in time for Spartathlon. The good thing: Celso also benefited in his PB efforts from the easy, long runs. He gave me motivation and honest advice. I will always appreciate it.
So while our wives walked with our dogs, we ran circles to get my distance and endurance back.
Just a month later–3 weeks before Spartathlon–I was back working in the ICU.
My first test of endurance was to run 50 kilometers with two of my best buddies, Anne Jennings and Anthony Lee–both of whom were set to run Spartathlon 2021 as well. The test turned out to be one of my best training runs ever with Anthony, Anto, cracking jokes and Anne focusing on the goal. Our runs are always beautiful and fun.
Following this, there are no more long runs. It's taper madness which we mad people absolutely hate.
Anto, Anne, and I arrived in Athens on September 19. There was no doubt in my mind that this would be my hardest spartathlon, but I kept my fingers crossed and held onto all the positive vibes coming from Anto, Anne and our friends.
I also met my crew for the first time: William Mendoza, Darwin and kuya Edmond are Filipinos living in Greece. I'm so thankful for them too. They're not only a bunch of happy people but are also the friendliest of all. It was their first time crewing for Spartathlon and they were very keen and excited–always a good sign. We registered, bought our last-minute needs, and then just chilled, ate, and drank beer.
The wait for Friday's D-day had begun.
Spartathlon 2021 started at 7 in the morning, a race from Athens to Sparta spanning 246 kilometers in 36 hours with 75 checkpoints.
Gathered with friends, crews and new faces, it was time!
The horn blew and we slowly descended down Acropolis headed for our first marathon checkpoint 43 kilometers away. I started off running with Anto, Anne, and James Ellis of team GB before going ahead slowly after about 2 kilometers or so. Each of us had goal time and mine was to reach the first major checkpoint in between 3:55 to 4:05 hours.
I surprisingly felt so fresh after having not run much two weeks or so prior. While I was tempted to run a little bit faster, I decided not to. I'm old enough to know that sticking to what you've planned is always the best way and is probably the best chance for most of us to reach Sparta.
Spartathlon doesn't advertise itself as the hardest or scariest but you need to experience it as a runner or crew to really appreciate it. It was mid 20-degrees Celsius in Athens but once the sun was out and about, it quickly shot up. Cooler weather than expected can be dangerous too for an ultramarathon like Spartathlon. It can trick your mind, allowing you to run faster than planned. If you're not careful this leads to misery later on in the race.
Sticking with my pace, I reached marathon point bang on as planned with the team. I always told my crew that we are one. It's going to be a team effort. With my recent bout with Covid, I didn't know what to expect, so I knew I'd be relying on the team as much as I could. I was spoiled and they did their work like an F1 pitstop (Thanks to Ons Damot, Julio Trinidad, Chrystryper D. Ashes and Donald Sombilla for giving them tips and advice pre and during the event).
I felt fantastic leaving for the next major checkpoint at kilometer 80 and actually ran a bit faster than planned–but controlled myself. By then, it was getting really warm and cubes of ice down my arm sleeves and buff were a real treat. Passing Corinth and another major checkpoint before the halfway point at ancient Nemia (kilometer 123.3), I decided for another physio massage to loosen my legs. I changed into a pair of Hoka Speedgoats to help me on the rough roads and hills going to the mountain base.
During what was a walk, run, and chat with my fellow athlete, I had the privilege of meeting and sharing some uphill climb with Bob Hearn of team USA. I've been following Bob and have read all of his blogs about Spartathlon. David of team GB also caught up with us (eventually finishing with a brilliant time of sub-27 hours).
Reaching the mountain base, I thought to myself, "I have a solid four-plus-something hours, so there is absolutely no need to panic". At this point, I'm also aware that I still have 87 kilometers to go and a mountain to traverse–it's here that the Speedgoat was really appreciated. For the first time, out of my previous four Spartathlons, I was able to run going downhill from the top. It would be flat going to Nestani and even flatter going to Tagea. In Nestani, I met Gary who was crewing for Alastair, my #DBRC clubmate. I expected Alastair, who finished fourth overall in 2019, to be way ahead.
I hit Tagea, 194 kilometers or so in, with six hours and ten minutes of buffer time.
At this checkpoint, I had another physiotherapy session and sat down to sip some soup–fuel with much needed calories for the last 52 kilometers of hills and heat. All of a sudden, I threw up. I knew that my gut was in trouble, being a nurse. The only logical thing I could think of doing was resting or walking slowly until my blood started to get my gut going again. How long would it take? No idea. So, I asked my crew to just give me a couple of gels and a flask of water, and off I walked hoping all would be well soon. Seeing worry on their faces, I reassured them that I would be fine and that I'd definitely finish–even if that meant walking the last 52 kilometers.
As I was walking uphill, I saw a light behind me. It was Alastair, suffering from gut issues just like I was. If not for the issues, I'm pretty sure Al would have been a sub-24 finisher. As much as I wanted Al to finish well, I was just happy to have his company. Reaching the next checkpoint, as the sunrise was about to come, we asked for some tea and sugar. It was the first time we had some kind of food–if you can call it food–for some time. We sat down at the checkpoints and took our time, deciding that until we reached the downhills where we could run, we would walk more of the hills.
Nearing the monument, I asked Al for some wipes. I had left mine with my night gear which I had removed for the warmest part of the race. He gladly gave me his extra one (Really appreciate that Al).
We finally approached Monument checkpoint with just one last small, but steep climb before a 21 kilometer downhill run all the way to Sparta.
During the last 10.2 kilometers to Sparta, I met my beautiful crew for the last time. At this point, I knew that I would surely break 29 hours even if I walk-ran the way down the King's feet for the fifth time in five tries. I gulped down two ice-creams knowing that the last 10 kilometers is the hottest part of the race. At this point, we are going down a valley where the heat is being trapped and the sun is at its full force.
Two kilometers or so outside of Sparta, Bob passed me again. We share a high-five and congratulate each other.
We made it again and are all winners.
Finish time: 28:41 hours.
No matter how many times you've finished this race–it never gets old. Tears of joy stream down my face and a wave of pride washes over me as I see my crew with flags ready–waving at me. We thought that the crew wouldn't be allowed to run with me to the finish line, but after some words with the organizers they were allowed to run the last couple hundred meters.
People, local kids, tourists, and crew members lined the streets cheering the runners and crew on. It was priceless. I remain so happy and privileged to have shared these few hundred steps with my team: William Mendoza, Toquero Dar, Dio Garces, and Edmond Collado (Salamat!).
With a drip in arm, I gathered with Irishman Alex, who finished a minute ahead of me , and Alastair, not far behind me. "All is good and God is good all the time," I think to myself.
I rang my friends and Merci who had arrived in Athens from Dublin, to share the news. All we needed to do now was head back to Athens–by car.
It is a long story, from battling Covid, trying to recover, and finally making it to Sparta, but it is proof we can beat this. Ending my story with a choice final note: fuck Covid.
Note: This article is based on an open letter/post by Rolando Espina. Some edits were made for brevity.